Application Performance and ROI – Riverbed Customers Speak
People often say, you can't improve on a good thing. At Riverbed, we don't believe that. Take WAN optimization. Yes, we've led the market for eight years—a leader in Gartner's Magic Quadrant for WAN Optimization. But we have never stood still.
We added integrated visibility so you see into the modern encrypted app to identify, classify, prioritize and steer that app down the best path—MPLS or public Internet—to any user. And controlling that app is now automated with the ability to use application groups, business-driven global policies and secure transport for greater business agility and cost savings.
An investment that grows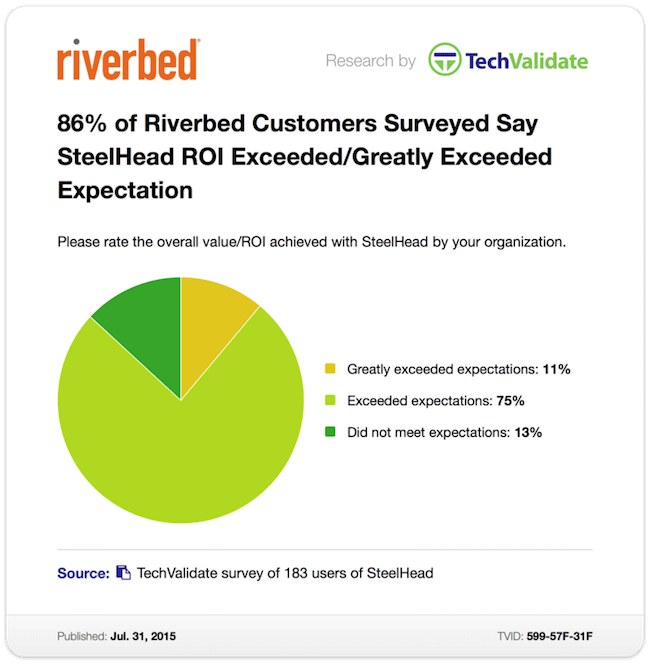 Recently, Riverbed commissioned TechValidate to conduct a survey of more than 200 SteelHead users. 86% of surveyed customers agree that SteelHead solutions exceeded their ROI expectations.1 In addition, some 54% of customers chose Riverbed for its superior technology and 35% for its faster time to deploy.2 According to James Spencer, Network and Security Engineer at Jackson Kelly PLLC, '[SteelHead's] faster data retrieval through smaller WAN links saves time and money!'3
Why do customers invest in SteelHead?
Customers use SteelHead to accelerate application performance and to scale so they can accelerate more traffic with less resource consumption. But, as we expected, SteelHead is key to new global trends such as enabling a mobile workforce and branches and delivering workloads, apps, and data faster from the cloud. Increasing user productivity, IT efficiency, and business agility while reducing costs is Riverbed's business bread and butter.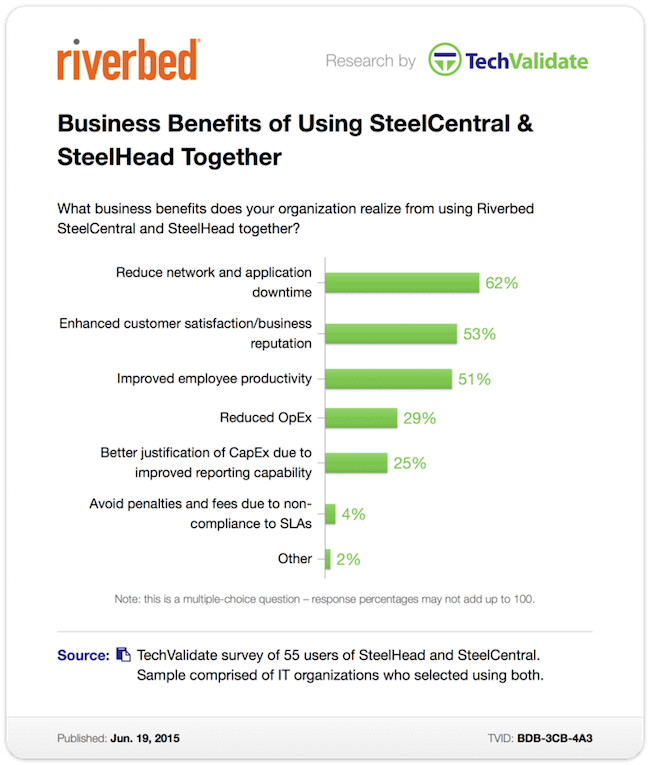 Identify over 1300+ business-critical applications
Many organizations run hundreds—or even thousands—of applications on their networks. Yet only Riverbed can claim the ability to identify and classify over 1,300 apps. And the list of apps that SteelHead identifies and accelerates reads like a veritable who's who of enterprise and cloud applications.
Riverbed customers are using SteelHead solutions to optimize and accelerate business-critical applications, such as: 67% Microsoft Exchange, 53% document management, 45% collaboration applications such as Microsoft SharePoint, 44% customer-built applications, and 19% Microsoft Office 365, as well as other applications such as Salesforce, video, virtual applications, and ERP/CRM.4
74% of surveyed customers reported using SteelHead to improve their overall application performance5, while 63% found that their applications performed 51–100% faster or more once they made the switch to SteelHead.6
Riverbed customers also are using the full breadth of the Riverbed offering to improve visibility into applications by combining the visibility and reporting of SteelCentral™ NetProfiler and the application acceleration of SteelHead solutions.
According to Franciscus Dian Wijanarko, IT Manager at Jhpiego, 'SteelCentral NetProfiler and SteelHead have truly maximized our bandwidth and saved us time, especially with the connection between our remote office (Asia) to headquarters (U.S.), making email even faster.'7
Companies stake their business on the value of SteelHead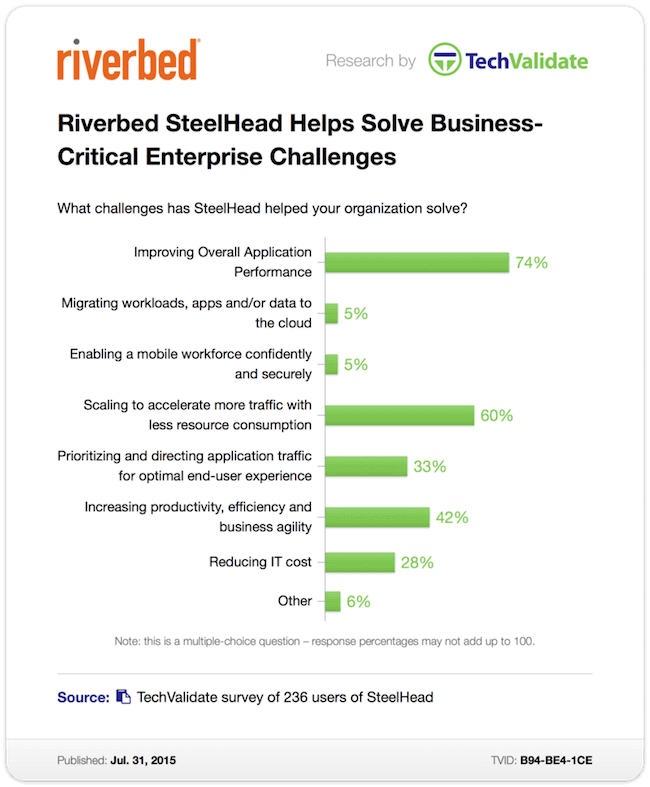 As to the power of SteelHead, a vast majority of surveyed businesses said they would recommend SteelHead to their peers.8
When asked if they would recommend SteelHead…
'I have and do. When a company performs beyond expectation, everyone should know,' said a government IT architect who used SteelHead to improve network performance.9
'Absolutely, the technology has exceeded all of our expectations in both performance and technical service,' said an IT director at a mid-sized chemical company that adopted SteelHead to reduce the company's number of server farms without hurting performance.10
Join those satisfied customers, and learn what SteelHead can do for your enterprise.
Want to learn more?
For more information on SteelHead, check out the SteelHead product page.
---
1 TechValidate. TVID: 11E-471-AFC
2 TechValidate. TVID: 2D8-852-7D5
3 TechValidate. TVID: A3A-8D2-EA2
4 TechValidate. TVID: F2C-9A8-8F1
5 TechValidate. TVID: CFC-867-87D
6 TechValidate. TVID: A12-7A3-427
7 TechValidate. TVID: 321-91F-7F2
8 TechValidate. TVID: 5A8-7B7-594
9 TechValidate: TVID: 0D2-D88-5F8
10 TechValidate: TVID: 1B0-83E-EFF