Microsoft Publishes Paper on SteelHead Optimization of Azure Site Recovery
With the Azure hosted SteelHead CX you can optimize various Azure workloads including Azure Site Recovery (ASR).
ASR is a service that replicates your on-premise Hyper-V or VMware virtual machines to Azure. Once replicated the images are updated at intervals you specify. In the event of a failure on premise, you can fail over to a VM in Azure and failback to your on premise system. The initial replication of the VMs is a network intensive task. Some customers have 100 or more virtual machines. Virtual disk sizes can be large with 50GB or more being common. That's a lot of data that needs to get into the cloud quickly keeping in mind that you can't consume all your bandwidth in the process. Seems like a perfect candidate for SteelHead optimization, and in fact, the benefits are signficant.
Microsoft has published a paper on the benefits of using SteelHead with Azure Site Recovery. The image below show optimizatoin of VMware virtual machines replicating into Azure on the initial synchronization.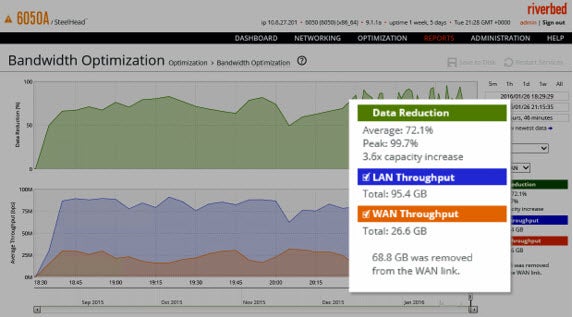 More than 72% Reduction in Bandwidth on Initial Replication for VMware Virtual Machines
Microsoft approached us a couple years ago to study Azure Site Replication with Hyper-V. In that study, they found we reduced replication traffic by over 90% on the initial replication.
ASR, like all things Azure related, continues to evolve and due to changes in the replication model, VMware virtual machines replicated with ASR can now be optimized. Naturally, are new study was in order to see how well a SteelHead solution can improve performance and while reducing traffic at the same time. The study found we eliminated 70% of the initial replication of VMware traffic on average and cut the time for replication in half.
This is just part of the story of how our Azure SteelHead can work to reduce bandwidth and improve performance for Azure workloads. Stay tuned for more exciting developments with Azure optimization in the near future.