Riverbed Acquires Ocedo, Pushes Further Ahead with SD-WAN
In case you missed the news, last week Riverbed announced the acquisition of Ocedo, a leader in Software-Defined Wide Area Networking (SD-WAN) technology. Ocedo is a strategic addition to Riverbed to accelerate and expand our Project Tiger initiative to deliver application-centric SD-WAN solutions to intelligently connect branch offices across the enterprise.
Hear Riverbed CMO Subbu Iyer, Ocedo CEO Jan Hichert, and Paul O'Farrell (Riverbed GM of SteelHead, SteelFusion and SD-WAN businesses), discuss the Riverbed acquisition of Germany-based Ocedo:
This acquisition comes at an exciting time for us and our customers with virtually every industry going through some kind of digital transformation. Business models are evolving and relying more and more upon applications.
We at Riverbed, the Application Performance Company, continue to be laser focused on helping customers accelerate this digital transformation with our Application Performance Platform. Ocedo advances our efforts to deliver the agility and intelligence of SD-WAN that will be the underpinning of how businesses operate and deliver applications to their customers in the future.
In a world of disrupt or be disrupted, Riverbed's industry is also facing transformation and this investment will help us capitalize on it.
'Ocedo is a compelling and strategic acquisition for Riverbed. Their innovative software-defined networking solutions perfectly complement our own strategic investments in R&D, expanding our position to aggressively compete in the emerging markets for software-defined networks and SD-WAN, bringing disruption to the multi-billion dollar branch router market' – Jerry Kennelly, Chairman & CEO, Riverbed
What does Ocedo bring to Riverbed and our customers?
SD-WAN technology that expands an accelerates Riverbed's strategy to deliver next-generation software-defined networking and SD-WAN solutions.
SD-WAN gateways in both physical and virtual form-factors with zero-touch provisioning. These offer secure connectivity with integrated firewall and centralized management portal that can be deployed on-premises or in the cloud
LAN-side connectivity that enables Riverbed's end-to-end branch networking solution with wireless access points and switches.
German engineering. Ocedo's team of industry veteran leaders and engineering talent join Riverbed adding to our ability to deliver market-leading innovation.
These new additions will advance our ability to deliver the speed, agility and simplicity that software-defined WAN provides.
Riverbed's history with SD-WAN
While Ocedo helps Riverbed expand and accelerate our SD-WAN offering, this is just another step on our journey as we lead the introduction of this technology.
Earlier this year, Riverbed passed all SD-WAN feature verification use cases at the Open Networking User Group conference cementing our position as a leader in the space.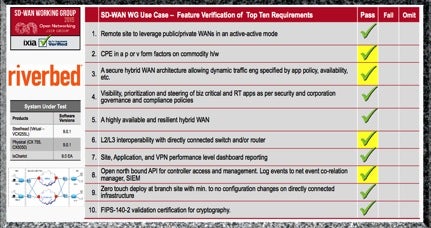 These capabilities have been built on over a decade of innovation starting with our introduction of SteelHead in 2004, that solved the problem of computing over distance for countless customers. We are now taking the next step in enabling distributed enterprises to compete in a software-defined world with Ocedo.
Riverbed continues to have the broadest solution for remote & branch office IT, inclusive of industry-leading WAN optmization, next-generation SD-WAN, the only hyper-converged infrastructure that centralizes data without compromising edge performance or availability, and the only solution that provides end-to-end visibility (NPM & APM) for apps running on-premises and in the public cloud.
Learn more about Riverbed SD-WAN solutions how Riverbed is helping customers accelerate their digital transformations by providing visibility, optimization and control with our Application Performance Platform.
Also, check out these blogs from my colleagues to learn more about Riverbed's SD-WAN journey: