Riverbed Successfully Completes ONUG's First Testing Program in SD-WAN
Last week, Riverbed met all the industry-defined standards for delivering a SD-WAN to its 24,000 customers by completing the Open Networking User Group (ONUG)'s first testing program to validate market solutions against key IT requirements. Riverbed SteelHead, our leading application optimization solution, was put to the test for SD-WAN capabilities and performed superbly.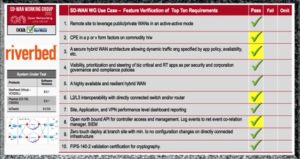 The ONUG use case validation testing is a landmark event in the networking industry, signaling the first time commercial solutions are being tested against requirements outlined by the ONUG Working Groups. This extensive three-month testing process was conducted by Ixia in conjunction with ONUG. The ONUG tests aim to provide proof of concepts, feature validation, and demonstrations to ensure that the networking solutions in the network overlays, SD-WAN, and network services virtualization areas deliver on the top ten requirements developed by the ONUG Working Groups. SteelHead delivered on all ten ONUG requirements.
Riverbed has been developing its capabilities with SD-WAN in mind for some time, building a foundation to support the hybrid WAN, which has been enabling the growth in cloud adoption over the last few years. We've known that the ever-increasing application sprawl (on premises and SaaS) and architectural complexity would require SD-WAN for hybrid networking, as well as application visibility, optimization and control. For the past two years, with features such as Path Selection and Secure Transport, Riverbed has been addressing the complexities our large customer base experience when deploying hybrid networks. These new capabilities take an application-centric view of the network and the network services that are required to achieve the best application performance. SD-WAN, in turn, automates and simplifies the deployment of these application-centric global policies. Today, these global policies are distributed and locally enforced on individual SteelHeads in accordance to the local network environment.
As we enter this new era of networking, ONUG's leadership and testing are essential. In a landscape with multiple active links at each branch, applications moving across hybrid environments, shrinking perimeters and shadow applications, enterprises need a closed loop management and control approach that allows them to define and ensure compliance with SLAs defined by the organization's business goals and requirements.
As we have been validating our solutions and architectures with our customer base, we look forward to continuing our involvement in the ONUG community of IT executives and vendors, as well as support their efforts to validate product features that meet IT business leader requirements for enterprise cloud infrastructure.
For more information on ONUG, visit them at: www.OpenNetworkingUserGroup.com