SaaS: The dilemma of visibility and control
The shift to software as a service (SaaS) is the leading agent of change in application adoption as companies seek better business agility, quicker implementation, and a more frequent and less disruptive updating model.
Organizations have embraced SaaS; in fact, a whole generation of users has never loaded software onto a personal computer. It should come as no surprise that those same users carry their experiences and expectations into the workplace for everything from customer relationship tools like Salesforce.com to HR software like Workday.
The supply of SaaS solutions is increasing and will continue to do so at an ever increasing pace. According to Forrester Research (Application Adoption Trends: The Rise Of SaaS) SaaS spending accounts for the 23% of the application software budget. However, it grew a whopping 53% over the previous year (4Q 2012-4Q 2013). In addition to customer relationship management (CRM), SaaS adoption is strong in human resources management, collaboration tools, and e-procurement. Forrester is also seeing a dramatic increase in SaaS interest in business intelligence (BI) and several other application categories.
Although traditional on-premises application hosting is on the decline, IT executives often struggle with the notion of giving up control of their application environment. It is the dilemma of reduced costs, ease of set up, and maintenance versus lack of control and visibility.
Riverbed's recently announced integration between SteelCentral AppResponse 9.5 and SteelHead 9.0 allows IT to immediately leverage the flexibility and cost benefits of SaaS applications and delivery, while maintaining full control and visibility of their SaaS application environment.
The joined solution provides visibility into a wide variety of issues, including:
What's the end-user experience
Where service delays are occurring and whether they are on the network or with the SaaS provider
And, where to deploy additional optimization to reap new benefits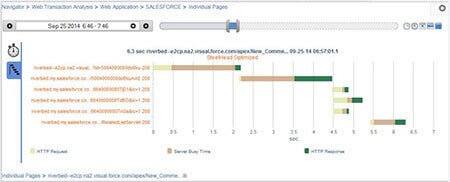 Now IT teams can quickly resolve or avoid both web-based and SaaS application performance problems before they impact end-user productivity.
'The shift to SaaS is changing how applications are developed, delivered, and accessed, and in so doing delivering speed, cost, and flexibility benefits to enterprises. However, many enterprises must deal with complicated, distributed environments with many applications and users competing for network resources. Riverbed provides the platform and solutions to troubleshoot and optimize customers' networks – allowing businesses to leverage the benefits of SaaS while gaining visibility across, control over, and optimization throughout their hybrid application environment.'
Peter Coffee, Vice President for Strategic Research, Salesforce.com
The partnership between Riverbed and Salesforce offers a unique solution and an unmatched value proposition. With Salesforce and Riverbed SteelCentral/SteelHead, IT can take advantage of:
Improved business agility
Quicker implementation
More frequent and less disruptive updating
…while maintaining full control and visibility of the performance of their Salesforce environment.
Related Topics:
Introducing SteelHead 9.0 and SteelCentral AppResponse 9.5
SaaS Monitoring, Optimization, and Visibility for Salesforce.com