Size really does matter! From S to XXL, there's a SteelHead for your needs.
Size really does matter! From S to XXL, there's a SteelHead that is just right for your needs
It's one of those things that you start out thinking will be a simple and straightforward task. You know, buying a shirt, a pair of shoes, or a car. Even something as mundane as a cup of coffee to help yo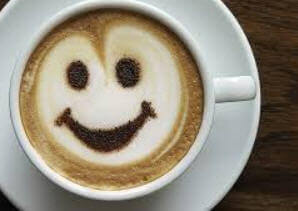 u survive the morning commute.
Contrary to our desire for simplicity, it is very rare to find that 'one size fits all.' That's why you can order your 'skinny latte frappe with chocolate sprinkles' from the barista in one, of many different coffee cup sizes, to suit you.
The same can be said of SteelHeads. It is important to make sure that you deploy the appropriate size of SteelHead to meet your needs. To keep it as simple and straightforward as possible, understand what metrics are important to you and make use of some basic rules of thumb.
As any self-respecting specification sheet will tell you, SteelHeads come in many different shapes and sizes, but the key parameters to selecting the right model will generally be the number of outbound optimized connections and the optimized throughput. There may be other factors that affect the size of SteelHead you choose today, but I'll put them to one side for the moment.
For connections and throughput, the main priority is to know how many connections per user you will need.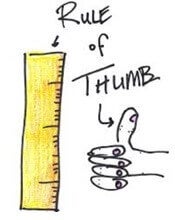 Back in the early days of Riverbed, the old rule of thumb that I used for sizing a SteelHead meant I usually suggested 7 connections per user. This included perhaps 3 for email, a further 3 for file-sharing and intranet traffic, plus 1 more for luck. On a few occasions for some customers it was as many as 10 connections per user but quite often it could be as low as 5. It did depend somewhat on the application mix of the user. But it was fairly simple and the rule of thumb worked well.
However, over the last few years things have changed…
Applications have evolved. For example, the latest versions of Microsoft email between Outlook and Exchange can use fewer connections than before and the emails are sent over HTTP. Similarly, ERP and CRM applications have a user interface through a web-browser instead of a thick client. Collaboration tools like file shares and document management may be served out via HTTP from Microsoft SharePoint rather than the CIFS and NFS file-serving protocols of old.
The number of applications used by employees has increased. Even social media tools like Facebook and Twitter are a serious part of the business user portfolio.
SteelHeads have evolved as well. No longer are they just a source of application acceleration. SteelHeads are an enabler for branch office converged infrastructure with VSP and SteelFusion, as well as providing services like QoS, Path Selection, and Secure Transport.
This evolution means that the rule of thumb has also changed
It is more likely that 10 connections per user are the starting point and possibly up to 15 connections in some cases. Quite simply, this is due to more applications and a greater proportion of HTTP/S traffic in the application mix. Sizing should also take into account other services that may be in use on the SteelHead. For example, if QoS is being used you may need to factor in other sizing metrics like number of sites.
If you want to check how accurate the rule of thumb is for your environment there is plenty of documented advice and guidance that is based on real-world experience. Or if you prefer, Riverbed Professional Services would be more than happy to perform an audit and health-check to get you on your way.
In all cases, the process starts with understanding your environment. Know your applications and how your users interact with them. This means asking questions and taking measurements. It's not just the names of applications but also the versions of those applications.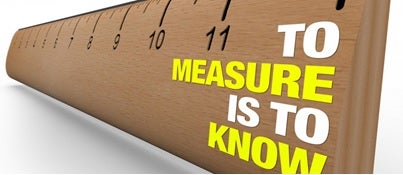 When you measure, use relevant and repeatable actions. For example, the time it takes for a server to deliver a known quantity of data to a client, or, how many connections are opened and for how long when a user logs in to the ERP system.
Remember! Your measurements in a production environment may be different at different times of the day because of network or server load. So make sure your metrics show meaningful and repeatable values.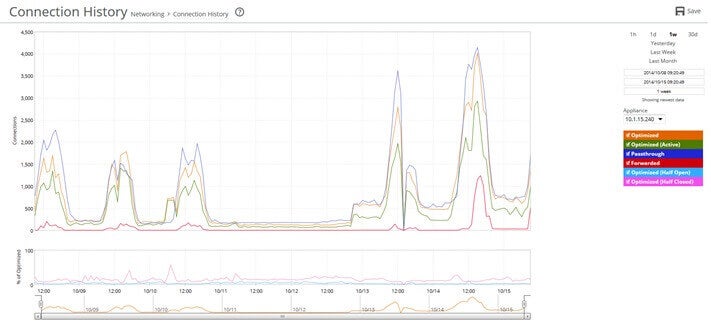 Whether you are measuring at the start of a project, or during a regular health-check in an existing deployment of SteelHeads, there are plenty of visibility and measurement tools available to help with this process. Not surprisingly, SteelHeads themselves can provide a wealth of useful data via their reports.
Likewise SteelCentral NetProfiler is very adept at consuming flow data from all manner of network components including routers, switches and SteelHeads. It then visualizes it in an almost dizzying array of reports at the same time as alerting you on deviations from the norm. Additionally, SteelCentral AppResponse can provide valuable metrics on end-user experience.
One parting thought…
Just because the SteelHeads you deploy are working well does not mean that you can then forget about them. Remember, applications get updated and may change behavior. User populations move around the network as the business evolves. Make a note in your diary to check the SteelHeads and revisit sizing. Use your reporting tools, review the metrics you measured in the past, and repeat the measurements to compare and see if things have changed. It will enable you to make proactive and definitive decisions on what to do next with your SteelHeads.
Time for a cuppa!
Make mine a medium Assam to go.
Happy sizing!