What's New in SteelCentral AppInternals 10.4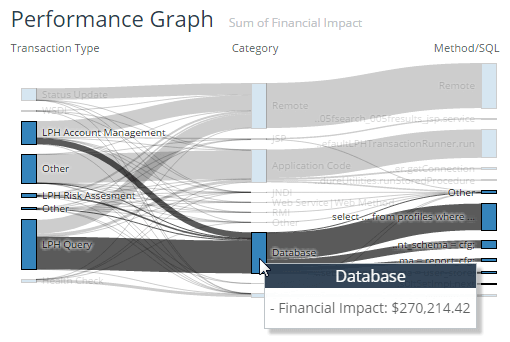 SteelCentral AppInternals 10.4 introduces some exciting new analysis features to more rapidly determine the true root cause of performance issues, especially in complex environments where scale and elasticity can obfuscate subtle yet critical details. Additionally, version 10.4 provides enhanced support for cloud environments to streamline the deployment and use of APM in in Azure, AWS and other cloud computing services.
Performance Graph
As applications increase in complexity, physically-oriented maps are becoming less useful in revealing the important relationships and choke-points in your architecture. Here we see a traditional Application Map for a single transaction type: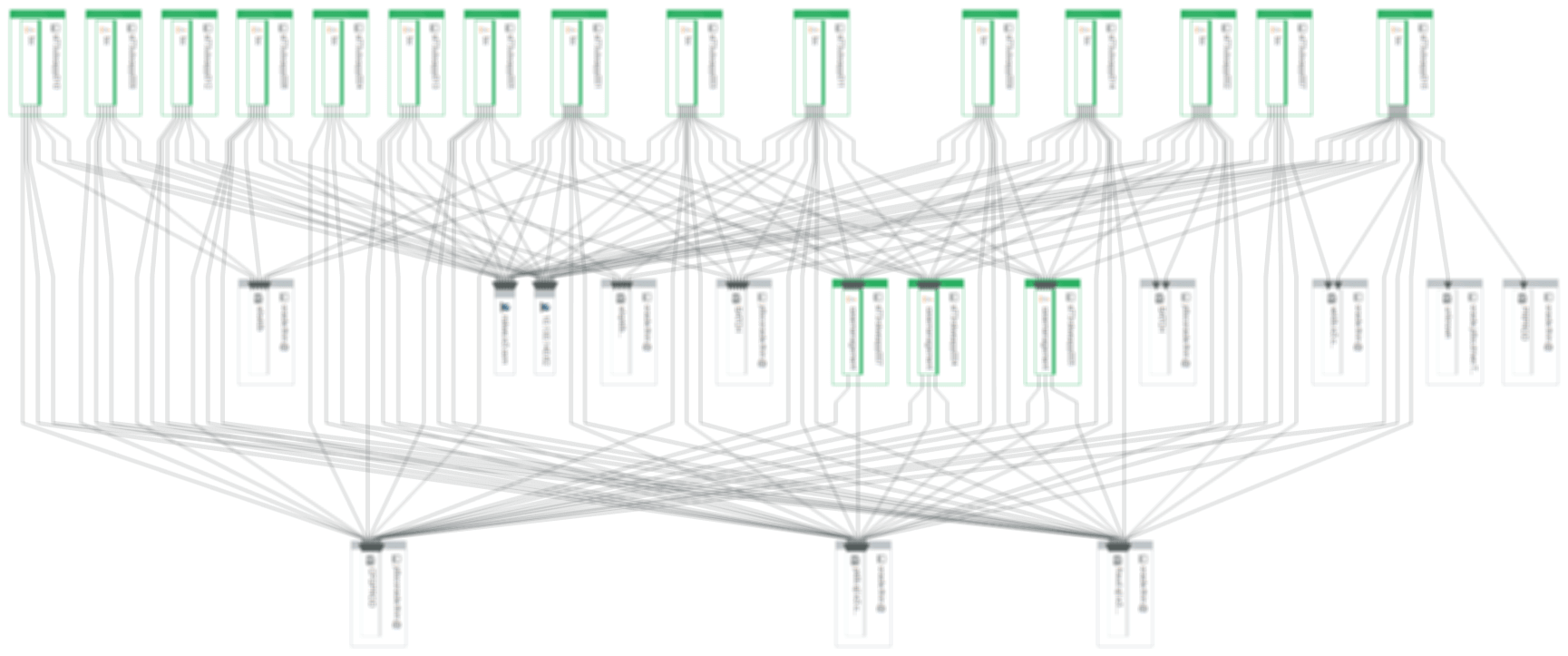 While this is useful to convey which servers & instances are talking to each other, it can't effectively relate the key contributors of delay for this single transaction type, let alone the application as a whole.
To overcome these limitations, SteelCentral AppInternals 10.4 introduces the revolutionary Performance Graph, which shows the logical relationship of all of the transactions in your application to all of the detailed sub-components (methods, SQL etc), revealing the overarching causes of delay which should be optimized: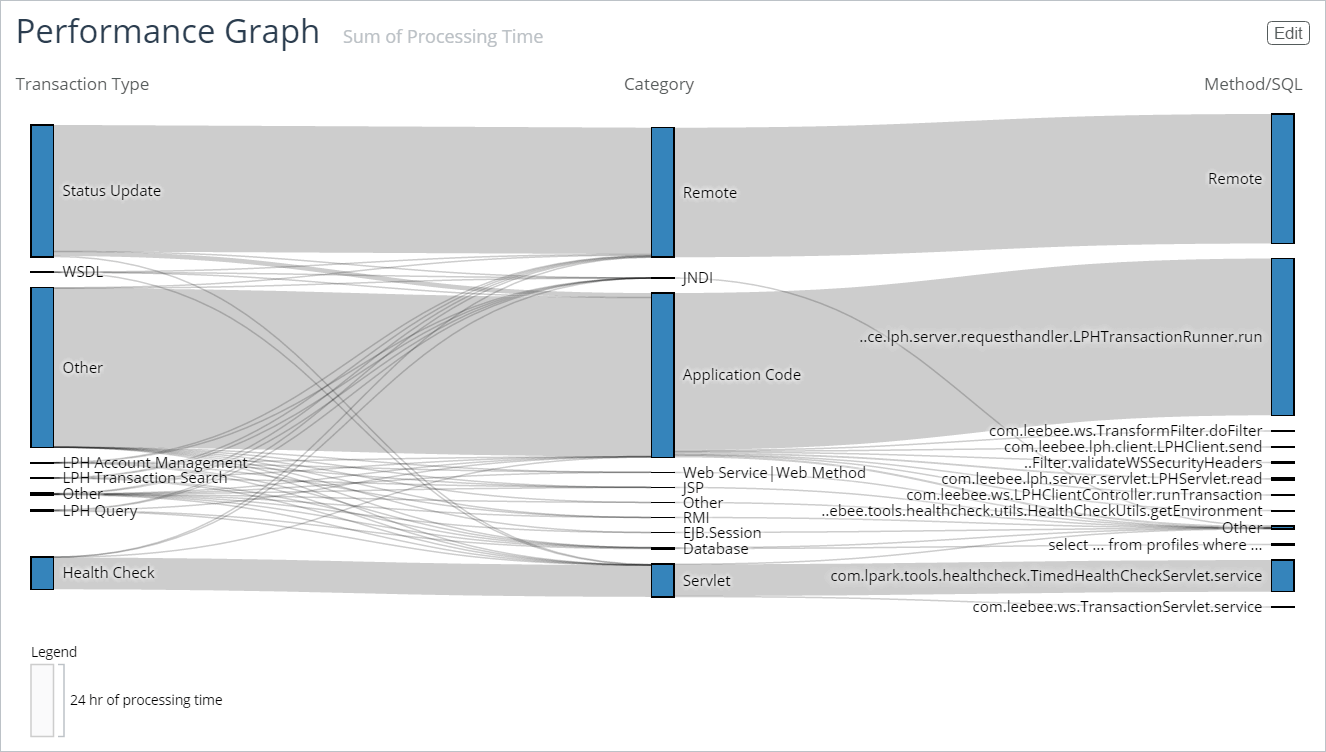 This immediately reveals which transactions are experiencing the most overall delay, and precisely why those delays are occurring.
Business-relevant analysis
Targeting what code & SQL to optimize based on their total delay is valuable from a technical perspective, but if you want to solve the issues that impact the business the most, a different approach must be taken. AppInternals 10.4 allows you to specify the financial impact per minute of response time for different transaction types, so that mission-critical end-user transactions with higher downtime or slow time costs will be more heavily weighted than internal administrative or reporting transactions. Here we see the same dataset as the previous example, but rendered based on relative financial impact: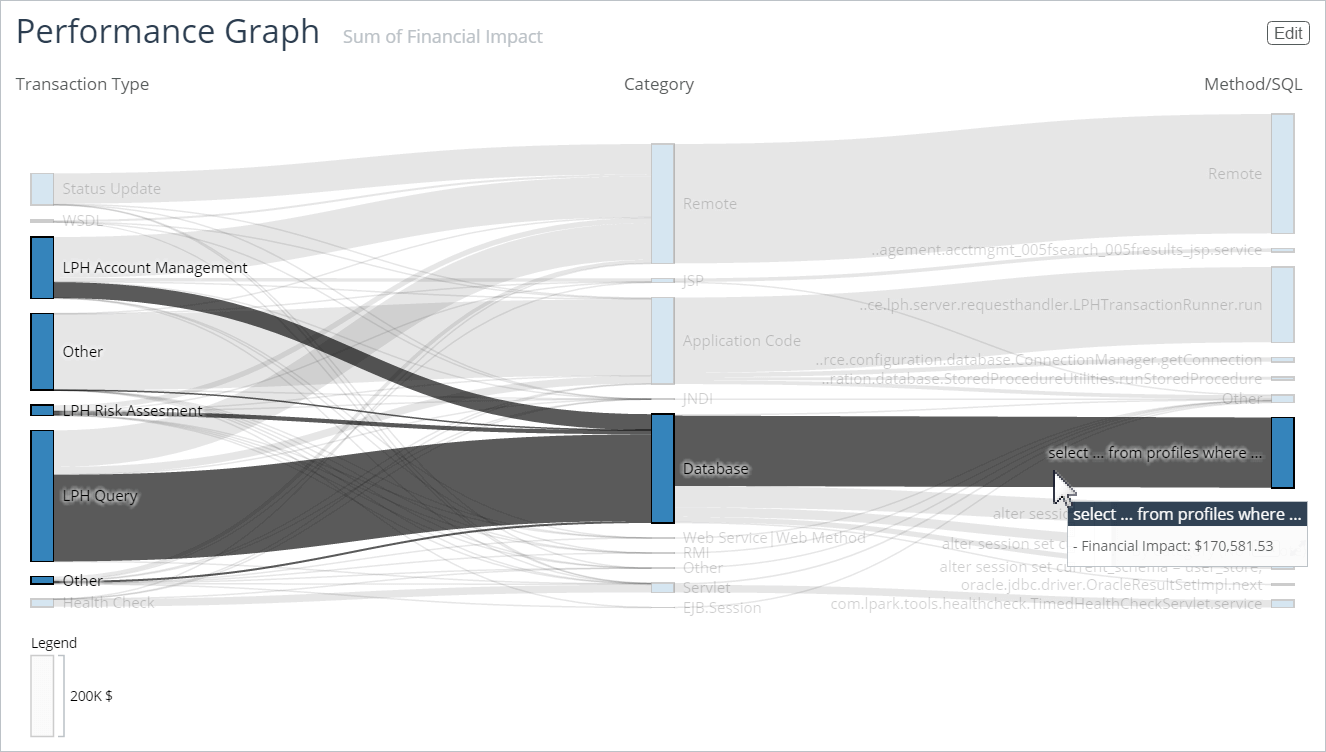 This reveals completely different candidates for improvement than the traditional response-time based approach. This one SQL call is related to $170K per day, so it can now get the attention it deserves.
TruePlot
Since AppInternals has the unique advantage of capturing all transactions in detail without sampling, we've created TruePlot to better leverage that rich dataset. It can render hundreds of thousands of transactions at once, colored by various facets (transaction type, server, username etc.) to reveal patterns hidden by traditional line charts: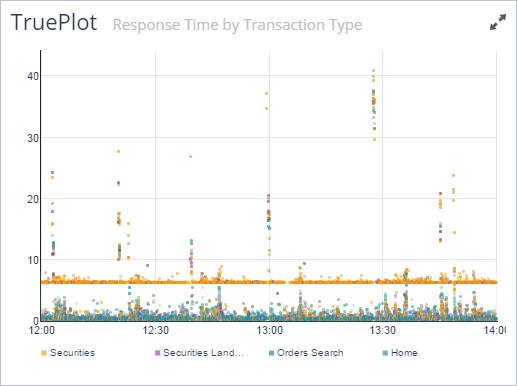 TruePlot doesn't average-out spikes and can clearly differentiate symptoms vs root causes so you don't waste time chasing phantoms.
Rich transaction details
The low-level details for delay such as methods and SQL are now displayed in realtime without having to drill down into individual transactions or perform any additional aggregate analysis. As you select the applications, transactions and periods of interest, these charts update dynamically to immediately reveal the root causes of slowness.


In one screen you have all the information you need to start solving the problem. One and done.
Microsoft Azure and Amazon Web Services
AppInternals works with any cloud computing service, but 10.4 has additional support for Azure and Amazon Web Service (AWS). The AppInternals Analysis Server can be easily spun up from the Azure Marketplace or AWS Marketplace in a manner of minutes.


For applications running on Azure Cloud Services (PaaS) or Azure Virtual Machines (IaaS), the AppInternals Agent can be bundled and deployed with the application code via a NuGet package from Visual Studio etc.

Elastic computing
Dynamic cloud environments pose challenges for APM since the physical identities and quantity of application instances can change from moment to moment, resulting in non-contiguous and overlapping data: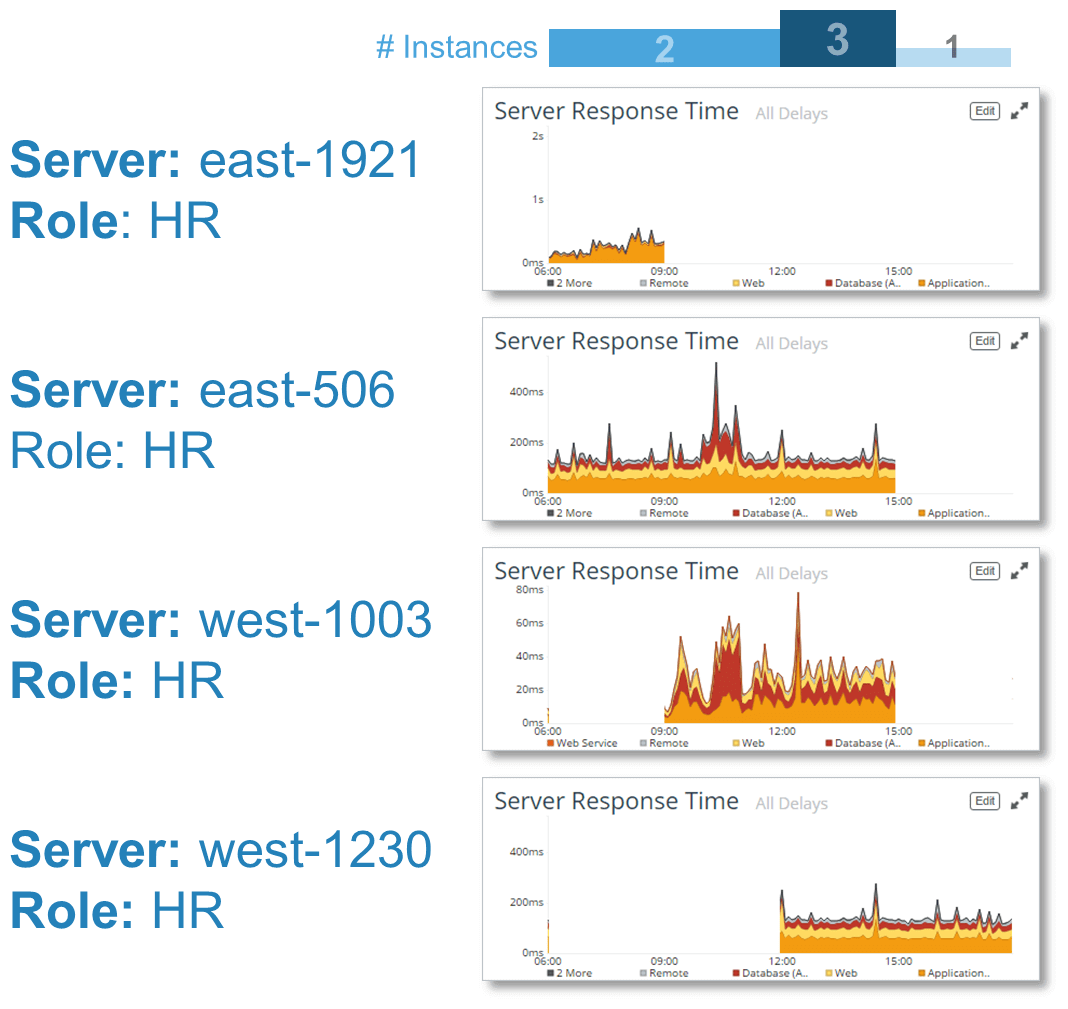 AppInternals 10.4 allows you to define arbitrary tags (role, environment, region etc.) so these transient instances can be combined in logical ways:

Even if your application has hundreds of instances spinning up and down across the globe every day, AppInternals will organize that data as simply as if you only had a single, static instance.
Tell me more!
For more information on these enhancements, and to understand why no other APM product can provide this level of detail and analysis, please read my other blog post on AppInternals 10.4
See the power of SteelCentral AppInternals for yourself. Try it for free today!