Don't Be Swamped by Unified Communications Problems! Use SteelCentral UCExpert to Monitor Your Environment.
Join us at the Enterprise Connect Conference, March 7-10, 2016 in Orlando, Florida. Get $500 off an entire event pass or a Tue–Thu conference pass, or get a free Expo Plus pass when you enter the custom discount code RIVERBED during registration. Or simply click here, and the discount will be applied automatically. Our friendly Riverbed team will be in booth #110 during show hours.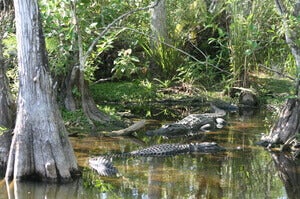 This year's theme is 'Communications Transforming Business.' Communications (UC) technologies and applications used in enterprise businesses  are evolving at a rapid pace and are an essential part of the business ecosystem. The delivery of increased integration of real-time communication services (instant messaging, audio and video conferencing, etc.) with non-real-time services (email, voicemail, SMS, etc.), is both exciting and daunting.
The transformation is happening all around you and sometimes just trying to understand the state of your UC environment makes you feel a bit like the old saying: "When you're up to your neck in alligators, it's hard to remember your objective was to drain the swamp."  
The big question then becomes: How do you manage all the complexity?
Hmm, let me think …
Which solution simplifies the workflow for Cisco, Avaya, and Microsoft Skype for Business (formerly Lync) UC solutions and makes it easy for operators to troubleshoot problems and identify root cause without having to be experts in telephony?
Which solution can help you understand both ROI and user experience?
The best answer: SteelCentral UCExpert.
Riverbed is uniquely positioned to provide visibility into your UC full ecosystem, from headset to call records and most everything in between.
Stop by booth 110 to see a demonstration during Exposition hours and or attend the panel session 'Trends in Management and Troubleshooting of UC Systems' at 2:45 p.m. on Tuesday, March 8 to learn more. Once you've seen the demonstration, your name will be placed in the Tuesday and Wednesday drawings for a Holy Stone X440C FP drone. Also, we have a a limited number of tickets for the craft beer tasting being held during the show to give away, so drop by early to make sure you snap one up.
The Riverbed team is excited to show you how SteelCentral UCExpert takes the guesswork out of performance management and troubleshooting for Cisco, Avaya, and Microsoft UC solutions. Regardless how you've mixed and matched these technologies within your business, UCExpert makes answering 'Who, What, Where, When, and How' easy because the underlying methodology of problem solving combines information about end users, the devices they use, the network path involved, and the call data in a consistent way.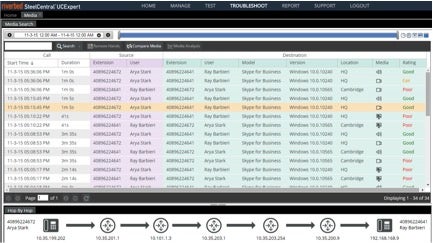 After you've spent quality time with the SteelCentral UCExpert and learned how it easy to navigate through the marshland of call and network performance quality data and have all your questions answered, you'll probably have extra time to spend exploring other parts of Orlando. If that's the case, try squeezing in a visit to the one and only Gatorland !!! This privately owned family business is a fun cross between an educational wildlife sanctuary and an adventure park for all ages. Of course, it features an enormous gift shop that sells just about everything "gator related"—including the teeth!