The Sky is the Limit: Introducing Cloud-Readiness for SteelFusion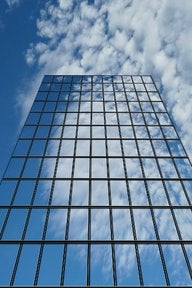 Today is great day for IT and the lines-of-business they support. How often does a technology vendor respond directly to customer requests in a way that can have an immediate positive impact on how business gets done? With release 4.3 of SteelFusion, Riverbed extends its hyper-converged edge solution to the cloud to give users greater flexibility and choice for storing business data.
Let's be honest, those embarking on the cloud journey aren't flicking a switch and ditching private data centers overnight. It should be carefully planned, tested, and executed in phases. After all, businesses are counting on always-on access to their data regardless of where it's stored. IT on the other hand, cares a great deal about the location of data. Location determines IT staffing constraints, infrastructure footprint, storage capacity, DR and backup processes, security postures, and more.SteelFusion 4.3 aligns to that phased cloud deployment model by delivering cloud storage gateway integration with Azure and AWS (StorSimple, and Amazon Storage Gateway respectively). For current SteelFusion users, this enhancement can be added quite simply by way of a software upgrade to either the physical or virtual SteelFusion appliance. Now cloud-storage, in addition to private data center SAN storage, is transparently available to remote and branch offices (ROBOs) without compromising on local application performance. This allows IT to provide unique and granular service level agreements (SLAs) based on users different business requirements. To illustrate, see the diagram below with different usage scenarios:
1. ROBO #1 accesses storage from data center SAN
2. ROBO #2 accesses storage from AWS/Azure cloud (New)
3. Application #1 in ROBO #1 accesses data center SAN
4. Application #2 in ROBO #1 accesses AWS/Azure cloud storage (New)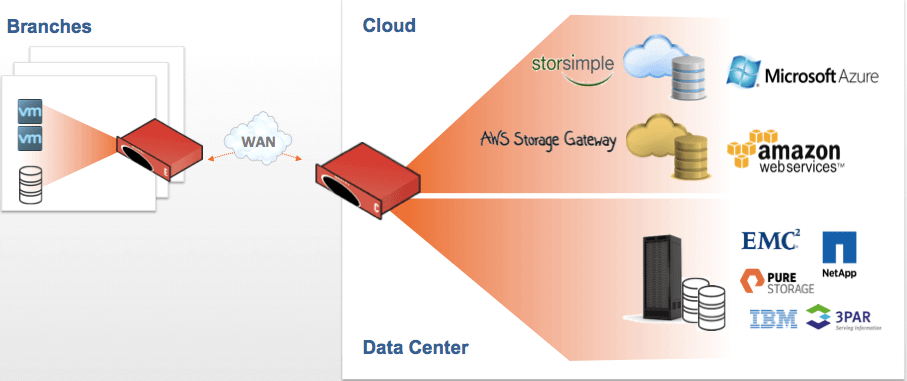 With this hybrid approach, customers can now augment their current on-premise data center storage with more cost-effective cloud-based storage giving them a choice of data services from which to access. For example, if a user has a latency sensitive application, they may choose existing data center center storage for maximum performance. While other general-purpose applications could leverage storage in the cloud. Of course, SteelFusion fully can embrace a 100% cloud-only deployment, but realize this is not the majority of installations today.
See this customer video from Marc Ehinger of Tecan Group where he discusses the IT operational and business benefits of implementing a hyper-converged edge solution from Riverbed.
SteelFusion has steadily changed the game for ROBO IT operations since hitting the market. Now we bring the power of the cloud to the hyperconverged edge by adding yet another proof point to the Zero Branch IT movement!
Pick your storage—fibre channel, iSCSI, and now cloud-based with AWS S3/Azure blob storage, we seamlessly deliver, project, protect, and provision data to the ever-important revenue producing branch office. When I say the sky is the limit, I was not exaggerating! With IoT, Big Data, and more demand-intensive applications, the exponential growth of data indeed is happening in full swing, and organizations must be able to protect it. With the unique data security capabilities that give centralized control and protection of data without compromising performance at the edge, combined with gateway access to leading cloud-based storage, IT leaders can mitigate risk and have the flexibility to balance surmounting costs.
For additional information on SteelFusion, visit here.