What Do an Airport, a Starbucks, a Wi-Fi Hotspot and Your Very Own Cozy Home Have in Common?
No, I am not thinking a hot cup of coffee here! Well maybe that too, but more importantly, these are some of the most common venues today from where the modern work force is expected to operate and be productive. Be it an on-the-go sales guy accessing a SharePoint/CRM application, a remote DevOps Engineer working on Azure cloud, an overseas manufacturing engineer downloading Auto-CAD design files, a CIO downloading a business intelligence report from an ERP application, or an employee burning the midnight oil at his home, there are myriads of such examples proving that today's enterprises have an ever-increasing mobile appetite.
While mobility is a business imperative for enterprises, it does present a huge challenge for enterprise IT. Can they ensure the same application performance levels for their remote workers as their colleagues working in headquarters and branch offices? Particularly since remote workers can find themselves at locations that are highly bandwidth and latency challenged, and with no access to the sophisticated IT tools that are usually available within enterprise facilities. This is exactly where the Riverbed SteelHead Mobile solution can come to your rescue.
Over the last ten years Riverbed's pioneering SteelHead products have enabled thousands of global enterprises to massively accelerate their application performance over the WAN. SteelHead Mobile replicates this same magic of the SteelHead technology for remote worker environments where installing a SteelHead hardware appliance is not practical. SteelHead Mobile implements the award-winning transport, protocol and application streamlining technology in a software-only form-factor that remote users can conveniently install on their laptops as software clients.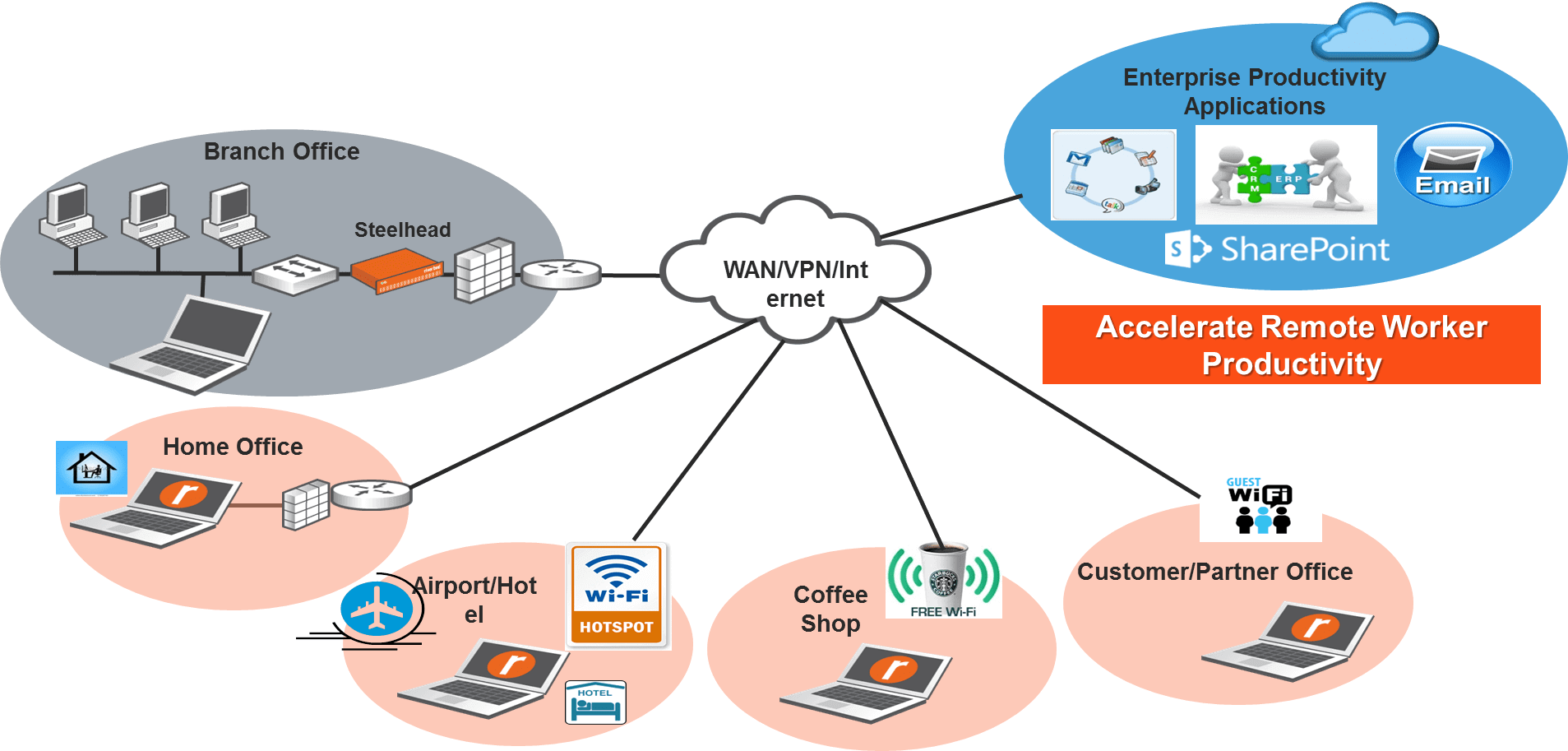 With SteelHead Mobile you can enjoy benefits of solid application acceleration for a wide variety of critical enterprise apps ranging from email, file sharing, collaborative applications, Intranet portals, Web apps, line-of-business apps, as well as ERP, CRM and database software suites providing substantial bandwidth reduction and up to 100x improvement in latency. SteelHead mobile enables optimization for applications that reside either in a branch, data center or hosted in private and public clouds such as Azure and AWS, effectively ensuring location-independence for both the applications and the end users that are accessing those applications.
In today's dynamic application and networking landscape, security is not just a buzzword but is actually the most critical consideration for any remote access solution. SSL based securitization of applications is no longer optional and SSL support turns out to be a fundamental building block for most new-age applications. SteelHead Mobile is uniquely capable of providing the same acceleration benefits for any SSL or HTTPS based application without compromise to any security policies. Additional security features include RADIUS/TACACS authentication, secure role-based management and support for CAC (Common Access Card) as well as FIPS compliance which can be critical in Federal markets.
While mobility trends are on a rise overall, certain businesses and verticals have larger proportions of their employees working at remote locations such as in the case of airline companies and big consulting firms. For such enterprises there are a large number of remote users that need to be supported and scale becomes a critical factor for implementing any solution. The SteelHead Mobile solution is based on a centralized controller architecture where a single controller can support up to 20K users, and if deployed as a high-availability cluster can support up to 80K users. The controller facilitates support of large scale client deployments with convenient easy-to-deploy MSI packages thus relieving a huge burden on the IT folks in terms of regular maintenance including policy and software updates.
The controller can be deployed either as a compact hardware appliance or as a virtual software platform suitable for varied network environments. The SteelHead mobile solution's zero-touch client configuration and centralized policy-based architecture are based on the latest software defined industry paradigms such as SD-WAN, thus lending itself to ease of orchestration, automation and managing massive amounts at scale.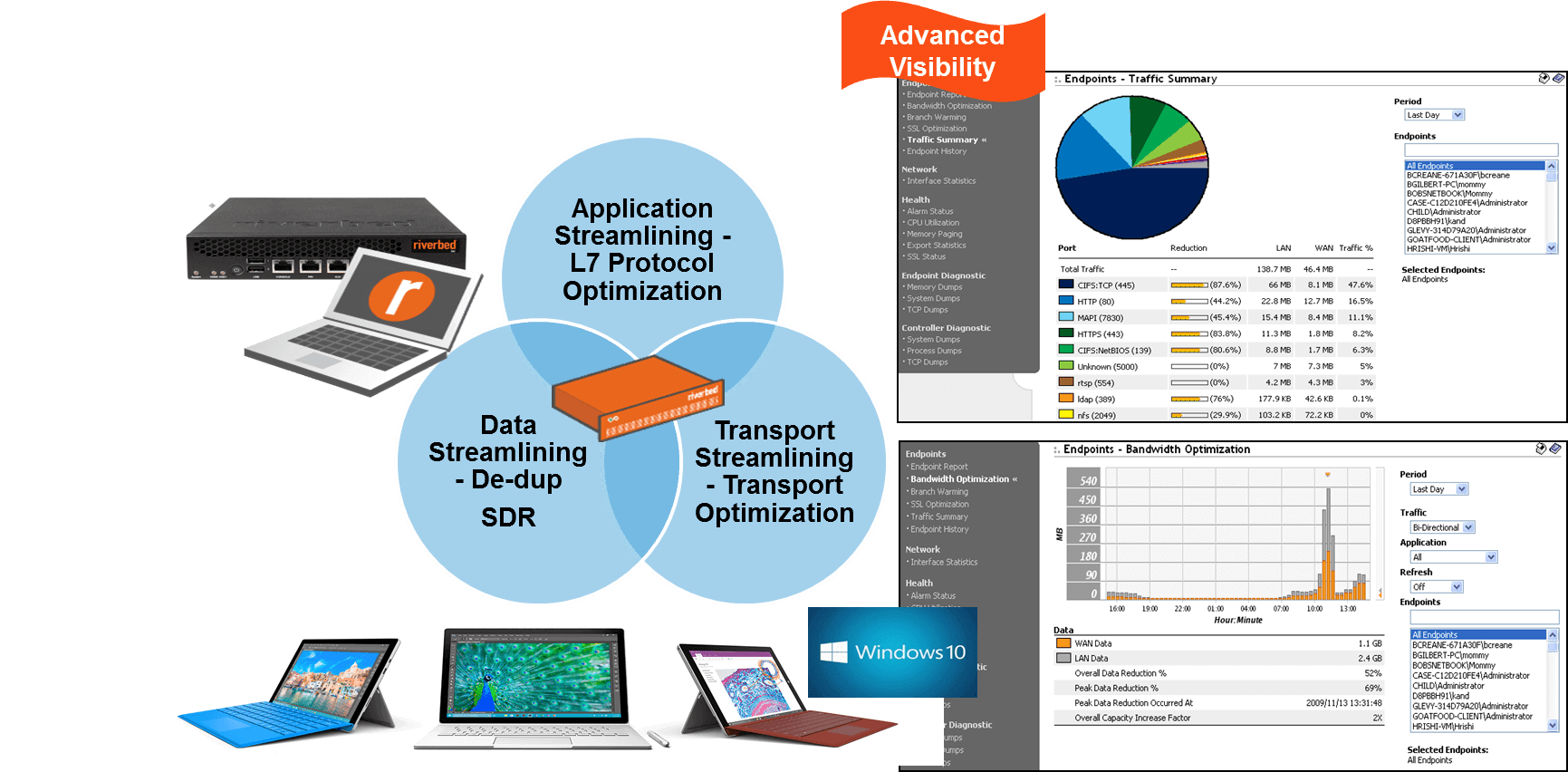 Alongside ease of provisioning and policy management, the SteelHead Mobile solution offers the IT administrator a robust visibility feature set that includes comprehensive end-user monitoring and advanced reporting. With easy to access reports on performance optimization, interactive graphs and proactive notification of any faults, IT admins can be rest assured that they will have the control and visibility they require to manage large installations.
The SteelHead Mobile client is compatible with a broad range of Client OS platforms and VPN clients. The latest SteelHead Mobile 4.8.0 release supports Windows 10 OS that has witnessed aggressive adoption from the Windows user base. There is equally something in there for MAC users as well with OS X 10.9 and 10.10 support today, and OS X 10.11 compatibility just around the corner. And for you tablet lovers out there, a Microsoft Surface tablet is fair game as well.
So next time you are diligently working at an airport, Starbucks, a remote Wi-Fi location, or just slogging it out from your home, perhaps Riverbed's SteelHead Mobile solution may turn out to be your best friend. And that would be right alongside that hot cup of coffee of course!
To learn more about SteelHead Mobile, click here.