A Day in the Life of a Desktop Services Engineer

At one time or another, just about everyone in IT has served as part of the Desktop Services team within Support. Whether it goes by that name, or End User Services, or Client Services, it's a team with a challenging mission. Everyone who has ever assisted a user in troubleshooting a technical problem can appreciate the complexity. First you validate the user's complaint, then you investigate all the potential causes. Without the right information, it can be frustrating for the desktop services team member, not to mention the end user who is unable to do his or her job because of the problem.
Aternity changes the dynamic of these conversations by providing a real-time view into actual user experience and actionable insights into the potential causes of poor performance. The following scenario illustrates how Aternity makes a day in the life of a desktop services engineer significantly brighter, not to mention the workforce they support.
Initial Contact
Phone Ringing
Desktop Services Engineer
Good morning, thank you for calling Desktop Services. May I please have your Machine ID?
Caller
Well, I don't know my Machine ID. How do I get that?
Desktop Services Engineer
No worries, may I just have your User ID please?
Caller
The ID is 'justin_olson.'
The Desktop Services Engineer searches for the user in Aternity and discovers critical details about the caller, such as their department, office location, all of their assigned devices, and the OS of each device.

Investigating a Desktop Complaint
(Having gathered the relevant user information, the Desktop Services Engineer continues the conversation)
Desktop Services Engineer
Thank you, Justin. How may I help you today?
Caller
Well, I've been having a lot of problems with my computer lately.
Desktop Services Engineer
Okay, what sort of problems?
Caller
Lots of things have been weird. Everything just seems extremely slow lately. It takes my machine forever to boot up in the morning. I usually go grab a cup of coffee, and when I come back it's still in the process of starting up. Then when I try to start up my mail client, it takes a long time to load. Throughout the day, I'll have problems where my browser freezes up, or it takes me a long time to do my daily activities in our Siebel CRM app. Then there will be times when the app just flat out disappears on me. Like I said, I've experienced all kinds of problems.
Desktop Services Engineer
Wow that is a lot! When did all of this start?
Caller
I don't know.
Desktop Services Engineer
How often does it happen?
Caller
It feels like every day, but I don't know for sure.
To get a fact-based view of what is really going on with Justin's desktop, the Desktop Services Engineer uses Aternity Desktop Monitoring to view all the Desktop Health Events, such as Application Crashes, Hard Drive Issues, Blue Screens of Death, etc. that have impacted Justin over the past 30 days. The engineer can analyze the frequency of events, the components impacted, and the underlying objects that are the cause.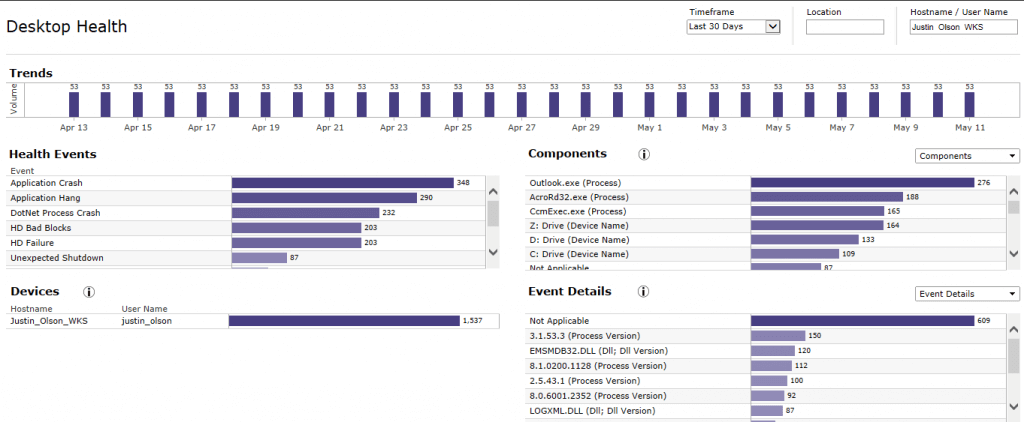 The Desktop Services Engineer can also determine the frequency of crashes and the primary .dll that contributed to that crash. Using Aternity's 'Resource crash root cause' functionality, they are able to do a quick web search and to see all documented issues related to this .dll and potential corrective actions.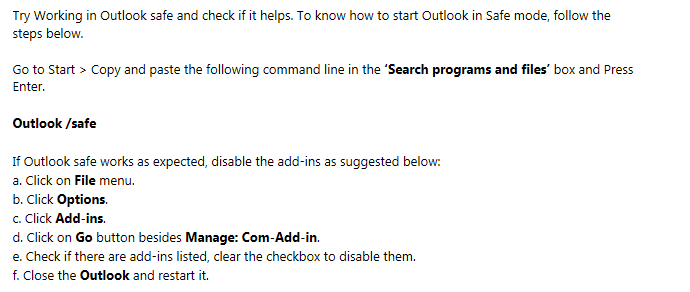 Moving on To Applications: Trouble Shooting a Siebel CRM Problem
Desktop Services Engineer
Jason, you mentioned that Siebel CRM has been slow. What types of activities have been slow? For example, is it when you log in? Are you looking up an account? Were you creating a contact?
Caller
Yes, all that I think. Plus some other stuff too.
Desktop Services Engineer
Okay, well how slow is it? Does it take a few seconds longer than what you typically see or is it 30 seconds or 60 seconds slower?
Caller
It varies but today seems especially bad. It's taking a lot longer than it usually does.
Desktop Services Engineer
Okay, thanks Jason. No need for me to keep you on the line or take over your machine to further investigate. I'll let you get back to work, while I investigate this, then I'll get back to you.
The Desktop Services Engineer uses Aternity to trouble shoot Jason's experience with Siebel, in order to validate that his experience is indeed slower than expected, when measured against baseline performance. Using Aternity's Business Activity Analytics, the Desktop Services Engineer can quickly review all the Siebel activities Jason performed over the past 24 hours. This data identifies which activities were excessively slow, relative to normal baselines generated automatically by Aternity's Real-time Performance Analytics. In this case, there were only two activities that exceeded the baseline for acceptable performance, as shown by color-coded response time metrics: Open Opportunity at 6.17s and Open Product at 5.67s.)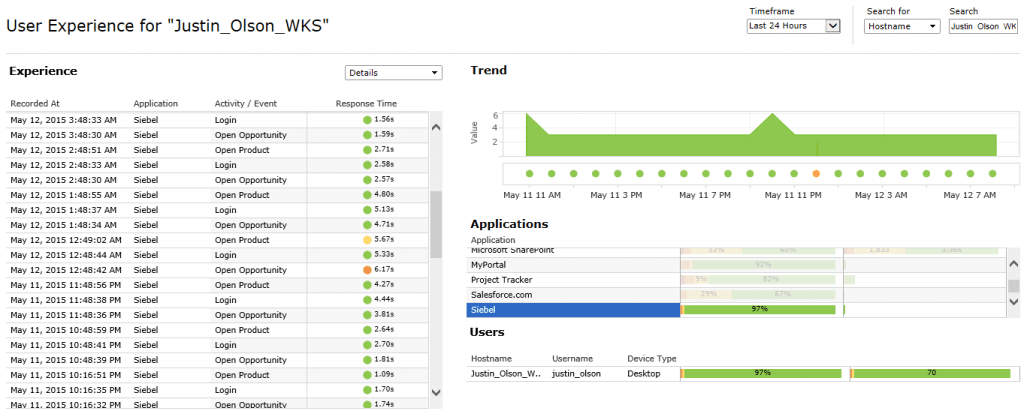 Determining the Extent of the Siebel Problem
The Desktop Services Engineer now needs to determine the extent of the Siebel problem. Is it confined only to Jason, a few users, a specific office location, or department? Maybe there's a certain class of machine that is experiencing the problem. Or maybe it is system-wide.
Using Aternity, the Engineer can see that the overall average response time for the Open Opportunity and Open Product is less than 4 seconds. The overall status of both transactions is Yellow, indicating that there have been multiple instances of those activities taking longer than the acceptable threshold. This shows the problem impacts multiple users, not just Jason.

Since Aternity correlates app performance, user interactions, and device metrics, the engineer can identify that the infrastructure is the major contributor to delay, as since by end users. Furthermore, requests that went to Server ID 'app001.east1.acme.com' resulted in higher infrastructure time than all other servers. The Engineer can now escalate the issue to Level 3 Operations to investigate this server.

Non-Invasive Real-Time and Historical Trouble Shooting to Speed Up MTTR
Aternity can revolutionize how Desktop Services Engineers interact with their customers. In a day and age where SLAs for 'Mean Time To Resolution' are stricter than ever, engineers can validate user complaints almost instantaneously to quickly understand what needs to be fixed and how the problem should be addressed. All while leaving the user with complete access to their machine, so they can continue on with their key job functions.