Achieving the RCPE Professional-Level Certification in WAN Optimization—Why This is Different…
I taught my first WAN Optimization course back in 2006. Back then, RiOS was at version 2.1 and we would cover installation, bandwidth optimization, CIFS and MAPI optimization, sizing and deployment options and a short section on troubleshooting. We would comfortably finish the three-day course by lunchtime on the final day, having thoroughly exhausted covering everything there was to know about WAN optimization and the SteelHead appliance. The 'SteelHead', as it was then, was considered very much a 'plug-and-play' appliance and the product evangelist at the time even released a (controversial) YouTube video on how even a six year old could configure a SteelHead appliance—it is still on YouTube if you are interested!
Today things are very different, back in 2006, digital transformation had yet to begin, the cloud was something we hardly heard of, and the primary purpose of the SteelHead appliance was to enable consolidation by optimizing bandwidth. Now, some twelve years later, we live in a very different world. Application optimization is king with the primary goal now being to maximize the end-user experience while enabling business-critical applications to run as quickly as possible across the WAN, thereby improving business efficiency. In this new era of digital performance management, fast and reliable applications are essential to the needs of the business and SteelHead appliances are part of a much larger range of Riverbed solutions. WAN Optimization now optimizes digital performance rather than just the bandwidth.
The WAN optimization track
The WAN Optimization track is part of the Riverbed Certified Performance Engineering (RCPE) program.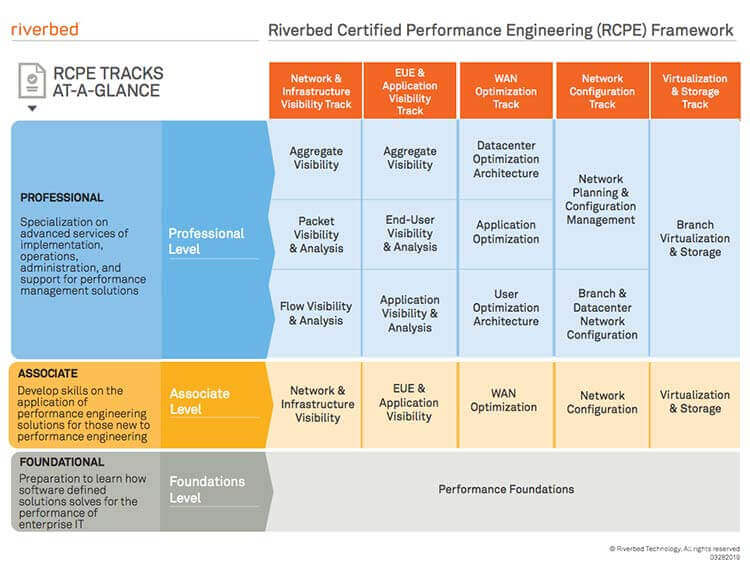 The WAN Optimization track commences with the Performance Foundations on-line course. The Associate Level WAN Optimization eLearning and eLab offerings provide an overview of Riverbed's WAN optimization solution and use-cases; why it is needed, what problems it solves, and then how it does that. There is an associated accreditation exam at the end of the course.
Completing the Associate Level then takes you into the Professional Level where the topics and use cases are covered in much more depth.
Overview of WAN optimization professional-level
The professional-level of the optimization track is split into three 4-day courses and are organized into different logical functions but before we go into these, it is worth considering how much the discipline of WAN optimization has grown. If you recall, back in 2006 we taught, at the same technical level, WAN optimization in three days, now we cover it in twelve! This reflects the complexity of enterprise IT and how things have changed and grown. Gone are the days of a simple datacenter and branches. We now have cloud services, hybrid networks, replication, mobile users, and interactive traffic to take into account.
The three courses in the WAN Optimization track (all 4-days each) are:
User Optimization Architecture. This would normally be the first course at the professional-level. It follows on from the Associate course. Participants learn how to optimize user traffic between clients and servers and from one site to the next. Use cases for implementation of user optimization architectures and how WAN solutions can enhance digital performance will be reviewed.
Application Optimization. This is the second course in the WAN optimization track and looks in depth at common and advanced use cases for application layer acceleration of video, email, HTTP, VDI and backup & replication environments. The class also covers integration with Active Directory environments and ways to securely optimize commonly encrypted protocols such as SSL, encrypted MAPI and encrypted SMB3.
Datacenter Optimization Architecture. This, the final course at the professional level is obviously very much focused on designing large scale optimization solutions for data centers, and covers use cases focused on optimizing user traffic between the clients, servers and the cloud. Clustering, load balancing, and distributing optimized traffic between appliances is also covered.
While these courses may sound like they follow a similar structure to the old WAN200, WAN310, and WAN350, they do not. Like all courses in the RCPE, we have adopted quite a different approach. Whereas our old courses were very product focused and started with features, functions, and then "how-to" pieces, a bottom up approach; the RCPE courses are very much top down. With the RCPE, we start with particular business needs, the issues and related obstacles around them, from both a business and technical point of view, and then develop capabilities that optimize WAN solutions by teaching RCPE participants to solve these needs based on real world scenarios and use cases . This is important as it puts the particular objective in business context as we explain "the why" before we look at "the how." This also gives the RCPE a much broader appeal in terms of applicability as the principles are extended beyond the scope of just Riverbed's product line.