Advancing the Human Experience in the Digital World
Today, nearly 4.5 billion people globally are digitally connected.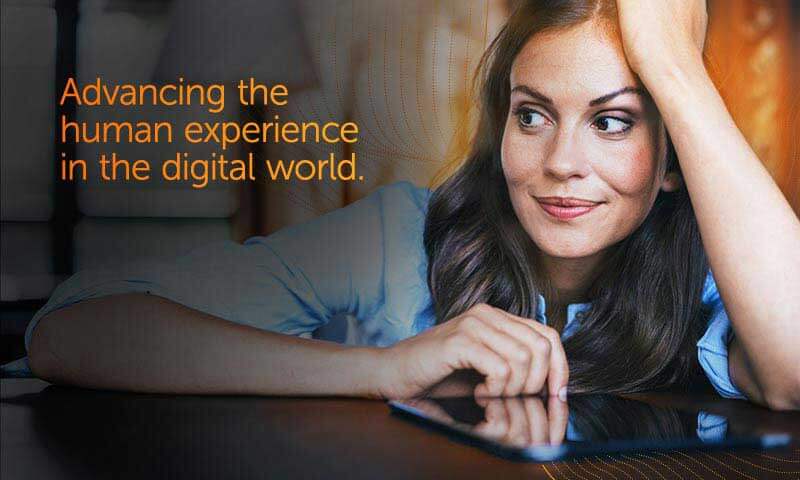 Trillions of dollars are being spent on digital transformation efforts across all industries. And breakthrough technologies such as Artificial Intelligence (AI), the Internet of Things (IoT) and Cloud computing have the potential to redefine what's possible for the modern day enterprise and people everywhere.
But for these technologies to reach their full potential and for organizations to get the most out of their digital investments, there's one thing that can't be overlooked—the human experience.
Because if you think about it, behind every digital experience is a human one. Whether it's a mobile banking app processing a payment, an in-store digital kiosk providing product information to a shopper, or a cloud app that enables a global design team to collaborate in real time. The role of technology must serve humanity, not the other way around. And when we really get this right, amazing things happen.
A surgeon helps save a life thousands of miles away. AI is used to outsmart hunger. Virtual learning dramatically improves literacy rates. A group of people who have never met before organize online to provide humanitarian relief during a crises.  Entrepreneurs invent a new app so we can connect anywhere at a more human level.
At Riverbed, we're united in our purpose of Advancing the Human Experience in the Digital World, to enable our customers to make extraordinary human experiences possible. That's why everything we do is centered around helping organizations measure, manage and enhance digital experiences and performance, so they can deliver richer and more powerful human experiences—for customers and businesses, employees and employers, shoppers and merchants, patients and doctors, and citizens and governments.
Every day, our technology enhances tens of billions of digital experiences for people. And each year we measure and monitor more than a million digital services and the human experiences they deliver.
We're proud to see our customers around the world advancing human experiences each and every day—from Maersk, Southeastern Grocers and Swiss bank Raiffeisen Group, to the International Union for Conservation of Nature (IUCN) and the Negros Women for Tomorrow Foundation (NWTF) .
Consider the greater impact that NWTF, a Filipino non-profit organization, will have on the lives of impoverished women in the Philippines now that it's adopted a next-generation infrastructure solution from Riverbed. NWTF helps women in the country, particularly in rural communities, move out of poverty and achieve self-sufficiency and self-reliance through microfinance loans.
It's an important cause and the primary purpose of the organization. But the organization's older, legacy network was limiting its capabilities and keeping it from reaching communities that most needed its help. By investing in the right technology, NWTF was able to open branches in rural areas. Now not only can NWTF now provide secure financial services and deliver a digital experience on par with larger commercialized banks, it can also reach a greater number of women and provide them with an opportunity to pull themselves out of poverty.
That's the power of the human experience, the power of working together to leverage technologies in ways that lift people up and make the world a better place to live.
The time is now to truly measure and invest in what matters most—the human experience. Businesses. Governments. Retailers. NGOs. Hospitals. CIOs.  Join us on this #HumanExperience journey.  Together, let's Advance the Human Experience in the Digital World.
Learn more at riverbed.com/human-experience/.