Azure networking features WAN optimization at Ignite
As companies are migrating to the Cloud, application performance needs to be seamlessly maintained. At Microsoft Ignite this week, the Azure Networking team has done a great job walking attendees through all the new cloud features released this week; the power of these enhancements; the breadth of solutions within Azure, ExpressRoute, as well as advanced connectivity with a deep focus on the needs of enterprise customers.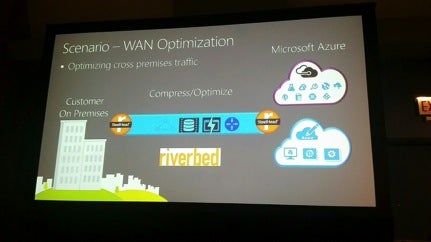 As part of their sessions, they have consistently been highlighting the key ecosystem components – ADCs, WAN optimization, and Security Appliances. Riverbed is proud to be the featured WAN optimization partner.
Watch the Ignite On Demand sessions to learn more about Azure Networking and how Riverbed is being positioned as a key ecosystem partner:
An Overview of Microsoft Azure Networking Capabilities – Yousef Khalidi, Distinguished Engineer, Microsoft Azure Networking: https://myignite.microsoft.com/ – /videos/327e56dc-97a5-e411-b87f-00155d5066d7
Evolve your Network Infrastructure for Microsoft Azure Connectivity – Ganesh Srinivasan, Microsoft Azure Networking: https://myignite.microsoft.com/ – /videos/b7e3e8b9-19ae-e411-b87f-00155d5066d7
Understanding Network Virtual Appliances in Azure – Yu-Shun Wang, Program Manager, Azure Networking: https://myignite.microsoft.com/ – /videos/4a47c8ac-99a5-e411-b87f-00155d5066d7