Become a Cloud Networking Ninja with Riverbed on AWS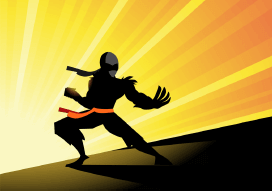 You may already consider yourself a cloud ninja, one step ahead of the competition with multiple workloads already in the cloud. You may also think yourself an Amazon Web Services (AWS) master, easily spinning up Virtual Private Clouds (VPCs) through AWS CloudFormation and other tools as more of your business moves to the cloud.
But what about the network?
So, you've extended your branch networks into the cloud and spun up a whole bunch of VPCs. But just when you think you have everything under control, another request for five additional VPCs pops up.
How well can you respond? With cloud, everything is dynamic, but the resources you've historically used to connect your workforce to the cloud are primarily static. And while configuring all your sites to talk directly to the appropriate VPC in the right AWS account is possible, isn't easy.
With legions of compute and capacity a button-push away, the need to hone your skills in connecting your workforce to the cloud becomes critical. Relying on outdated networking approaches to connect your business to the cloud simply won't cut it. With business leaders demanding more cloud-based services, legacy routers and CLI won't scale. As you grow, turning up EC2 instances, VPCs, and AWS services is akin to acquiring more ninja weapons; practice is needed to gain proficiency. So what if you could see it all with absolute accuracy and issue orders and commands based on what is happening real-time? What if you could connect to new branches, reach new VPCs, and expand to new regions with just a few clicks?
A perfect cloud-first world, connected and managed in just a few clicks
At Riverbed, that's what we do. We let you spawn a full-mesh VPN network between your VPCs and branches, deploy the latest in cloud architecture trends using transit-VPC designs, and even allow for the use of AWS DirectConnect and VPN connectivity simultaneously using our powerful SD-WAN technology, Riverbed SteelConnect.
Riverbed provides a cloud networking and SD-WAN solution that reduces the complexity of designing, deploying, and managing today's cloud-connected networks. With SteelConnect, you can say GOOD RIDDANCE to manual deployment of appliances on AWS.
Learn how to become a networking cloud ninja with Riverbed on AWS!
Watch our webinar to see Riverbed unveil the full power of a true software-defined WAN (SD-WAN) in the cloud with a detailed conversation and live demo of SteelConnect.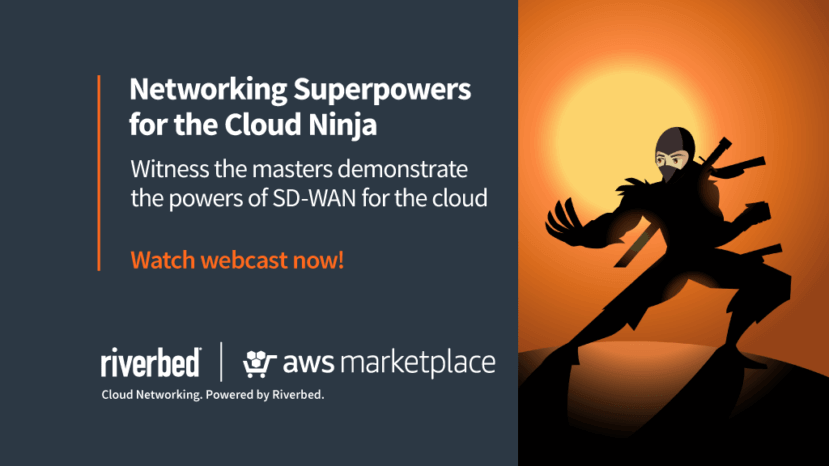 Join us to learn:
How the Riverbed-AWS partnership supports and enhances cloud migration initiatives by unlocking business agility, performance, and efficiency end-to-end.
About a one-of-a-kind Transit architecture with the ability to talk directly over VPC Peers.
How a unique approach to DirectConnect integration offers you benefits previously unavailable in your designs.
How Riverbed and AWS plan to address the future of networking.
Watch the webinar or, learn more about Riverbed's joint solution with AWS.