Creator's Burger Bot is the Definition of Disruption and Digital Transformation
For several months, a street-level unit in the building where Riverbed is headquartered in San Francisco has been cloaked in secrecy. With key-coded doors and blacked out windows, something was being created that required complete confidentiality. Was it a secret new technology start-up? Or some sort of new-fangled robotics enterprise? Or a business looking to disrupt the status quo?
Actually, the answer is "yes" to all of those questions.
The company, Creator, is flipping the hamburger-making restaurant business upside down. They are disrupting an operating model that's been around since the 1900s, when the first hamburger was served at Louis' Lunch in New Haven, Connecticut.
As Creator states on their site, they are focused on "creating a whole new kind of hamburger, one that's never existed before." Does it use genetically engineered meat? No. New types of ingredients? Not really.
What Creator has done is rethink what is possible regarding the burger-making process. There are no humans involved in making the burger. It has all been automated and robotized. And it's not just the preparation process, Creator has reinvented everything involved in serving hamburgers—from sourcing the ingredients to customizing orders—all driven by robotics-driven workflows and digital processes.
With Creator, gone are the days of legacy burger flipping and the inefficiencies therein. While made-to-order restaurants introduced a way for customers to get what they truly wanted, the efforts were and still are time-consuming and tedious, as well as potentially error-prone.
How many times have you ordered a meal, in this case, a burger, only to have it missing an ingredient or the wrong one in its place (grilled onions are a different experience than raw ones)? Or the burger was cold, or the cheese hardened from being melted a while ago instead of immediately before serving.
In Creator's case, automation "feeds" the consumer while maintaining efficiencies, inventories, and speed-to-market (the consumer's mouth). With Creator, while customers do work with a human order-taker, the order uses a digital interface to define the automation and intelligences used to build their burger. From seasonings to cheese type to garnishes, these are chosen and then a policy-driven robot crafts the final outcome. You get what you expect, based on the decisions you make.
Automation enables better standardizations and, in the end, ensures a more positive user experience. With Creator, quality assurance and control are maintained—even with a vast number of possible burger customizations—because policies and standards drive the end product. The consumer knows what they will be getting, and burger quality is maintained universally.
If you consider a traditional burger joint, you probably have rudimentary inventory control. You know how many burgers are ordered. You know the types of ingredients that have been consumed. You know how many hours the employees spent making and flipping the burgers. But honestly, that might be the limit to your insights. Your visibility into the process is hazy at best.
Creator disrupts this lack of visibility completely. As inventory is carefully maintained and ingredients precisely measured as production occurs, visibility becomes much more granular. The daily, fresh-baked buns are counted. The number of tomatoes sliced, used, or discarded are measured. The precise amount of chopped lettuce defined and doled out. Yes, you probably can measure all of those items within a legacy burger establishment, but I would guess it is more of an estimate and less of an engineered measurement.
On the other hand, a Creator burger bot derives its intelligence from 350 sensors, 50 actuators, and 20 computers—no guesstimates possible with that type of monitoring and control!I would hazard a guess that Creator can get an accurate inventory or consumption metric on demand via a dashboard, rather than waiting until the end of the day to do a manual (error-prone) inventory count.
The efficiency through automation allows skilled users to focus less on the mundane troubleshooting tasks and more on higher-skilled efforts. Creator co-founder, Alex Vardakostas, says he doesn't want his employees doing that trivial task of flipping burgers. He wants them shaping the future of fast food, innovating, and expanding their skills to make them more valuable employees, not just burger flippers. And while the Creator burger bot definitely reduces OpEx, it also offers a streamlined production environment, taking up a fraction of the space a traditional burger restaurant does. What this translates to is, in Creator's instance, a lower price for a similar product. Creator's bot-made gourmet burger is only about $6 versus a comparable human-made burger which could start at $12.
Production efficiency also translates into predictable as well as optimized timelines. A burger is made in about five minutes with little variance whereas a human-made burger depends on the flipper, the environment, and a variety of other factors. With Creator's model, you can conceivably scale the burger creation environment by simply deploying more burger bots. A new bot equals not only increased output but also a predictable increased output via a compartmentalized process. It's not as easy to throw a new stove into a restaurant and train and hire new cooks within a traditional burger model.
Creator is the definition of disruption, rethinking what's possible, and driving towards digital transformation as they redefine the traditional ways of making that common-place burger.
Enabling digital transformation with Riverbed
At Riverbed, we want to enable companies to rethink what's possible. Whether it is efficiently growing a global footprint or optimizing cloud infrastructure connectivity or ensuring the best end-user experience possible, we believe having tools and solutions available for your digital transformations can make you a disruptive force in the market, as you focus on your core benefits and less on managing your IT.
Riverbed provides digital performance solutions from WAN optimization to SD-WAN to digital experience management to delivering efficiencies at IT's edge to full-featured cloud connectivity and networking, allowing our customers to focus on their core value and less on optimizing and maintaining the infrastructure behind it. At Riverbed, we empower businesses to undertake business disruption by transforming inefficiencies into digital performance.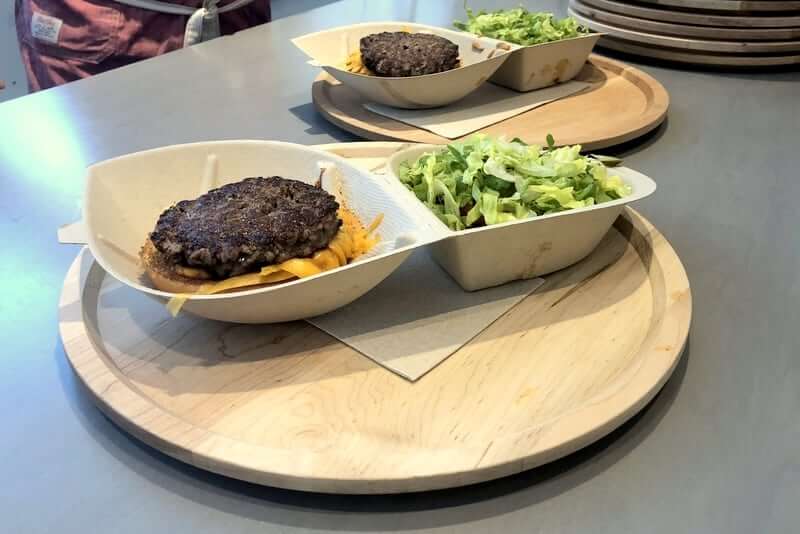 We believe Creator is a perfect example of how businesses can redefine and transform the status quo into something more useful, efficient, and valuable, and want to welcome them to the neighborhood.
Boy am I hungry now!