Connect with Thought Leaders and Riverbed at the 2019 Economist Innovation Summit
On March 7, 2019, Riverbed, the Digital Performance company, will be joining The Economist editors, top thinkers, Fortune 500 leaders, policymakers, academic, and disruptive entrepreneurs to share insights on how exponential technologies can be harnessed for positive and profitable growth.
The 2019 Economist Innovation Summit in Chicago, Illinois will bring the rigor of informed analysis and intelligent debate to life on stage as all Economist Events do. With the theme "defining the digital future," this year's summit will explore, dissect, and analyze trends and technologies that promise to follow Moore's Law patterns of exponential growth.
At the Innovation Summit
Hansang Bae, Riverbed's Chief Technology Officer, will participate in a special session on edge computing and intelligent devices. He's set to offer his expert opinion on how the IoT trend will evolve, the pros and cons of edge computing, and why IoT and hyper-connectivity will fundamentally disrupt traditional IT architectures and security safeguards.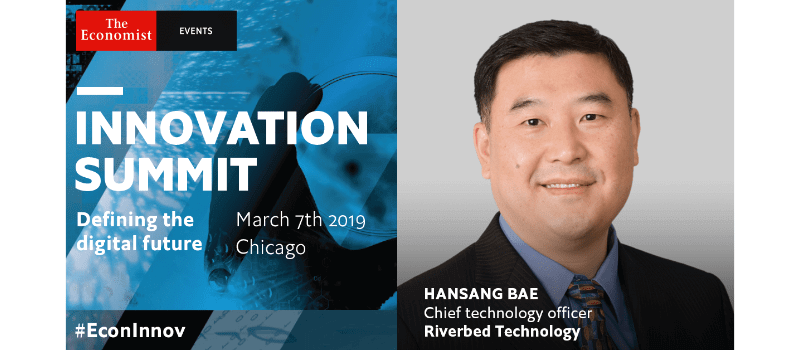 At the Innovation Summit, Riverbed will introduce a first-of-its-kind benchmarking tool based on exclusive global research conducted by The Economist Intelligence Unit to assess organizational competencies necessary for better digital performance. Event attendees are invited to stop by Riverbed's booth to determine their organization's digital competency score and to receive a customized report on how their organization compares to peers and high performers.
With illuminating sessions covering the implications and opportunities of technologies such as artificial intelligence, blockchain, and quantum computing, this year's Innovation Summit will be eye-opening, educational, and thought-provoking. We're looking forward to lending our voice and perspective at the event and hope you can join us and the conversation at #EconInnov.
Get your discounted ticket
As a Gold Sponsor of the Innovation Summit, we're able to extend a 20% discount off the registration rate! Select the Standard Rate ticket and then apply code RIVERBED20 on the checkout page to take advantage of the discount. See you in Chicago!