Mastering Digital Performance with RCPE
Digital transformation is redefining and empowering how businesses operate today. So it's no surprise that it remains a top strategic priority of CIO's (Forbes 2017, 2018) because of the role it plays in optimizing organizational capabilities to become more agile, predictive, efficient, and customer-centric.
A business with an ineffective digital strategy will have a tough time maintaining its competitive edge over the long run, as digital now drives nearly every aspect of a company's success—from understanding and responding to customer's needs, to launching new products and services, to enhancing supply chain management and logistics.
Yet, the maturity of a company's digital performance in their digital transformation journey will distinguish the leaders from followers.
Consider blockchain–a decentralized and distributed ledger that records transactions securely across a peer-to-peer network that prevents retroactive tampering and alterations (HBR, 2017). Blockchain technology is rapidly being adopted by corporate digital strategies, including Maersk Line, the world's largest shipping container company, to digitize workflows across their end-to-end supply chain. Maersk Line can track their shipments as they move across the world as one package encounters many different parties on its way to its final destination.

Check out this great video to learn more about their innovation.
This is just one example of how organizations are digitally transforming their business. But while digital creates vast opportunity for the business, the performance of those digital technologies becomes a vital part of the corporate strategy.
Despite the clear value of digital transformation, there is still a lack of training in the IT industry to develop the capabilities needed to optimize digital performance that's fit for business.
Riverbed is addressing this gap. As  leaders in digital performance, we've accumulated years of experience working with countless organizations of all sizes throughout their digital transformation journey. We help them implement best practices in digital performance management so they can take their business to the next level.
Our expertise has been consolidated into a new training program, called Riverbed Certified Performance Engineering (RCPE). This program teaches performance management from the ground up. The RCPE program covers the entire spectrum of digital performance, end to end–ranging from end-user experience (EUE), virtualization and storage, application and network visibility, WAN optimization and network configuration.
There is no other training portfolio with a solution-oriented view on digital performance management like it. It's designed for those in IT management, IT professionals or those just starting out to understand the value the performance management and how to apply solutions to maximize business value.
The roadmap
As illustrated in the framework below, the RCPE program covers end-to-end performance management (left to right): Network & Infrastructure Visibility, EUE & Application Visibility, WAN Optimization, Network Configuration, and Virtualization & Storage. For each track, there are three advancement levels (bottom to top): Foundational, Associate, and Professional.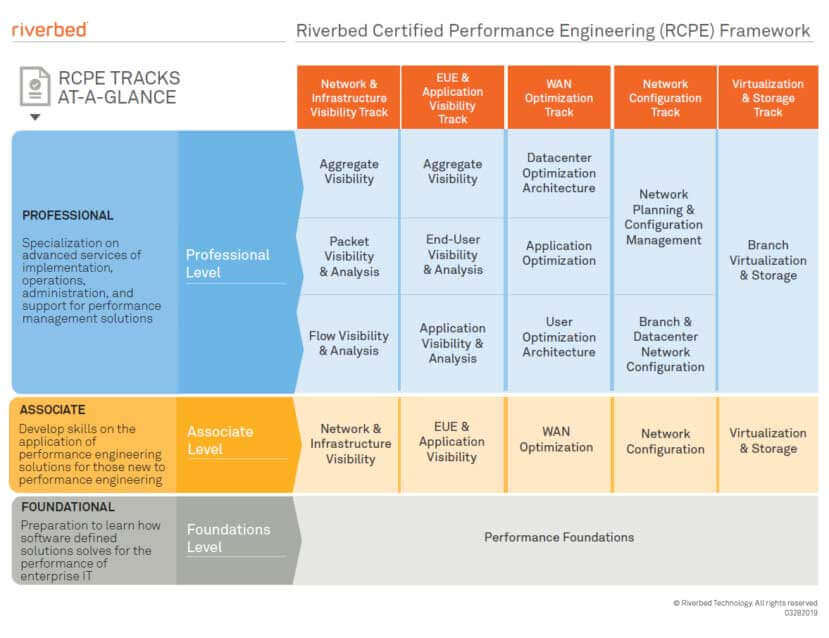 Foundational (at the bottom) is the first level that has the Performance Foundations course. This course is the essential building block for all tracks and covers an introduction to performance management using a product-agnostic and solution-oriented view. Performance Foundations is relevant for all IT roles, including CXX and IT management. Gradually, the levels become increasingly advanced with the Professional tracks serving technical hands-on roles, such as engineers and architects.
Watch the short video below to learn more about the program.
Where RCPE leads
Because it's unlike traditional IT training being offered, developing performance management skills can also be the jumpstart into a new position or a new career in IT. The program also applies to many different corporate roles. For instance, consultants who straddle both the business and technology sides can leverage the content for designing a digital strategy, while ensuring adopted technologies are performing at the rate to meet the needs of the business.
Moreover, the content can also help advance industry veterans looking to expand their existing skills. Mastering digital performance opens many doors to working with the latest and exciting innovations in business and technology–such as Maersk using blockchain.
Ultimately, the learnings taught through RCPE are designed to help organizations carve a path towards improved business performance. These skill sets boost companies' abilities to minimize risk, increase market share, improve customer satisfaction, and lower operational costs, to name a few.
As Riverbed Performance Consultants, we use the content in RCPE to assist with building digital performance centers around the world. Digital performance centers are designed to unify aspects of technologies across IT domains (end-users, applications, network, and infrastructure) together with performance management capabilities to help organizations master their digital transformation journey–and ultimately to meet their desired business outcomes.
Get more information about Riverbed's Digital Performance Center services.
Now or never
RCPE is the road to implementing performance management best practices, just like what we do every day at Riverbed.
Performance Foundations is free for everyone. To give it a test drive, please contact us at training@riverbed.com to sign up.