Enterprise Strategy Group Evaluates SteelFusion in Lab Review
Enterprise Strategy Group (ESG) is an industry analyst firm known for their unbiased technology insights that they provide to a global IT community. Recently, the firm performed a
lab review of our Hyper-converged Edge solution, which delivers unprecedented levels of agility, protection, and management of remote and branch offices (ROBOs). With meticulous attention to detail, they first took an in-depth look at market challenges in distributed IT environments. ESG's independent survey revealed that there is clear motivation for IT organizations to secure and centralize their data—something we at Riverbed have been tracking for years, but it was reassuring to hear it from an independent source.
ESG's approach to validating SteelFusion was very methodical and quite detailed. First, a SteelFusion appliance was installed and an entire ROBO site was spun up. Once operational, several failure scenarios were initiated to test the resiliency of the product. Finally, several tests were done to verify the backup and recovery of critical data—be it an entire LUN/datastore or a single file.
Here's a graphical view of the ESG/SteelFusion test bed used in the report: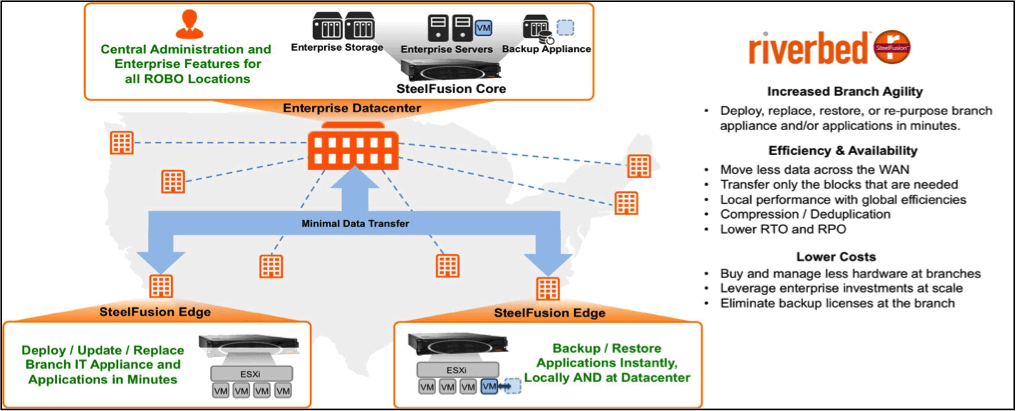 Results are in…
Now, the real purpose was to thoroughly put the product through its paces and look at various setup and runtime aspects of the solution. ESG performed tests on performance, agility, resiliency, and backups – and I'm proud to say that all passed with flying colors. In the lab review, ESG found a few attributes of SteelFusion to be particularly compelling:
Simplified Edge IT Deployments: ESG was able to provision a SteelFusion at a branch site in 15 minutes and have it fully functional
Enhance Security Posture: Data is encrypted both at rest and in flight with authoritative blocks centrally protected at the data center
Elimination of ROBO Backups: All remote locations are managed and backed up centrally by a single admin, eliminating the need for onsite IT
Extension of Data Center Investments: Leverage enterprise-grade infrastructure at the data center without having to replicate capabilities at every remote location
An ESG Analyst had to this to say about SteelFusion:
'Through SteelFusion, branches can be spun up, spun down, moved, backed up, and restored
amazingly fast all from the central data center, and now conveniently in the cloud, without
requiring assistance from operational staff in the branch. SteelFusion helps businesses meet
the variable application performance requirements of their ROBO locations while reducing
complexity and mitigating risk.'
This was just an appetizer…for more information, get the entire report. I'm confident you will have a different perspective of how to manage Edge IT.
Learn more about SteelFusion and how it can help you!