Five Cloud Trends That Will Impact Your 2019 Plans
Lessons from Dimensional Research's Cloud Trends Report
I recently ran across a great stat from Enterprise Management Associates. According to the analyst firm, as much as 45% of enterprise network traffic today can be attributed to external cloud sources.[1] I suppose it shouldn't be a shock. sWe have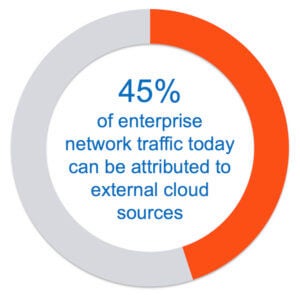 been hearing stats from other companies that indicate that enterprise workloads (as much as 83% by 2020[2]) are moving to the cloud.
But the bottom line is that this stat has profound implications as we begin our 2019 planning.  The cloud is no longer a separate thing. It is an extension of our infrastructure and a central component of application delivery to our end users.
So, how do we manage it? How do we ensure performance? What sort of adjustments do we need to make to our organization and tools to better support the cloud? To explore this, Riverbed commissioned a global study with Dimensional Research.  The company interviewed 333 network, infrastructure, and cloud professionals.
In a webinar titled, "Five Cloud Trends: How They Will Impact Network Monitoring," Diane Hagglund, Principal Researcher from Dimensional Research, detailed five trends that the research highlighted with respect to performance monitoring for network management and the cloud. These cloud trends are:
Cloud complexity is exacerbating management challenges – As companies adopt cloud, respondents indicated that the broader adoption creates significant new challenges for managing performance and costs. These challenges become more pronounced as cloud complexity increases (spanning multi-cloud, spanning geographies, etc.).
User expectations for the cloud are higher than on-premises – Only 7% of end-users will make allowances for applications that are in the cloud. More often, they expect the same or even higher performance from the cloud.
Unexpected cloud costs – Surprise! Companies are still experiencing unexpectedly high cloud bills. Not surprisingly, this happens more frequently in complex cloud deployments.
Organizational structures and skillsets are evolving to meet the needs of cloud management – Almost ubiquitously, companies have evolved their IT teams to support and manage cloud environments. For the most part, staff has acquired these new skills on their own.
Hybrid cloud tools are gaining momentum – Respondents show a clear preference for a single tool that spans both cloud and on-prem performance management. They also (almost universally) feel that their existing tool sets need additional cloud monitoring capabilities to do the job.

What can you do?
Start by removing the barriers to visibility in the cloud and between on-prem and cloud environments. The old adage, you can't manage what you can't measure holds true so it's critical to put monitoring in place that can remove any and all blind spots—across the stack, in your data center, in your cloud environments, and even on your users' devices. Traditional tools that focus on only cloud or only on-prem can't tackle the new challenges of hybrid cloud.
To take control of the cloud, we need a new performance management toolset that meet the requirements of cloud and hybrid cloud environments. With our October launch, we announced latest release of its Digital Experience Management (DEM) solution Riverbed SteelCentral, with advancements that help you take control of the cloud. With these enhancements, Riverbed enables you to monitor the digital experience of every application, in any cloud environment.
This includes the ability to:
Monitor the end user experience for any application including SaaS, cloud and on-premise applications to help you improve customer satisfaction and employee productivity
Gain better control over network performance on-prem and in the cloud by integrating flow- and packet-based monitoring
Accelerate troubleshooting with a holistic view of performance across domains (application, network, end user) and across cloud infrastructure
Still looking for more information? Check out the on-demand webinar or download the detailed research report.
[1] EMA, Network Management Megatrends 2018, April 2018
[2] https://www.forbes.com/sites/louiscolumbus/2018/01/07/83-of-enterprise-workloads-will-be-in-the-cloud-by-2020/#2f5576686261