Highlights From Network Field Day 19
On Thursday, November 8th, Riverbed hosted twelve delegates as part of Network Field Day 19. This event provided the opportunity for these known industry influencers and highly technical individuals, to hear about Riverbed's SD-WAN portfolio and discuss some of the common architectures that our customers experience when migrating to SD-WAN. In this blog, I'll recap highlights from the event and dig a bit deeper into the technical aspects of our live demo.
Riverbed company overview and key updates
To begin our session, Romain Jourdan provided an overview of Riverbed and a few updates. During his opening presentation, Romain asserted that performance means more than just speed. When it comes to performance, our customers are telling us that they are facing challenges in achieving a successful digital strategy, digital services are failing a few times a month or more, and while they understand that digital performance is critical to business performance, they need real solutions to bridge the gap they see today. Riverbed is helping those existing customers as well as new ones, to rethink what's possible with our comprehensive digital performance portfolio. This is accomplished by merging Digital Experience Management with Next-Gen Infrastructure, maximizing digital performance and closing the gap. Be sure to watch the video for the full overview.
Riverbed SD-WAN 2.0 – cloud networking and introduction to SteelHead SD
In the next portion of the session, Romain introduced the delegates to SD-WAN 2.0 and Steelhead SD. To begin with, Romain explained several initiatives that are driving network transformation. Not everyone is a greenfield deployment, and not everyone is going to replace MPLS. Sure there's a case for WAN cost reduction, but several other use cases are driving network transformation, and SD-WAN can play a significant role in that.
These cases include:
Cloud adoption
Data center consolidation
Streamlining IT processes
DevOps automation
As Romain continues, he introduces SteelConnect Manager, discusses policies to apply business intent, and discusses what traffic path rules are used for, how Riverbed integrates with Microsoft Azure and AWS as a one-click solution, and Azure Virtual WAN integration. We talked Zscaler for NGFW, and the began to transition into architectures.
Three architectures were mentioned here, Alternate hub, Internet-Brownfield Hub, and Multi-Hub which is depicted in the following image.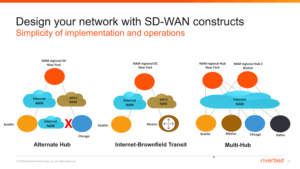 These are interesting scenarios that enterprise customers encounter and with our release of Steelhead SD we are now addressing these scenarios and helping bridge the gap between the legacy network and the next-generation network powered by SD-WAN. Some of the latest features are discussed in our announcement.
You can view that video below.
Enterprise use cases
In the next section Zee Kallab dug into the use cases we've seen with SD-WAN. He started out talking about traditional SD-WAN and how many customers began by doing a 1:1 replacement. This is great when you have fewer sites and simple requirements, but the enterprise market is much different. When SD-WAN meets the enterprise network, you have a mix of connectivity, including MPLS, Internet, LTE, multiple providers, and more. Not all enterprise customers plan to move to Internet-only. In fact, in some geographic locations its just not possible to move to Internet-only connectivity. When customers keep a mix of Internet-only sites, Internet and MPLS, and MPLS only sites things get real interesting regarding how you handle routing between all those sites. Zee discussed how to take overlay and introduce those routes to the underlay, and vice-versa. This lets you merge an SD-WAN island with the legacy network that's not running SD-WAN software. There's an excellent discussion of what to watch for in the following video.
And now for the demo
With so many topics discussed it was on to the demo to showcase some of the functions of the Riverbed solution. There were several topics I wanted to cover in the demo, but in the end, I showed the following:
RBAC and multiple orgs.
Shadow appliance and ZTP
Outbound/internal rules for access control
NGFW integration with Zscaler
Traffic path rules and path control
Transit Hub taking SD-WAN prefixes and advertising to MPLS
Taking MPLS routes and forwarding those to SD-WAN sites
Inclusion and exclusion lists for route propagation control
Yes, it was a whirlwind of a demo, and to me, that's really amazing. The entire demo is less than twenty minutes, and I demonstrate how to configure each of these. You can watch that demo in the video posted below.
Closing thoughts
This event was a fantastic forum for us to show our capabilities to the twelve industry-known delegates as well as those who joined in on the live stream. We think the new features are just what serious customers need to complete their transformation to the network of the future. And while the configuration in a GUI simplifies life for the network engineer, there is still a lot of technical details to be aware of. In a future post, I'll go into the details of the transit use case and how to configure that in SCM as well as some of the things to watch for. For now, I'll leave you with the thought that networking has traditionally been a bit daunting when in the midst of a migration to SD-WAN. With the Riverbed SD-WAN solution, much of the manual work is automated for you. This automation reduces errors common to manual configuration and gives you time to do other tasks. It's an all-around win!