How Balancing Information Security with an Optimal End User Experience fosters a Productive and Happy Workforce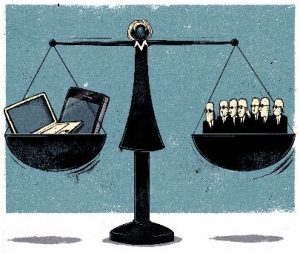 I recently came across an excellent document when poring over Aternity's own information security policies. Cisco commissioned a study on data leakage, focusing in particular on how employees are a big part of the issue. The study was illuminating, if not ominous in its findings. Some of the numbers and insights are alarming, including:
'Unauthorized application use: 70% of IT professionals believe the use of unauthorized programs resulted in as many as half of their companies' data loss incidents.'
This indicates that unauthorized applications on a user's machine constitute a huge security risk for corporations. Further, from the Cisco study:
'Data stored on the corporate network is also at risk because it is more accessible than ever. Organizations provide easy access to databases for information sharing, and storage and compression technology has allowed for more powerful (and risk-laden) endpoints […].  In addition to having more data at risk, businesses today suffer greater consequences if that data is lost or compromised. The loss of intellectual property, such as proprietary product blueprints, financial data, and merger and acquisition plans, can damage a company's reputation, undermine its brand, or jeopardize its competitive edge. Breaches of regulatory requirements for handling sensitive customer data can reduce customer confidence and lead to fines.'
Balancing Information Security and the End User Experience
All companies at all levels across all industries can be affected by data and information leakage. We happen to work with a number of legal firms where documents and document sharing is of paramount importance in their day-to-day tasks. Many of these clients have implemented sophisticated tools to help prevent the leakage of information through document classification when sharing information through communication tools, most often email and Outlook. These tools, in combination with security policies that foster a security-minded culture, help mitigate this risk.
The downside of these tools is that they can potentially have a negative effect on the end user experience and ultimately productivity. Plug-ins built into Outlook that provide email classification, attachment scanning, document classification and other security-related capabilities are necessary but can cause the application to slow down, drastically in some cases, and can cause the application to hang or potentially crash.
Given the amount of time that knowledge workers spend doing email in Outlook, the potential negative effect on workforce productivity is very real and should be of utmost concern to IT within law firms – and other corporations and small businesses.
Case in Point | Monitoring Workforce Productivity
Aternity End User Experience Monitoring can be used to bring visibility to this potential problem, allowing IT to protect the investment in the security tools while ensuring the impact to workforce productivity is minimized.  I've worked with a law firm recently to monitor common Outlook functions and other add-in functions to determine users who are being negatively impacted by performance.  The screenshot below, obtained with one click in Aternity, shows users with very poor performance scores with common Outlook functions and plug-in specific functions: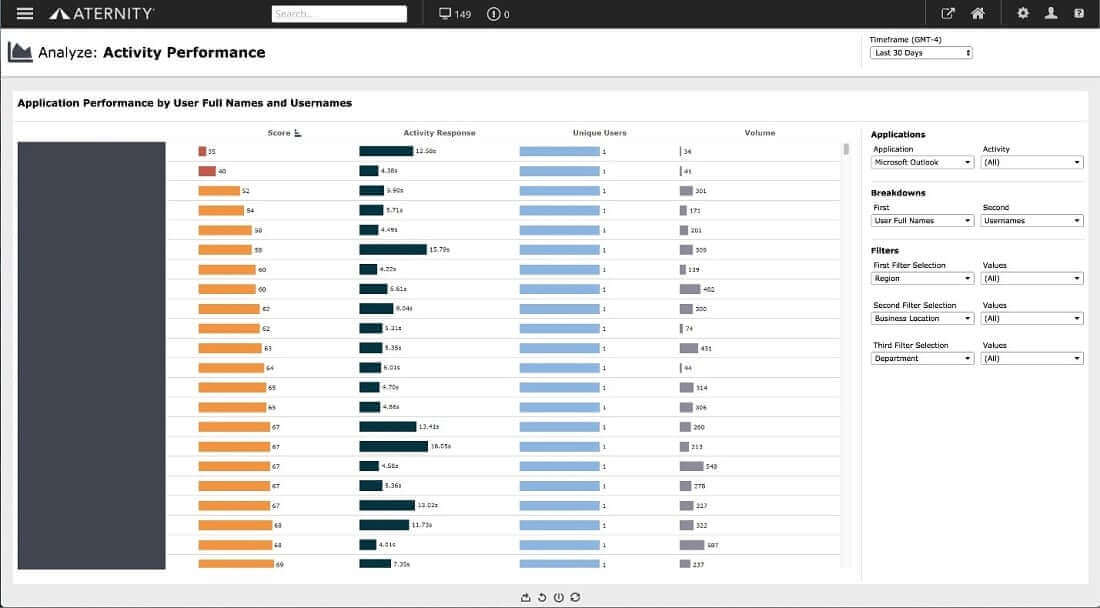 Drilling further into the user experience, which shows actual transaction execution times, one user was experiencing wait times of 7-13 seconds to simply open a mail message.

Open Mail is typically a client-side task with little interaction with the Exchange Server, and that Outlook plug-ins can potentially load each time a message is open, this user could be negatively impacted by the plug-in performance.
Further, Aternity is able to see if the plug-in is causing instability (crashes) with Outlook. The screenshot below shows the occurrences of the plug-in being identified as the faulting module in crashes by Windows: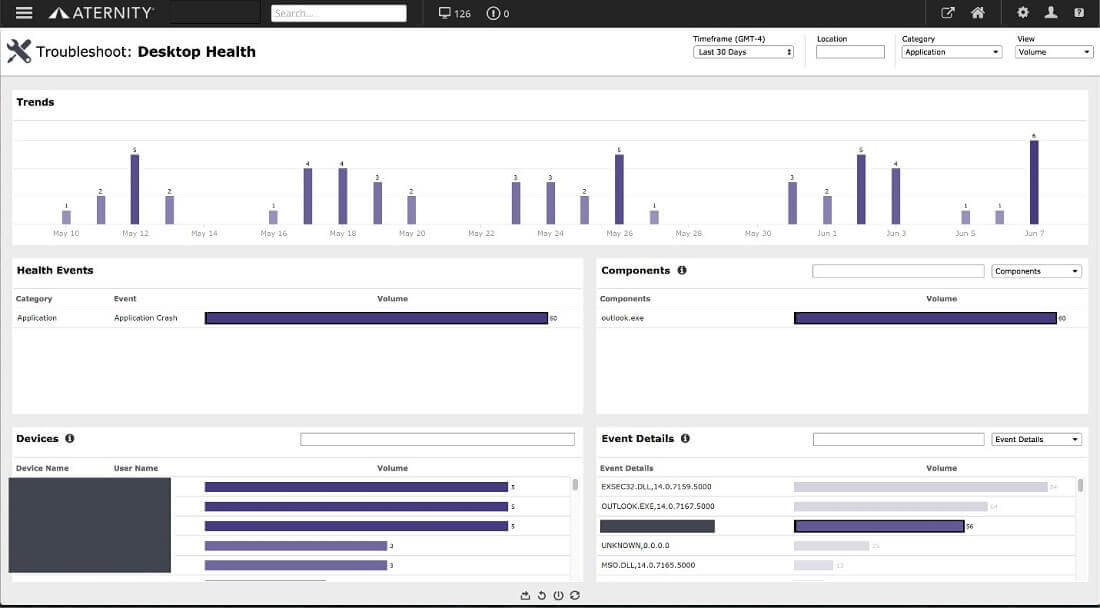 Conclusion
While these plug-ins are popular with legal firms, the information security isn't limited in scope for specific industries. As corporations and small businesses look to integrate similar technologies into their environment, they are instituting substantial change into a product (Outlook) that is likely one of the most widely used productivity tools. Using Aternity in the early pilot stages in integrating this technology will show IT groups the immediate impact of the technology within their environment. They can address the critical questions: Is it slowing my user experience? Is it crashing Outlook in my environment? What's the scope of the issue?
Knowing the answer to these questions will allow the IT organization to work closely with the vendor to ensure that they get value from the information protection aspect of the software plug-in, while ensuring the productivity of their users is not affected… and ensuring a happy user base!
If you'd like to learn more about Aternity, contact us.
ATERNITY FOR LEGAL | REAL-WORLD PERSPECTIVE FROM A CIO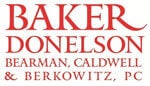 As law firms face increased competition and client demands for more certainty over their spend, they've turned to converged technologies to deliver better client satisfaction, staff efficiency, and financial results. During this 30 min on-demand webinar, hear a real-world perspective on End User Experience Monitoring from a top legal firm on best practices to help ensure your IT organization is providing the best user experience. View the on-demand playback here.