IDC Marketscape Recognizes Riverbed As a Major Player in WLAN
Distinguished as a cloud networking vendor among 11 global WLAN providers
The recently published IDC Marketscape Enterprise WLAN report has recognized Riverbed as a major player in Wireless LAN. You may have known Riverbed as a WAN optimization company in the past. Today, get to know Riverbed as a cloud networking company. Riverbed has been in the forefront of WAN performance technology for over 15 years. We have extended this same culture of performance and innovation to the broader network. Our cloud networking offering provides an integrated connectivity solution from WLAN to LAN to WAN that enables business agility and operational excellence.
Major wireless LAN player
In April 2018, IDC published the 2018 MarketScape for WLAN that included eleven vendors. Riverbed Xirrus is positioned as a Major Player in this report. Riverbed Xirrus made the biggest jump in position of all the vendors since IDC's last wireless LAN report which included Xirrus as a standalone company. This is a testament to our strong enterprise Wi-Fi portfolio. SD-LAN is an integral part of our strategy to deliver a digital performance platform and help businesses rethink what is possible with their networks.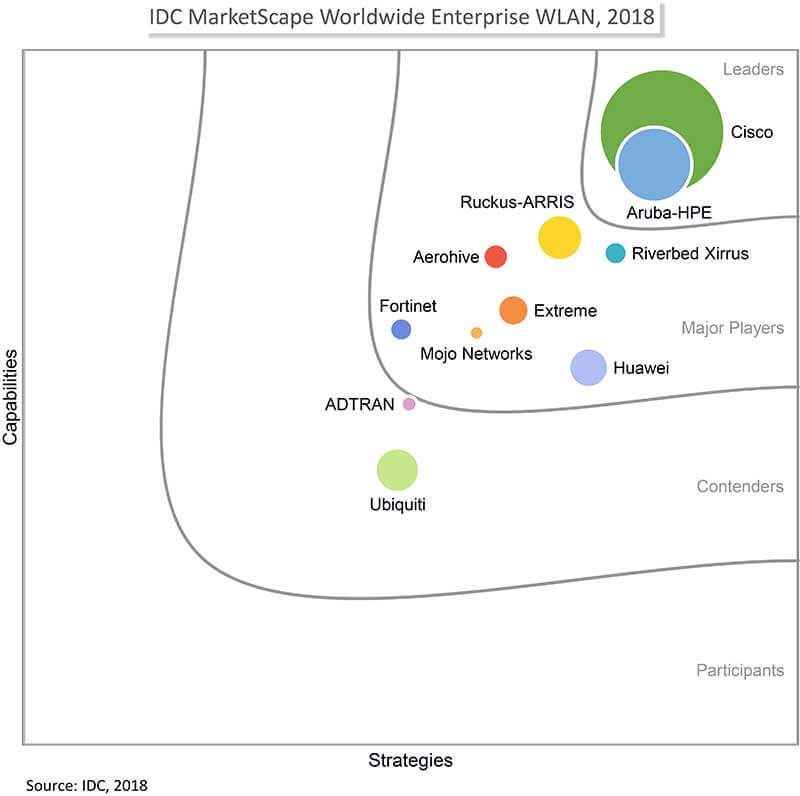 The 2018 IDC MarketScape for WLAN states, "Riverbed gives Xirrus customers the opportunity to leverage the broader Riverbed's cloud networking portfolio, which includes SD-WAN and SD-Branch connectivity, network and application performance management (NPM/APM), end-user experience management, and WAN optimization."
A full stack cloud networking solution
Xirrus was acquired in 2017 as Riverbed moved to build its cloud networking solution. Xirrus Wi-Fi complements Riverbed's SD-WAN offering with a strong SD-LAN portfolio. Since then, we have integrated Xirrus Wi-Fi with Riverbed SteelConnect and SteelCentral platforms to create an end-to-end cloud networking solution.

We are proud that IDC has recognized our strategy and holistic offering. The report recommends, "Organizations seeking full-stack cloud networking and converged campus and branch networking solutions should consider Riverbed Xirrus Wi-Fi in the context of the broader Riverbed portfolio."
Would you like to read why IDC rated Riverbed as major player in Wireless LAN?