Key Takeaways from AWS re:Invent 2018 on Cloud Transformation
Last week, 55,000+ cloud enthusiasts converged on the Las Vegas strip for another edition of AWS re:Invent. The sheer size of the event underscores how important the cloud is for today's digital transformation strategies. At the Riverbed booth, we were eager to discuss how attendees were leveraging AWS to turn such strategies into a competitive advantage for their businesses.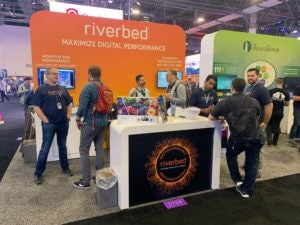 Throughout the week, we had hundreds of insightful conversations. And regardless of whether these companies were born in the cloud or had only just migrated their first workloads to AWS, a common theme emerged: performance and end-user experience matter more than ever before.
This didn't surprise us, as half of business users expect applications to perform better when they're hosted in the cloud[1]. However, in the digital era where slow is the new down, our interactions with re:Invent attendees backed up another assertion: companies are struggling to deliver on digital performance expectations in the cloud.
Let's take a closer look at why this performance gap exists, and how Riverbed's digital experience management and next-generation infrastructure solutions help companies successfully migrate, adopt, and continuously optimize the performance of their AWS deployments.
Taking control of cloud performance with end-to-end visibility
Developers are using containers, microservices, and countless other third-party components to quickly build and scale out their applications today. But the result is an application architecture that is highly distributed, portable, and may span both cloud and on-premises services—which can be difficult to control, from a performance and availability perspective.
This hybrid environment also results in chatty apps and a limited understanding of traffic flows between AWS VPCs and availability zones, generating higher-than-expected costs. In fact, enterprises are wasting 35% of their cloud spend today.[2]
To address these issues, many attendees mentioned they were leveraging a mixture of point monitoring tools and relying on SLAs from AWS or other providers. The problem with this approach is that IT operations only sees part of the performance problem, and service-level guarantees end at the edge of the service provider's cloud. Yet, IT is still on the hook for ensuring end-to-end performance—across cloud-connected networks, apps, and end-user devices.
For these AWS re:Invent attendees and other cloud practitioners, Riverbed presents a different approach: a digital experience management solution that provides end-to-end visibility across hybrid clouds, enabling companies to maximize performance and improve cloud vendor management.
Read more about this unified approach to cloud performance management that empowers you to:
Observe network and application traffic and investigate problems across your entire cloud ecosystem in a single pane of glass.
Gain insight into traffic flows to optimize service provider costs and hold vendors accountable to SLAs.
Take back control of cloud-hosted apps and re-architect them for better performance.
Driving continuous improvement with powerful, second-by-second performance diagnostics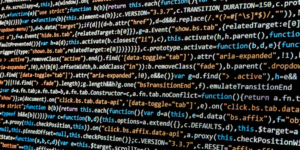 Many re:Invent attendees we visited with are also embracing DevOps to innovate even faster in the AWS cloud. However, a common issue has surfaced: frequent code delivery can lead to unstable releases, which negatively impacts service levels and frustrates their end users.
Furthermore, these organizations often lack a complete understanding of how these code updates impact a user's digital experience, which interferes with a DevOps team's ability to prioritize releases. Which pieces of code should they fine-tune or optimize? How will those efforts affect user productivity or the bottom-line?
With all of the moving parts associated with DevOps and continuous delivery pipelines, detail matters. That's why Riverbed delivers a big data approach to APM, capturing every transaction for every user, application, and device. This allows developers and IT operations to:
Quickly detect and resolve code-level bugs, see the effects of code changes, and ensure releases are production ready.

Monitor all of the popular containers and orchestrators—including Docker, Pivotal Cloud Foundry, Kubernetes and OpenShift—enabling teams to ensure the performance of distributed environments, even during high rates of change.
Prioritize future development or tuning efforts by identifying which pieces of code are having the largest impact on business and digital performance.
In addition, performance metrics from across a company's AWS infrastructure are automatically blended into role-specific dashboards so stakeholders have real-time insights into impacts on revenue, productivity, and customer satisfaction.
Modernizing networking for the cloud era with SD-WAN
Of course, even if applications are developed using today's best practices, they won't perform properly if the underlying network isn't stable. Unfortunately, traditional networks are hardware-bound, fragile, and growing in complexity.
Reconfiguring router-based networks is time-consuming and error-prone, making it difficult for network teams to keep pace with aggressive release schedules that are emblematic of DevOps initiatives. Moreover, extending networks to the cloud is equally time-consuming, as commonly used VPNs involve complex setups and negotiating policies between IaaS providers and all business locations.
Network latency poses another issue. Oftentimes, when companies migrate apps to AWS, data must travel longer distances to reach end users—especially for those located in far-flung, remote sites. These longer network paths can degrade application performance, and the resulting user experience is further impacted by bandwidth constraints, network congestion, or poor connectivity at certain remote locations.
Riverbed has been helping companies deliver apps and data over long distances for the past 15+ years. We've leveraged our heritage in WAN optimization to build out the most powerful and complete SD-WAN and cloud networking solutions in the market, empowering network and cloud operations teams to:
Rapidly connect to AWS with one-click, full-mesh and secure connectivity—making it easy to establish connections between all edge locations, AWS VPCs, and other public clouds.
Lower networking costs and optimize AWS performance by extending our WAN optimization capabilities into AWS to accelerate cloud apps and deliver the best user experiences possible.
Bring a DevOps mentality to the network through automation, zero-touch provisioning, and centralized management, helping IT deliver new AWS services or even open up new business locations in days versus weeks.
Let's continue the cloud conversations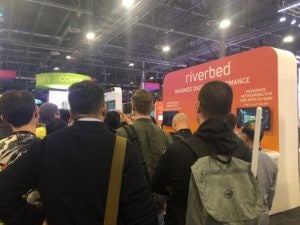 For those who connected with us at AWS re:Invent, thank you for your time! And for those unable to attend the event, remember: we can help you take the next steps on your digital transformation journeys and, as an AWS partner, we can help you maximize the value of your cloud investments.
Related reading:
[1] Network Management Megatrends 2018, EMA, April 2018
[2] 2018 State of the Cloud Report, RightScale