Leaked Confidential Memos from Santa Claus re: Riverbed Integration
Recently obtained confidential memos from the North Pole seem to indicate Santa Claus (aka Ol' Saint Nick, Kris Kringle, Father Christmas, etc.) and Santa's Workshop Enterprises recently have been experiencing slowdowns in the processing and handling of global requests of gifts, the transmission of Naughty or Nice lists, and deployments of Helper infrastructure. It has been learned, however, that rapid and robust solutions were implemented, designed to eliminate network performance issues, simplify cloud integration, optimize application performance, and the scaling out of branch office infrastructure to reduce bandwidth congestion.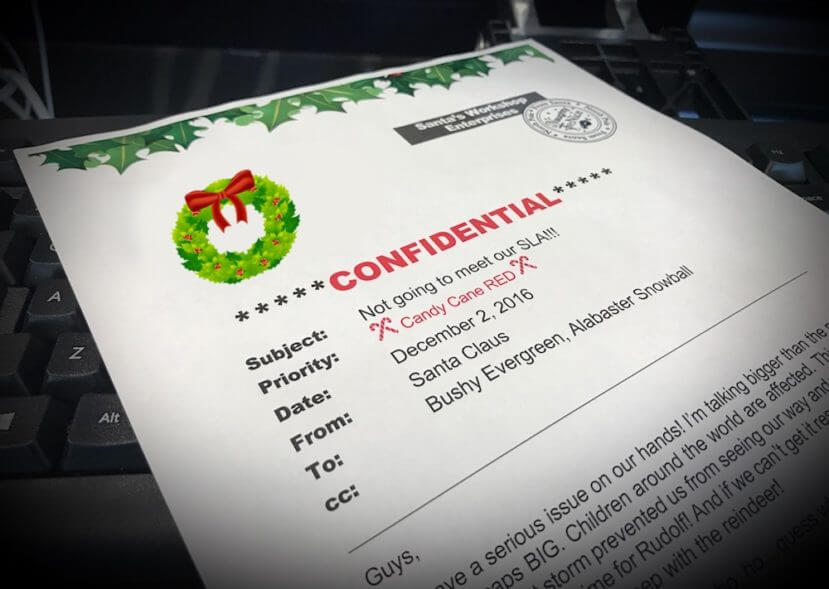 Following are several of the obtained CONFIDENTIAL memos between CEO, Santa Claus, and two Elves, Bushy Everygreen and Alabaster Snowball, who were tasked with resolving the crisis in the North Pole and its associated organization and branches.
Editor's Note: due to the magical nature Santa and his Workshop, forward-looking statements that seem to contradict the space-time equilibrium have resulted in future memos being delivered in the past. We have included past, present, and future writings in order to preserve the storyline.
************************* CONFIDENTIAL *************************
Subject:  Not going to meet our SLA!!!
Priority: Candy Cane RED
Date:     12/2/16
From:     Santa Claus
To:       Bushy Everygreen, Alabaster Snowball
****************************************************************
Guys,
We have a serious issue on our hands! I'm talking bigger-than-the-melting-polar-ice-caps BIG. Children around the world are affected. This is worse than when that storm prevented us from seeing our way and we had to pay double-extra-overtime for Rudolf! And if we can't get it resolved, Mrs. Claus is going to make me sleep with the reindeer!
Here's the problem. And…ho, ho, ho…guess what? It's not just one!
Branch Santas—You know all of those mall Santas and their pop-up shops we deploy across the organization to provide good cheer and joy, and who regularly send us updates on required inventory levels? There are so many 'wishes' and 'I want a…' memos that the requests are being backlogged, lost, corrupted, and simply just not being delivered to us due to network congestion.
'Naughty or Nice' data synchronization—Our master data list of all the naughty or nice inputs is overloaded. Parents, teachers, adults, and kids have been sending and updating the lists, but our data repository in the North Pole is not being synchronized well and our failover site in the South Pole has an incredible lag.
Package/Packet delivery—We need to have a deeper analysis of package/packet delivery to ensure we are using the most optimized routes for transport of inventory.
Cloud scalability—Obviously to support our Branch Santas and Helper workshops, we have relied on the cloud for the past few years to scale up and out during the holiday season and down and in once the 26th rolls around. But this is becoming so complicated now that we have multiple clouds (AWS, Azure, etc.) that our main elf tasked with cloud management has elected to go into early retirement, and much of his team has decided to take early vacations in the Bahamas. We need these cloud integrations nailed down!
Transition to SaaS-based 'Naughty or Nice' video—As you know, this project was kicked off earlier this year but it's turning my gray whiskers even grayer! While the initial proof-of-concept seems to work, the videos at the mall kiosks are choppier than Frosty waltzing down a Death Valley road in the summer! We need to get this optimized and fast! 100s of 1000s of parents have tried to watch these videos, but they are getting so frustrated with sub-par performance—with all the lag and latency—the user experience is Grinch-like!
Listen, if we can't resolve this in the next few weeks, I'm going to turn the whole operation over to Jack Skellington and the Nightmare Before Christmas team.
Not so jolly right now,
SC
************************* CONFIDENTIAL *************************
Subject:  FWD >> Not going to meet our SLA!!!
Priority: Candy Cane RED
Date:     12/2/16
From:     Bushy Everygreen
To:       Alabaster Snowball
****************************************************************
Hey Alabaster!
Holy broken ornaments! Did you see this note from Santa? I knew it was bad, but not THIS bad. We've gotta find a solution for all of these items fast! I'm sure our Christmas bonuses (or lack thereof) completely depend on these items getting resolved.
I've got some ideas, but it may take weeks or months to get all of this stuff done. And we'd probably have to contract it out to E. Bunny, T. Fairy, Cupid, and those other vendors. Good luck lining them up at this late hour.
Any thoughts?
– Bushy
************************* CONFIDENTIAL *************************
Subject:  RE: FWD >> Not going to meet our SLA!!!
Priority: Candy Cane RED
Date:     12/2/16
From:     Alabaster Snowball
To:       Bushy Everygreen
****************************************************************
Bushy,
Wow! I haven't seen Santa this upset since that time the sleigh's engine broke off and there wasn't enough Christmas spirit going around to fly it without the engine (thank goodness Buddy the Elf was able to save THAT Christmas!).
But don't get your stockings in a bunch. I have a company in mind with a bunch of solutions that will help us with all of these! Ever heard of Riverbed? Let's have a quick stand-up meeting to discuss and get their solutions into action!
-Al
************************* CONFIDENTIAL *************************
Subject:  As Discussed – Riverbed Implementation
Priority: Candy Cane RED
Date:     12/3/16
From:     Alabaster Snowball
To:       Bushy Everygreen
****************************************************************
Yo Ho Ho Bushy,
Grab your parka and chill, we'll totally be able to enjoy the eggnog when we are watching football on the 26th! Those bonuses are as guaranteed as Rudolph's nose is red, and we'll make this Christmas Holiday one for the ages. Riverbed has the solutions that are going to be the best presents Santa has ever received. From the best-in-class WAN optimization with SteelHead; the unbelievably detailed application, networking, and end-user visibility with SteelCentral; LUN projections from the North and South Poles to locations throughout the globe with SteelFusion; and the one-stop-shopping and one console complete SD-WAN management with SteelConnect. Like a snowstorm on Christmas Eve that blankets the neighborhood with snow, Riverbed has got us covered.
That Naughty or Nice List will no longer be something to lose sleep over; the Wish List, well, let's just say I hope the kids got a chance to talk with a Branch Santa, 'cause we will get the info delivered back to HQ quicker than Santa can gobble down a cookie.
Starting to feel the Christmas joy. I'll ping you later on the details.
-Al
************************* CONFIDENTIAL *************************
Subject:  Solutions for SLA Problems
Priority: Mistletoe GREEN
Date:     12/5/16
From:     Bushy Everygreen
To:       Santa
CC:       Alabaster Snowball
****************************************************************
Santa,
Before you can utter another 'Son of a Blitzen,' we wanted to let you know we aren't skating on thin ice any more with those SLA issues you discussed. Much like your jolly belly, we are currently implementing a well-rounded set of solutions from Riverbed. We know you've said your beard and whiskers can't get any grayer, so have another mug of hot chocolate with extra marshmallows! The Naughty meter is trending positively toward the Nice threshold.
We have a full sweet…er…suite of Riverbed solutions being deployed. Alabaster will fill you in soon with all of the sugary details!
– Bushy
************************* CONFIDENTIAL *************************
Subject:  Progress Report on SLA Solution Implementation
Priority: Mistletoe GREEN
Date:     12/9/16
From:     Alabaster Snowball
To:       Santa
CC:       Bushy Everygreen
****************************************************************
Santa,
No polar ice-caps are going to melt this year!
We've got the Riverbed solutions rolling out across the globe right now. In a roasted chestnut shell, here's what we are looking at:
Branch Santas—They are using SteelHead Mobile on their laptops and sending the inventory and wish list data to Office 365 via SteelHead SaaS. The Branch Santas are merry! We are saving money with less bandwidth usage, and no more network congestion. We are also rolling out SteelConnect to our entire WAN topology, including the Branch Santas. SteelConnect is the SD-WAN solution that will make it so easy to manage our WAN connections (even from the sleigh) and enable us to cancel those costly MPLS connections, which will also be a money saver.
'Naughty or Nice' data synchronization—We installed a SteelFusion Core in both the North and South Poles as well as our datacenter in the Midwest. SteelFusion Sync is keeping the Naughty or Nice List mirrored between the sites. If a blizzard knocks down the North Pole site, we'll have the Naughty or Nice list ready to go in a flash. It truly is syncrolicious!
Package/Packet delivery—The SteelCentral solution has given us complete visibility into what is going across our global networks. Aternity lets us know what the end-user experience is like for the Branch Santas, the APM side of SteelCentral lets me know when our apps are naughty or nice, and the NPM alerts me if there are any issues with the networks (e.g., remember last year when Blitzen took out our Satellite office in Paris and we didn't know about it until we got all those calls from the French team? Side note, what was he doing down there in July anyway?).
Cloud scalability—As much as the reindeer like to be up in the clouds, so does Riverbed. They have been spinning up their solutions in the AWS and Azure cloud portals as quick as you can say, 'Ho-Ho-Ho, Merrrrrry Christmas.' There are cloud SteelHeads, cloud SteelFusion Edges, cloud SteelConnects and one of the newer cloud solutions we jumped right on was SteelCentral. Riverbed's cloud solutions are making the transition to the cloud smooth and seamless. I was glad when you sent the reindeer team to fetch Pepper Minstix and his cloud management team back from the Bahamas last week.
Transition to SaaS-based 'Naughty or Nice' Video—The Naughty or Nice Video at the mall kiosks, 'How to Tell if Your Kids Have Been Good or Bad' are working splendidly. The video content before we implemented the Riverbed solution had all the common digital delays and jitter of unoptimized Internet video. We moved the movies to Office 365 Video and with SteelHead Web Proxy and a SteelHead Controller, we are now able to cache the entire 'good or bad' video locally, eliminating all the lag and latency common to video delivery. Veryyyyyy Nice!
-Al
************************* CONFIDENTIAL *************************
Subject:  12th Day of Christmas All Company Update
Priority: Mistletoe GREEN
Date:     12/12/16
From:     Santa
To:       All
****************************************************************
Team,
As many of you probably already know, this year's Christmas ran the risk of being outsourced to our 'friends' at The Nightmare Before Christmas Corp. With rosy cheeks, I'm jolly to announce that this will NOT be happening. Thanks to the diligence of Alabaster Snowball and Bushy Evergreen, we are in the process of implementing several Riverbed solutions to resolve our pressing Christmas infrastructure needs.
This reminds me of a song… 'On the 12th Day of Christmas my elves gave to me—Riverbed Technology!'
Briefly, for those of you not familiar with Riverbed and the solutions it provides, let me give you all a summary. Riverbed makes applications, websites, networks, datacenters, the cloud, and remote offices work optimally. And it couldn't be a better fit for our global organization. We are rolling out several of their solutions to prevent our current infrastructure issues from snowballing. In fact, as of right now, we are freezing all previous IT implementations in order to ensure the Riverbed integration has top priority.
As you contact the various branch Santa organizations, please inform them all IT will be centralized through the North Pole and they should expect current hardware to be integrated and connected through HQ in the coming days. All updates to policies will be managed centrally and deployed out to branches at once.
Also, please expect the Naughty & Nice SaaS to be reflecting a much faster performance and better usability as we optimize connectivity to that cloud service.
Lastly, we will be implementing a complete disaster recovery solution with the South Pole, including redundant failovers, with data replicated to our datacenter in the Midwest United States (see below).
Ho, Ho, Ho! I'm feeling quite a bit merrier with all of this underway! Remember to work hard and don't worry about the technology! The solutions we are using are as solid as my footing on an icy rooftop! Have you ever seen me slip?
Jollyfully yours,
SC
************************* CONFIDENTIAL *************************
Subject:  Final Status update – All systems GO!
Priority: Mistletoe GREEN
Date:     12/23/16
From:     Alabaster Snowball
To:       Santa
CC:       Bushy Everygreen
****************************************************************
Santa,
Just wanted to let you know that you are in no danger of spending the evenings with the reindeer. We have rolled out the Riverbed solutions and have solved all the issues that almost caused a Christmas to be missed.
We now have SteelHead for optimization, SteelFusion for LUN projecting and data center syncing, SteelCentral for complete visibility into our applications, networks and end-user experiences and we are also rolling out the best SD-WAN solution in the market as well, SteelConnect. SteelConnect keeps us nimble, giving us the ability to set up auto VPNs and by having one intuitive and easy-to-use interface. Those elves that were stuck working on our old WAN hardware doing CLI commands all day can be trained to work on Artificial Intelligence (AI).
No Santa, we aren't looking to replace you—think about the financial benefits of being able to more accurately predict inventory needs with AI.
I see some cost savings coming down the chimney!
-Al
************************* CONFIDENTIAL *************************
Subject:  Merry Christmas & Happy Holidays
Priority: Mistletoe GREEN
Date:     12/25/16
From:     Santa
To:       All
****************************************************************
Mission accomplished! It was an ever-magical day of presents and joy delivery! In fact, everything went as smooth as ice!
Thanks to the successful Riverbed implementation, we had full network performance for package/packet delivery, all Santa branches were running the same policies, the Naughty and Nice lists were quickly replicated and shared across the organization, our cloud connectivity scaled up and out to meet demand, and the overall user experience was joyous!
In fact, I have told Mrs. Claus to remind me to put an extra gift under the tree next year for all of those hard-working Riverbed elves. They made our work easy this year and in the years to come!
Enjoy your vacation, team! Don't get sunburned!
Magically yours,
SC
************************* CONFIDENTIAL *************************
Subject:  Post Mortem
Priority: Mistletoe GREEN
Date:     12/26/16
From:     Alabaster Snowball
To:       Santa
CC:       Bushy Everygreen
****************************************************************
WOW! That was an awesome Christmas!
With all the Riverbed solutions in place, we not only saved Christmas, we streamlined it. The Naughty or Nice list did not suffer from lag or latency and is now continuously synchronized, the good or bad videos at the kiosks ran without a glitch, The Wish lists did not get bound up in the network, and we did not have any problems with delayed delivery. And to top it all off, we now have complete visibility into the network, an awesome SD-WAN solution in place, and we are ready to successfully embark on cloud projects in AWS and Azure.
Santa, with our Riverbed solutions in place, the future is so bright, I think I gotta wear shades!
After your nap, stop by for some eggnog. Bushy and I are watching some football and celebrating the best Christmas ever.
-AL
WISHING YOU ALL A HAPPY HOLIDAY & PROSPEROUS NEW YEAR FROM RIVERBED!
P.S. This was a collaborative piece between Michael Sheehan & Dave Varga.
SaveSave
SaveSave