Managing change through performance visibility to ensure virtualization strategically transforms your business
According to Forrester, worker productivity when working remotely across multiple devices, increased 51% with virtualized deployments. And, 39% of IT managers said that end user satisfaction with the computing environment increased when desktop virtualization was in place.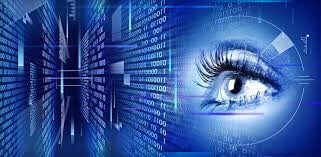 As application and desktop virtualization projects take priority across organizations, how can you be sure that it makes sense to do and if the desired performance increases actually occur? Many organizations put in a lot of effort to determine when virtualization is a viable option but don't have a definitive way to show, or have the visibility to really see, whether the performance is better or worse for an application when it is on a virtual desktop or virtual app compared to a physical desktop machine.
With Aternity, this is possible. Since Aternity can run on any device and can monitor any application, you can compare the performance of an application's transactions from any number of device types including physical desktops, virtual desktops, virtual applications, smartphones, or tablets. Since Aternity monitors from the end user's device, the measurements are accurate to what a user would experience.
By accessing the Device Type Comparison dashboard in the Aternity console, any application that is being monitored can be compared. Select the devices to be compared and results will be displayed. In the example below, the performance on a virtual desktop is significantly better on the transactions performed. The blue line signifying the Desktop and the vertical hash signifying the Virtual desktop. Also of note, the Miami Building shows the best performance increase. In this case, it appears that SAP would run better in a Virtual Desktop environment for this customer.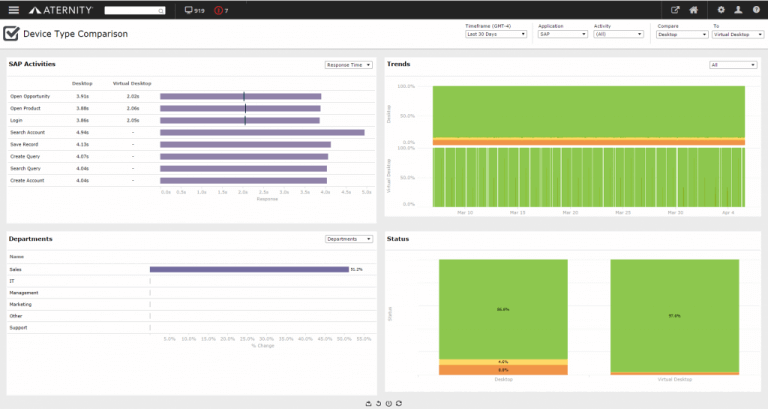 So what happens if the customer wanted to run SAP as a virtual application? Simply change the comparison to Virtual App Server and now the data for that comparison is displayed. The graph below shows that performance is better on the desktops overall but by a slim margin. What is telling though is that certain locations have a far worse experience than others. Anything showing a negative number signifies a worse performance. In this case, only the Boston headquarters location would be viable for virtualization.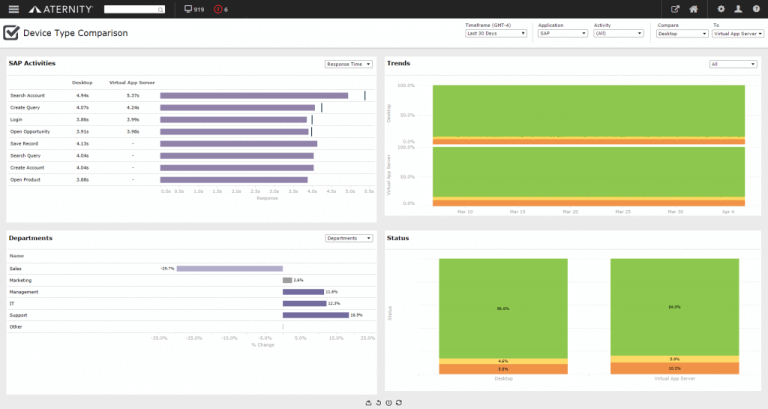 Since Aternity is looking at real data for the analysis, the transactions have to be run from the individual devices. Including Aternity in any virtualization POC or beta testing is imperative to validate whether the performance increase would be worth the cost or effort for a full size deployment.
Case in Point | A Unified View to Quickly Pinpoint and Resolve Issues
One of Aternity's customers was investigating reported slowness for an asset management tool in a remote location. However, there was one machine in that location that had normal response times. Our customer found this interesting and we delved into it deeper. Using the Application Performance dashboard, it showed that the machines with bad performance were running the application from Citrix while the other machine was running it locally. The customer was then able to use the Device Type Comparison dashboard to see that in several other locations it was more efficient to run the application locally versus from a Citrix farm. Armed with this information, they were able to migrate the application to run locally from the physical machine. This cut down on the number of complaints that users reported and and increased their productivity.
Leverage Aternity, Deploy With Confidence
Desktop and application virtualization projects can significantly reduce IT costs while also empowering end users with everywhere access to the applications and data they need to be productive; using Aternity to validate performance is a great way to ensure success of the project. By monitoring the performance of any business transaction within any packaged or custom application, and correlating it with the key performance indicators of the underlying desktop virtualization, Aternity enables IT to effectively plan VDI migrations, and to troubleshoot problems across all layers of the infrastructure.