Microsoft Ignite Wrap-up: Riverbed Helps Spark Cloud and Digital Transformation
Last week I had the pleasure of attending the Microsoft Ignite Conference in Orlando, Florida, along with a number of my colleagues and close to 30,000 attendees. What became readily clear to us is that Microsoft's vision for powering cloud, mobile, and digital strategies aligns strongly with ours. And, more importantly, that joint vision is resonating with our customers, perhaps best illustrated by the hundreds of thought-provoking conversations, demos, and presentations that took place at the Riverbed booth.
We came. We saw. We connected. We helped transform at Microsoft Ignite.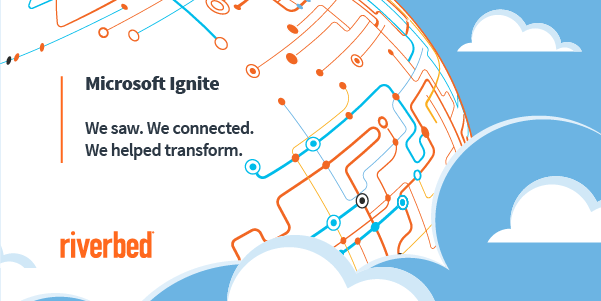 Our theme for this year's show was, "See. Connect. Transform." And after an action-packed week, it's safe to say Riverbed more than embodied that theme.
Coupled with our innovative cloud networking and visibility solutions, our status as a Microsoft Gold Cloud Platform Competency partner uniquely positions us to ignite and accelerate customers' cloud and digital transformation strategies.
For those unable to attend, let me give you a quick rundown of what took place at the show.
Accelerating Azure adoption with SD-WAN
Customers are moving workloads to Azure at an impressive clip. Piggybacking off that traction, Microsoft announced a host of impressive enhancements to its cloud platform, including several that simplify the overall management of networking services.
At Riverbed, we love that notion of simplicity. After all, one of the promises of cloud is to dramatically simplify life for IT. Unfortunately, outdated, router-based approaches to networking make it difficult to quickly and reliably connect users to those critical cloud services.
To that end, we showcased how SteelConnect, Riverbed's SD-WAN and cloud networking solution, simplifies the way cloud-connected networks are designed, deployed, and managed so customers can move to Azure and other leading cloud services with greater speed and agility.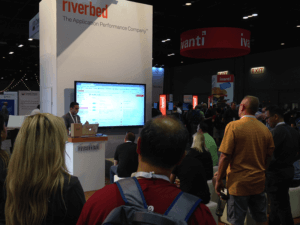 Those receiving a demo of SteelConnect at Microsoft Ignite saw how to:
Achieve unified connectivity and orchestration across the entire network from wireless LAN to the WAN, data center, and cloud.
Instantly connect to Azure with one-click, full-mesh and secure connectivity.
Apply policies instantly and uniformly with automation, and steer and accelerate selected traffic flows—such as apps running to and from Azure—in real time for optimal performance and security.
One related observation here: In addition to SD-WAN, many attendees sought us out to discuss what we have been doing for 15 years: WAN optimization. As customers move workloads to the cloud, improving the performance of those apps, as well as those that are staying on-premises for the time being, is very top of mind. So for those who claim WAN optimization is no longer as relevant in a cloud-centric world, think again. Countless conversations with customers and other attendees clearly pointed to the contrary.
Monitoring the digital experience of any cloud or mobile app
Connecting employees, customers, and other users to the cloud is a great start. But how do you ensure those users remain productive with newly adopted cloud apps and services? As Mike Marks outlines in his blog, delivering a rich, consistent digital experience is fundamental to success.
However, ensuring that superior user experience is easier said than done. Today's cloud and mobile application architectures are more dynamic, complex, and distributed than ever before. What's more, fragmented management tools offer limited insights into the impact of digital experience and hinder business objectives.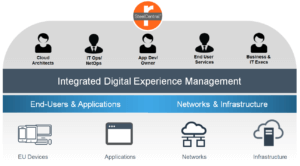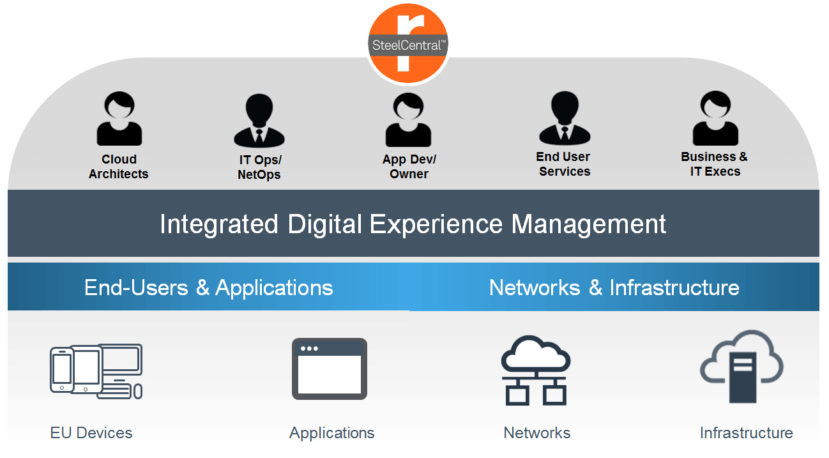 At Microsoft Ignite, we demonstrated how to overcome those obstacles by enabling customers to see clearly across the entire IT infrastructure. With our Riverbed SteelCentral platform, attendees learned how to ensure an excellent digital experience for any mobile, web, or thick-client app, running in the cloud or in the enterprise data center.
Attendees were awestruck by the brilliance of Aternity, which finally allows IT to monitor performance from the point of consumption—the end user's device. And the ability to then manage the entire digital experience—across devices, apps, network, and infrastructure—through a single pane of glass prompted several attendees to closely examine their continued use of disparate monitoring tools.
Seamlessly extending the Azure cloud to the edge
Digital and cloud transformation often begins at the edge—branch offices, retail stores, and other remote sites that drive today's businesses. However, incorporating cloud-based apps and services often increases the complexity of managing these IT environments. In fact, 91% of enterprises agree cloud can introduce complexity and compromise intended business objectives.
Riverbed will extend the simplicity and power of Azure to these critical edge sites. In partnership with Microsoft, Riverbed will introduce the SteelFusion Azure Ready Edge in early 2018 to deliver flexible, secure, and anytime-anywhere application access to augment or completely eliminate traditional data center infrastructure.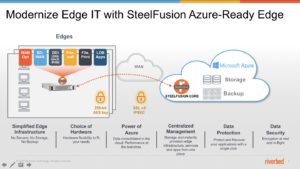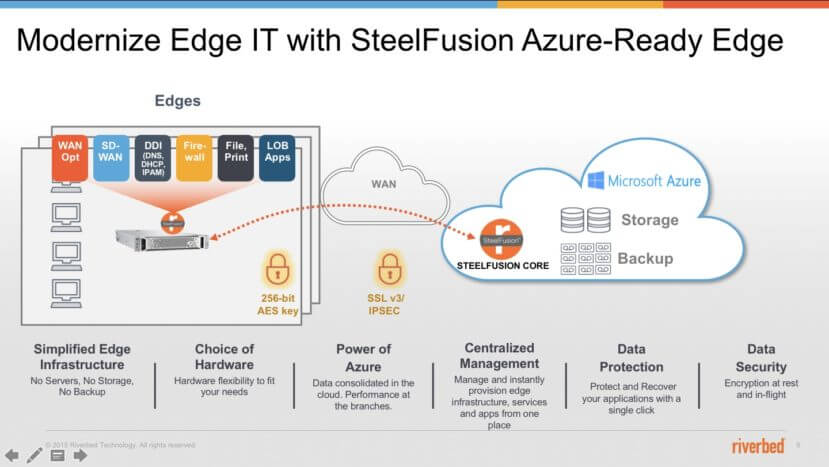 At Microsoft Ignite, our experts gave cloud architects and other attendees a preview of this game-changing technology by demonstrating:
The simplicity of Azure-to-edge operations with Hyper-V based VMs and Azure storage instantly provisioned to any site
Instant site or data recovery in the Azure cloud to any edge site
An enhanced orchestration workflow to manage multiple environments
Assuring performing and enhancing visibility for Office 365
As if we needed another indication that Microsoft's cloud strategy is resonating with customers, look no further than Office 365. This productivity and collaboration suite is one of the most widely adopted SaaS applications on the planet. In fact, most attendees who visited our booth have either migrated to Office 365, or are in the process of doing so.
But as powerful as Office 365 is, most customers told us its adoption hasn't come without some pain points. Because many users are now farther away from their applications' hosting location, performance is often unpredictable or slow. And when issues do arise, IT has difficulty identifying root cause because they no longer control the entire application stack.
To that end, we showed customers how to augment the power of Office 365 through three recommendations:
Focus on the end-user experience. Measure performance from the perspective that matters most—the end user's—with SteelCentral Aternity.
Troubleshoot issues with cross-domain monitoring. Leverage SteelCentral's integrated performance monitoring capabilities to guide root-cause analysis and solve issues before users realize there's a problem.
Improve what you can control over your cloud networks. Combine the 1-2 punch of SteelConnect and SteelHead to steer Office 365 traffic over the optimal path, then reduce the impacts of network latency and congestion to continually improve performance.
Bringing the cloud closer, and making its value more clear
Not to be outdone by the at-booth activities, Riverbed also held two sessions designed to educate customers on potential pitfalls of cloud and digital initiatives:
Mike Marks showed us how using Digital Experience Management as part of a plan-do-check-act continuous improvement process can ensure businesses are meeting their goals when migrating to Office 365, Windows 10, and other initiatives.
Angelo Comazzetto and Jon Hodgson were joined by Reshmi Yandapalli, Principal PM of Azure Networking, to share some tips of how to accelerate cloud migration and dodge pitfalls with a combination of cloud networking and cloud visibility solutions. You can watch the full session below.
Closing out with some swagger
Conference attendees always love their swag. So as an added thank you to those who visited us at Microsoft Ignite, we stepped up our swag game.
We distributed 2,000+ T-shirts with slogans inspired by a combination of Game of Thrones and our cloud solutions. For those who missed out on their shirt, be on the look out for us at Amazon re:Invent.
Four lucky visitors received an Oculus Rift virtual reality system as part of our daily drawing.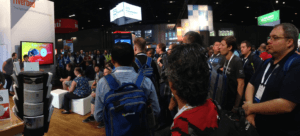 What it all amounted to was increased interest in how Riverbed can help customers with their cloud and digital initiatives. With that in mind, I know we're already looking forward to next year's event.
In the mean time, I'll wrap it up with a final thank you to everyone who visited us last week. Looking forward to seeing and connecting with you again!