Mythbusters—What the NBN and Riverbed SteelConnect SD-WAN Can Really Do for Your Business in Australia
Using SD-WAN to deliver the best performance with the NBN
In my past two blog articles I've set the scene around the business benefits of SD-WAN and things to look out for when considering how you build a compelling business case.
In this article  I wanted to provide you with an overview of the National Broadband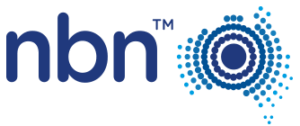 Network (NBN) in Australia to help you understand how it can be used with SD-WAN to drive even greater gains for your organization. As always, my aim is to help you make good choices by being well informed.
NBN overview
The NBN is a [new] wholesale network built predominantly using fibre optic transport technologies to provide improved, higher capacity access to users across Australia—both domestic and business. Being a wholesale network provider the NBN does not sell direct to end customers, rather carriers and service providers can integrate NBN services into their network offerings to provide you new forms of connectivity for your offices. Those carriers and service providers can use NBN services to deliver new, higher capacity connections to your business.
Why does Australia need the NBN?
A large percentage of the Australian populated land mass was historically served by legacy copper cabling, typically emanating from the local telephone exchange, running through numerous street interconnects, ducts, pits and junctions before finally appearing at your offices.
Network performance over copper is limited by numerous factors including grade of cable, overall length, losses introduced from interconnects to name but a few.
In real terms this typically meant that a large proportion of business premises (especially in regional cities and rural towns) were heavily limited by the maximum performance over this old copper cabling.
The NBN utilizes a broadband access network which delivers higher capacity connections into your office (or home premises) generally using fibre optic cabling, or in some cases fixed wireless or satellite. All of these different access types generally provide much higher capacity than what would have been available over the legacy copper network. Your service provider integrates these NBN services into their overall network to provide you with increased performance to the branch.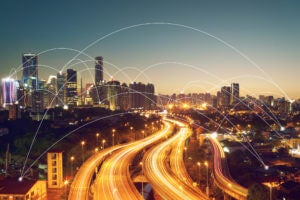 One vital concept to understand with the NBN and any network for that matter, is that higher bandwidth does not necessarily equal higher performance. Bandwidth refers to capacity, not end-to-end performance. Increasing the capacity is like adding another lane to the freeway—unless your links are already congested, that extra bandwidth does not automatically mean you will get a faster response time.
What really matters is the end-to-end response time of the network, which when it's based on fibre optic infrastructure, is physically constrained by the laws of physics—the speed of light and distance.
What can SD-WAN & the NBN deliver for your company?
In simple terms, most organizations want high performing resilient network connections to their offices at a competitive price point.
Prior to the NBN, resilient network options were very limited for many customers as they only had a single network feed into their building (typically provided over copper) which could in some cases be augmented by 3G/4G services as a backup.  Even if the customer opted for resilient network connections from two carriers (e.g. Optus and Telstra) they would often be delivered over the same underlying old copper network cabling, terminating on different NTU's (e.g., a different router from each telco).
SD-WAN provides many business benefits, one being the ability to improve resilience and performance through the use of multiple different networks in an active/active fashion. A very important element of Riverbed SD-WAN that is not available from all vendors is the ability to take this one very important step further—to accelerate the underlying performance of the applications. Riverbed was founded in 2002 and has been the market leader in acceleration and optimization for many years, when you couple market leading acceleration and optimization, with truly agile software-defined networking using Riverbed SteelConnect you can achieve significant gains in business productivity and end user experience.
What might a typical SD-WAN look like for an Australian customer using the NBN?
If the primary drivers for your organisation are to increase business efficiency and productivity to enable growth, then you need to get the foundation of your network right—fixed, hard-coded networks are a thing of the past. The world we live in today with Cloud, customer-self service and software-defined everything means your network should be flexible, dynamic and responsive.
Assuming your organisation has a mix of on-premise and cloud/SaaS applications and that your users and customers are not constrained to the corporate office alone, your SD-WAN network with the NBN could look like this: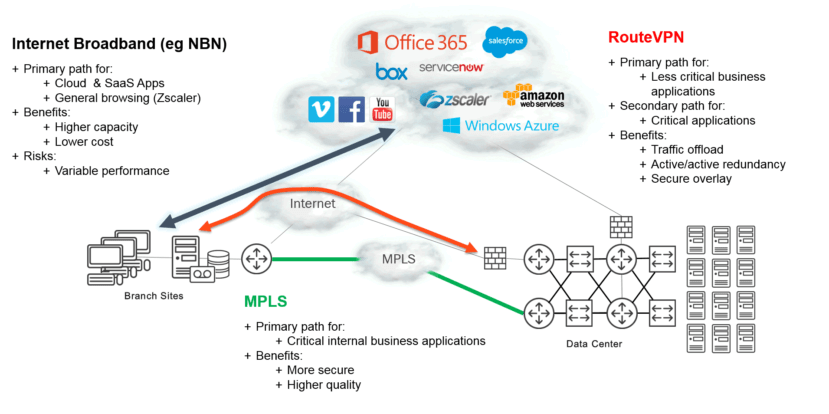 What are some of the advantages?
Simplify management of your WAN and all of the branch sites through cloud-based centralised management—one place to define business policies and apply them globally (or to a specific site, or group of sites) without needing to touch the CLI on traditional old-school WAN routers—this drives massive improvements in operational efficiency and de-risks changes.
Provide improved response time for office-based staff accessing cloud/SaaS apps by breaking out securely to the Internet at the branch.
Deliver true redundancy and resilience with both links being used in an active/active manner,

Quality based path selection monitors the end-to-end performance of the links continuously and when problems occur over one connection meaning that performance expecations are not being met, traffic is dynamically redirected over the other link, ensuring your staff can maintain the highest level of productivity.
As SD-WAN can be deployed as an overlay you can have WAN (and/or Internet) links from multiple carriers (including NBN delivered services) and manage them seamlessly through a single, intuitive web interface, ensuring you get the best performance for the right price at each and every one of your sites,

Integrated visibility and performance monitoring enables you to view what is really traversing your network allowing you to make decisions based on fact. With SteelConnect you can quickly apply new business policies to block or re-direct business-time-waste traffic to lower cost links, freeing up valuable capacity for important business functions.
Centrally manage the security of your whole network from a single pane of glass (watch out for my next blog article on security in a software-defined world).
How do I find out more about SD-WAN and the NBN?
Click here  to request a free trial,  and learn more from the experts—there are self-paced webinars, whitepapers and more here.