Network-as-a-Service (NaaS) Begins with Transport Agnostic WAN

How do you build a network for the era of cloud and IoT? It's an increasingly important question for enterprises as they see their peers jump on the SD-WAN bandwagon. And the answer opens vast business potential for service providers who traditionally based their business VPN solutions on MPLS. That's because enterprises are increasingly likely to ask service providers for guidance on how to prepare for the cloud era. IDC research shows that, by 2021, 79% of enterprises will turn to their service providers for SD-WAN solutions delivered via Network as a Service (NaaS).
NaaS foundation: hybrid VPN
At Riverbed, we believe the answer is the hybrid VPN. This solution combines the best characteristics of the two main existing network technologies—MPLS, which is great for connecting two known, static end-points; and SD-WAN, which is location independent and enables a new endpoint to be added dynamically to an existing network.
The result is a new network topology that focuses not on the configuration of the network, but instead is based on the relationships between the endpoints being connected. Think of it as focusing not on how to achieve an outcome, but on what the outcome must be and then leaving the network to worry about delivering that outcome.
New service opportunities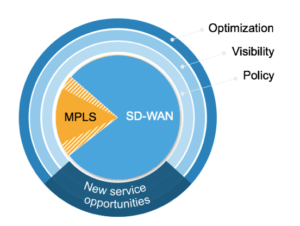 With about 20% of a typical enterprise's systems being connected via MPLS, service providers have a golden opportunity to use SD-WAN to extend their existing MPLS business and win more of the enterprise footprint. A service provider that owns near 100% of enterprise sites will gain not just incrementally higher revenue, but will also be able to offer attractive new services on top of basic connectivity. For example, service providers can create a centralized policy for all application traffic and bundle other revenue-generating value-added services like visibility of WAN operations.
By becoming an enterprise's preferred SD-WAN supplier offering a fully-managed, transport-agnostic and value-added services solution, a service provider will be the first point of call every time a new IT need arises.
Transport Agnostic WAN video
Will we see you in Barcelona at MWC 2018?
If you're going to MWC, be sure to meet the Riverbed Service Provider team.
Learn more about Riverbed offerings for service providers: