Want to See a Monument? Go to a National Park
In the recent webinar, Unified Visibility, Amplified Productivity, Enterprise Management Associates analyst, Shamus McGillicuddy referenced an interesting statistic. To paraphrase, 42% of all network problems can be traced to improper configuration management. It is a bracing data point. One that begs the question, 'why do we struggle to understand and manage our network configurations?'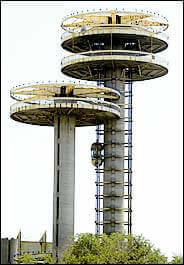 The answer lies in the approach that most companies still take towards managing both network mapping and configuration. At the end of the day, we take a fundamentally manual approach to these efforts. When it comes time to understanding and documenting the network, we author maps in mapping and flowcharting tools and document them in spreadsheets. Naturally, this takes time and effort to 'get it right,' but the real business impact stems from the fact that a company network is not monument—static and perfect, resisting change for long periods of time.
As Jim Raposa from Aberdeen says:
'The reality is that networks are dynamic and constantly changing entities. New software can change the entire way that data flows over the network. New devices, including switches and WiFi access points, can make their way onto networks without the administrator's knowledge.'1
Many of these changes are part of planned evolutions, changing the network to better handle growth or strategic initiative. Many more are minor configuration changes meant to resolve various issues as teams troubleshoot application and network performance. Often communication between the folks making these changes and the ones that track them breaks down. And the net impact? Companies have outdated maps and configuration tracking. They don't know what network assets they own, if those assets are up to date, and whether they are properly configured. This lack of visibility results in downtime, troubleshooting that takes too long to resolve, and for those companies with networks that are subjected to security or regulatory reporting, exposure to audit risk as well.
So how do we address these issues and adapt as the network changes? Follow this simple four-step process:
1.     Automate Network Mapping
As the network environment transforms, we need to be able to pick these changes up without manual reporting.  Managing the configuration and mapping process begins with deep network discovery and collection, so that we can recognize both new devices (e.g., routers, switches, load balancers, SteelHead), and configuration changes for these devices.
2.     Troubleshoot 'network' issues in the context of other views
Okay, so perhaps it goes without saying, but all outages are not caused by configuration problems. It is critically important to understand how an application transverses through the organization, but it is also important to know if network devices have gone down, if application code alterations have caused downstream issues, etc. Without context for the troubleshooting event, we run the risk of extending the troubleshooting process, and needlessly pointing fingers between IT departments.
3.     Track network configuration snapshots
Configuration issues are often hidden. A quick change is made to a device without a corresponding change to a downstream device. Having the ability to look at snapshots of enterprise configurations (with potential configuration issues highlighted) is critical to identifying and remedying configuration problems that impact application performance.
4.     Generate and distribute reports
Of course, we shouldn't lose sight of the need to communicate network maps and configuration. Not only can this be a critical element for managing the network infrastructure, but it also reduces network audit risk (e.g, HIPAA compliance, security audit, etc…) by significantly reducing the amount of time to document and map the network.
With the recent SteelCentral release, NetAuditor helps you achieve these aims. This release delivers:
AppNetwork Path: In April, SteelCentral announced the availability of SteelCentral Portal. This solution leverages an application map that blends information from network performance management, application performance management and end-user experience management domains. With this release, NetAuditor added the 'AppNetwork Path' to the Portal. It is a view of infrastructure and device configuration that traces how an application transverses across the organization. As part of Riverbed's blended performance views, we now delivers the most complete and holistic performance view in the industry.
Topology Based Troubleshooting Enhancements: We have also significantly enhanced the NetAuditor's troubleshooting capabilities. Automatic updates of topology views reduce the effort to maintain both network maps and configurations. In addition, time-based configuration snapshots enable companies to quickly compare topology and configurations. It highlights changes and potential issues, making it easier to identify and rectify problems.
Interface Redesign: This release of SteelCentral NetAuditor streamlined the views and interface for the solution to support the key workflows required for on-demand troubleshooting. Users have ready access to commonly used menus and menu driven wizards to help trace applications throughout the network.
What is the net benefit to your company? Broadly speaking, NetAuditor helps troubleshoot configuration issues more quickly. 94% of NetAuditor customers reported improvements in MTTR of 2x or more. In addition, it helps track and proactively manage the network infrastructure which, in turn, reduces the number of outages and the impact of network audits.
Interested in hearing more about the solution? Go here for more information:
---
1 https://www.riverbed.com/products/steelcentral/network-performance-management/network-performance-and-configuration-management/steelcentral-netauditor.html