Networking in the Era of Cloud and IoT: NaaS

The as-a-Service business model is well established for enterprise applications. You might even say it has become the de facto standard for delivering services. So, it makes sense to bring the cost-effectiveness and sheer agility of as-a-Service to the networking realm. That would help enterprises struggling to connect a growing cadre of remote and mobile workers, as well as the Internet of Things (IoT) revolution, which will see a thousand times more endpoints by 2020. Network-as-a-Service or shortly, NaaS, is the future delivery model of enterprise networking.
Network-as-a-Service delivery model
Using Network-as-a-Service (NaaS), enterprises can order networking services on demand, provision them instantly and be charged only for what they use. At Riverbed, we're seeing our customers increasingly benefiting from these characteristics as they buy fully managed services from their service providers via NaaS.
The opportunity for service providers is to win and retain valuable enterprise networking business by managing all an enterprise customer's endpoints. That's why Riverbed has set up a new Service Provider Business Unit (SPBU) to focus on helping service providers move into NaaS.
Riverbed  to unveil Hybrid VPN solution at MWC 2018
Following our success at Mobile World Congress in 2017, we're heading back to Barcelona to unveil our carrier-grade, transport-agnostic, complete Hybrid VPN solution for service providers. The solution is based on Riverbed SD-WAN Service Provider Edition that supports a new commercial model with novel service design and operations for a total NaaS approach.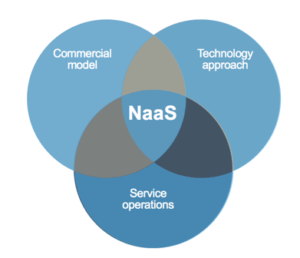 The solution has three key ingredients:
Technology

: Riverbed enables NaaS that allows the service provider to focus on the desired end-state, instead of the configuration of individual network elements
Operations: Riverbed automates network services orchestration and supports templating of network designs through a modeling approach

Commercial model

: Riverbed enables service providers to offer their customers more innovative and more flexible pricing aligned with their actual consumption.
Networking in the era of cloud and IoT video
Will we see you in Barcelona at MWC 2018?
If you're going to MWC, be sure to meet the Riverbed Service Provider team.
Learn more about Riverbed offerings for service providers: