Optimizing Azure Workloads with Riverbed SteelHead CX
A new day in cloud performance
57% of the Fortune 50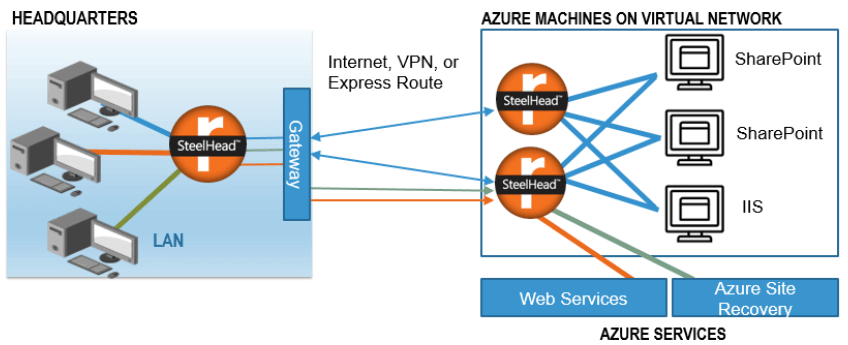 0 are using Azure and more than 90,000 new users are subscribed every month. Riverbed's SteelHead technology can significantly reduce bandwidth to and from Azure workloads. Our new SteelHead CX in Azure allows up to 150Mbps of optimized bandwidth and commonly provides bandwidth reductions of 50-90%. In addition, the new Discovery Agent simplifies optimization of Azure hosted virtual machines.
Azure adoption acceleration
In presentations at AzureCon, Microsoft showed some very impressive numbers including 90,000 new users a month, 1.5 million SQL databases, 500 million users in Azure Active Directory and more. In addition, they continue to roll out new features such as the Internet of Things including strong support for containers, improvements to big data / machine learning and other services that have some people asking them to slow down a bit!
When adopting cloud services, you also adopt networking infrastructure inherent in the services. LAN latencies become Internet latencies. Local storage becomes cloud storage. And the task of onboarding to the cloud can require massive transfers that constrain networks carrying mission critical workloads.
Microsoft study results: optimization 'exceeds expectations'
Microsoft did a study on the use of SteelHeads to reduce traffic for Azure Site Recovery and found that optimization reduced traffic typically 50% or more—'exceeding expectations.' These results are not unique to Azure Site Recovery. You can expect similar results from many workloads.
Deploy SteelHead CX from the Azure gallery with deployment guide
Riverbed's WAN optimization technology is perfect for optimizing many Azure workloads. HTTP and HTTPS optimization is built in to our SteelHead product line, so most web based data transfers to and from Azure optimize well. This includes SharePoint or other IaaS virtual machines, Azure web services, Azure Site Recovery, and more.
You can deploy SteelHead CX for Azure directly from the Azure gallery! There's a deployment guide to step you through the process that include details on how to pair the Azure hosted SteelHead with an on premise SteelHeads. (Optimization always occurs between SteelHead pairs).
Once setup, Azure traffic can be significantly reduced. This allows more traffic on your existing network and in many cases improves application performance.
Use the Discovery Agent to simplify and amplify
Riverbed has released a free Discovery Agent that provides 3 functions:
Easy administration: quickly enable optimization for IaaS virtual machines
High availability: distribute the workload between multiple Azure hosted SteelHeads
Fault tolerance: detect an offline or overtasked Azure hosted SteelHead and redirect traffic to one that is available.
This Discovery Agent is installed on Linux or Windows virtual machines in Azure. Once configured, when a user or service connects to the virtual machine, the connection is automatically directed to the Azure hosted SteelHead which then optimized the traffic. Refer the Riverbed Azure Discovery Agent Solution Guide for download and setup details.
Riverbed commitment to cloud
Recently, Riverbed released a new higher capacity SteelHead CX hosted in Azure to allow up to 6,000 connections and 150Mbps of optimized throughput. In addition, the Discovery Agent was released to enabled and simplify scaled out deployments. With these capabilities, you can bring the same LAN optimization capabilities enjoyed by 98% of the Fortune 100 and 26,000 of the world's best brands—to cloud workloads. These infrastructure as a service offerings are only part of the story. Riverbed also provides optimization for Office 365, Box, Salesforce, ServiceNow, and Microsoft Dynamics with our SteelHead SaaS offering and visibility of your services use and performance with SteelCentral.