Rethink Possible: Overcoming Barriers to Cloud Migration in Federal
With the Office of Management and Budget (OMB)'s recent Cloud Smart Strategy announcement—the first cloud policy update in seven years—federal agencies across government feel the pressure now more than ever to harness cloud to advance their missions and better serve citizens.
By migrating applications to the cloud, consolidating data centers and updating legacy systems, many agencies are hoping to reap additional cost savings, enable faster service delivery, and empower a more productive workforce that has the ability to leverage more innovative technologies. Unfortunately, as many agencies have already experienced firsthand, migrating to cloud is not a simple, linear path.
At Riverbed Disrupt in Washington D.C. last week, industry and government leaders gathered to hear the unique challenges federal agencies face in adopting cloud strategies. While much focus centers on the technical aspects of cloud-based initiatives, attendees learned that there is one factor that is often ignored at a great cost to adoption and overall success: the end user experience.
Biggest barriers to Federal cloud adoption
In a panel moderated by NextGov's James Hanson, VP and publisher,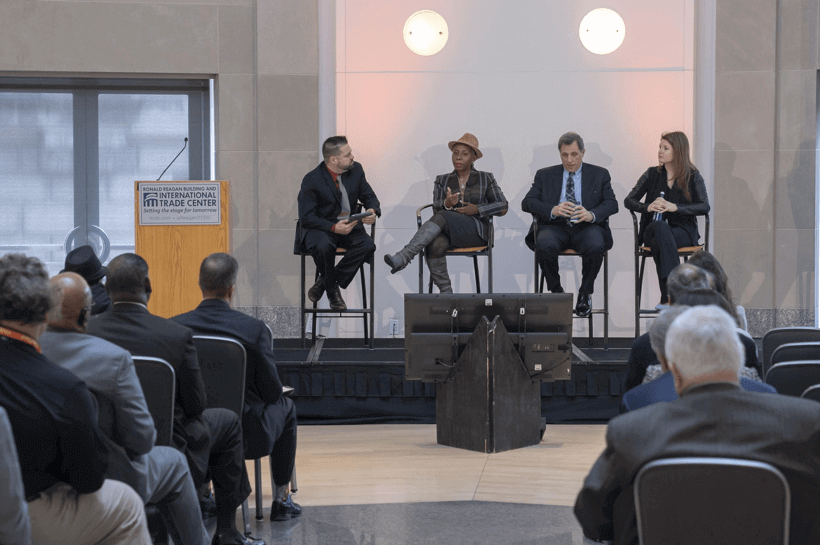 the following federal leaders shared their perspectives and unique challenges in navigating cloud:
Michelle Sparrow Walker, Director, Cloud Program Management Office, U.S. Department of State (DOS)
George Chambers, Deputy Chief Information Officer, U.S. Department of Health and Human Services (HHS)
Ashley Mahan, Acting Director, FedRAMP, General Services Administration (GSA)
Mahan noted that cloud continues to grow exponentially across the federal government. "We've seen a 60% increase in cloud technologies in government over the past few years," she said.
Despite this tremendous growth, many agencies experience difficulties even after cloud deployment. While the State Department and HHS have vastly different missions and services for their employees and the public, both Walker and Chambers shared that they struggled with wrangling previously uncoordinated cloud infrastructure initiatives across the many different subsidiary agencies they oversee.
"We are one of the largest federal government agencies with about 88,000 employees," Chambers said. "We're also highly federated with 10 operating divisions, like the Center for Disease Control, Federal Drug Administration and National Institute of Health (NIH). On top of that, headquarters has their own [technology budgets] appropriated."
Walker shared that the State Department faces similar challenges to HHS in terms of deploying cloud infrastructure and solutions, citing that disparate systems make it complicated to manage and understand what's already in their cloud ecosystem. "Our biggest hurdle is we have a sprawl of 200+ cloud solutions and more than 42 cloud providers," she said. "This makes it extremely difficult for security staff to track and monitor data. We need awareness of where all the Department's data is."
What would be beneficial for both agencies is the ability to use tools that can provide full visibility into the network that can provide in-depth insights for departments struggling to understand what is in their ecosystem.
For DOS, cloud offers the opportunity to leverage quick insights and access to databases for Foreign Service Officers and their families, whether back at headquarters or serving overseas in a consulate. For HHS, cloud can enable divisions like NIH to conduct molecule modeling and share data in a more agile and collaborative manner. For both agencies, cloud can speed the efficiency, security and effectiveness of all of these various missions.
Prioritizing the human factor
While efficiency, security and effectiveness are top of mind for Chambers and Walker in their cloud efforts—both shared that end-user experience was more of an afterthought, which was to the detriment of their cloud efforts.
"We had an aggressive push to the cloud, like 80,000 mailboxes or 65% of mail collaboration in the cloud," Walker said. "However, we didn't focus on user adoption. Now that we put these capabilities into the hands of our users, we have to improve in helping them leverage these capabilities in their day-to-day jobs."
"We had confusion with our end- user experience as well," Chambers added. "It's hard to tell what headquarters wants to do and what the individual agencies want to do."
With all the challenges both agencies face as they continue their cloud transformations, it will be especially important to prioritize their employees, citizens and people most affected by the rollout of their new cloud systems.
A cloud migration cannot necessarily be considered a success even when the backend of an IT system—like access management, hypervisor, OS, network and database—seems to be working but the end user experience is going completely awry.
"You might have users saying their apps are not responding," said Marlin McFate, Public Sector Chief Technology Officer at Riverbed during his keynote. "Or maybe a system is running too slowly for an employee to process a passport application or even their new email systems could be delayed."
To adopt smarter cloud strategies, agencies should look to solutions like end user experience monitoring (EUEM). With EUEM, agencies can proactively identify and rapidly resolve any problems or glitches to ensure employees can still get their jobs done while satisfying citizens and their needs for excellent customer service.
McFate emphasized that what should matter most in any cloud or modernization strategy is advancing the human experience. "We need to be able to say 'Technology, it's time to listen to humans.'"
EUEM entails automated end-to-end network visibility, so agencies can determine what's already in their IT systems to make the migration process easier while quickly detecting any anomalies when it comes to security threats. "We can help evaluate the security risk and identify the applications and networks in an ecosystem while breaking down those complicated pieces," McFate said. "This helps us determine if the agency has the capacity to move from point a to point b."
Ultimately, the key to success in cloud and any other modernization effort is prioritizing the end user experience. With the right partners and solutions, speed, security and efficiency in the cloud will be easier for federal government to attain.
Learn more about how federal agencies can overcome their cloud challenges.