Recover from the Holiday Shopping Season at NRF 2018
It's that time of year again. The holidays for many mean family, fun, and shopping… but for retailers it means the busiest time of year (and the most important to meeting financial goals).
But each year for the past several years, retailers have faced rapidly a transforming business.
Changes in consumer shopping habits and experience expectations for both brick & mortar as well as online have created new challenges and uncertainty this time of year. As we have seen in recent news reports of major retailers closing stores and struggling to stay competitive, holiday sales can truly make or break retailers businesses.
Let's keep our fingers crossed for a strong holiday shopping season.
As we look to the future, staying on top of key trends and technologies are key to a successful digital transformation. The National Retail Federation's (NRF) Big Show is coming up January 14th – 16th in New York and is a great opportunity to learn about what's new in retail and how you can compete better in an evolving marketplace.
Riverbed will be at the NRF conference and will showcase solutions that help transform how retailers deploy digital services and enhance the customers' shopping experience.
Our CTO Hansang Bae will also host a panel with leading retail IT executives on January 14 at 11:30 am.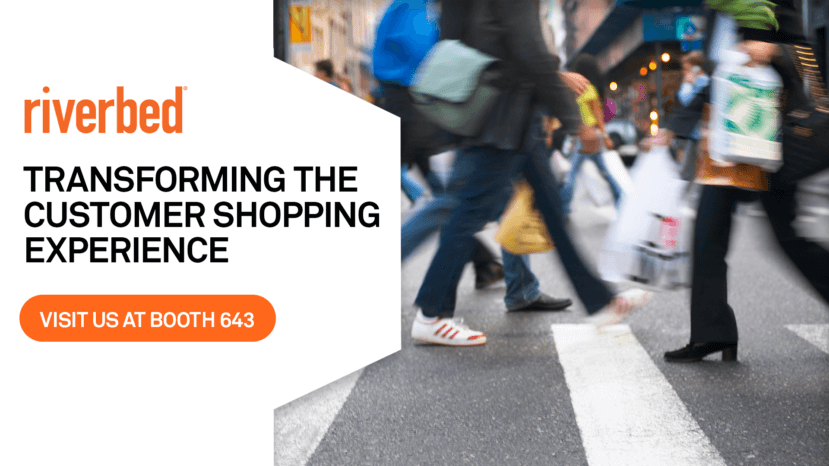 Please come and visit us in booth #643 and learn how you can:
Increase competitiveness by speeding deployment of digital services with a software-defined unified network fabric across the cloud, data center, WAN, LAN, and Wi-Fi networks
Simplify and consolidate in-store IT to lower costs while providing high-performance digital services, data security, and instant provisioning & recovery
Improve and verify customer shopping and employee experience through greater network, application and end-user visibility
Schedule a meeting with Riverbed to discuss your digital transformation needs and our retail solutions.
You can also register for a free Expo Hall pass using code 4347.