Rethink Possible in the Digital Age with Riverbed
As Chief Marketing Officer at Riverbed, one of the more exciting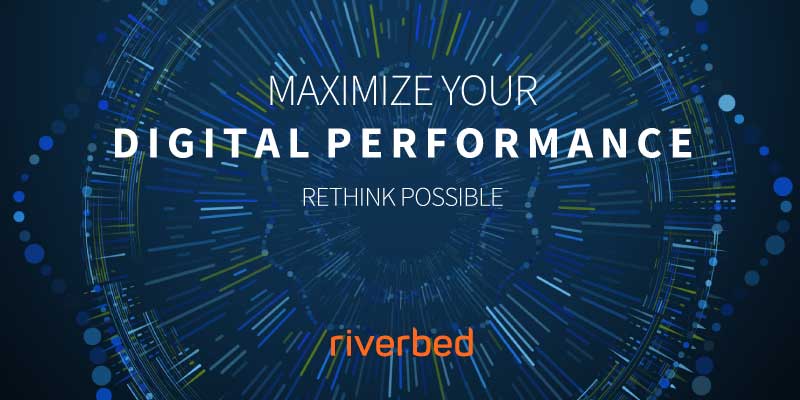 aspects of my job is helping elevate the perception of our company in the marketplace. Part of that involves demonstrating that we're not only committed to enabling our customers' current initiatives, but that we're also anticipating their future needs.
In a time of massive digital disruption, this forward-looking view has never been more critical. And over the past few years, Riverbed has made tremendous strides to advance our portfolio and better align with customer needs in an increasingly digital world. So it's with great pride that we announce an incredible milestone that encapsulates Riverbed's evolution—our new corporate positioning as The Digital Performance Company.
Performance for the digital world
Helping customers improve the performance of their businesses is part of our DNA. For more than 15 years, our products have enabled companies to deliver apps and data over longer distances faster than previously possible.
As part of our new corporate identity, that commitment won't change. But now that our world has gone digital, the concept of performance does take on new meaning.
Performance today is not just about speed. It's about identifying new customers and being agile to seize new opportunities. It's about getting new products to market faster to take the competition by surprise. It's about helping employees and customers be more productive. And it's about any number of other business metrics companies depend on to be successful.
Riverbed is prepared to help customers be successful within this new definition of digital performance. And over the coming weeks, you'll notice a number of exciting updates to our brand to reinforce this commitment.
By reading this blog, you've probably already noticed one significant change: our logo, which we feel better reflects our forward-looking thinking and purpose of helping customers maximize performance and deliver the best experiences for the digital age.
How we deliver digital performance
To truly thrive in today's digital age, companies must be able to embrace innovative technologies like cloud and mobile without constraints. So along with our new positioning, I'm delighted to unveil The Riverbed Digital Performance Platform, a fully unified and integrated offering that transforms the way our customers run the powerful apps and services that connect people, businesses, and experiences in our digital world.
Our platform spans every corner of a customer's IT landscape, and is comprised of three powerful offerings that help accelerate digital business outcomes:
Cloud Networking: We help simplify the way today's cloud-connected networks are designed, deployed, and managed while giving users instant, secure, and optimized connectivity to apps, regardless of where they need to access them from.
Digital Experience: In an age where user experience is everything, we blend together device-based user experience, infrastructure, application, and network monitoring to provide a holistic view of any user's digital experience.
Cloud Edge: We help centralize islands of infrastructure to secure 100% of data—the lifeblood of any digital business—while still delivering superior, local-like experiences for users at the edge.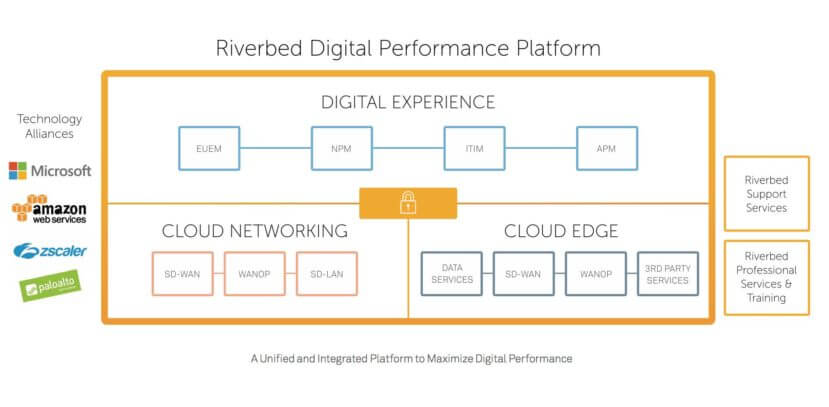 Get ready to rethink what's possible
Our ability to go beyond technology requirements to better understand our customers' industry, people, and processes has helped us define this comprehensive and future-forward view of today's digital world.
But our work isn't done. We realize that every day is an opportunity for us to imagine new possibilities. And for our customers, we feel they benefit from a perspective that is holistic and free of constraints. It's this perspective that will enable us to help them go further than they previously thought possible today, and continue to go to new places in the future.
So, without a further ado, I invite you to learn more about the new Riverbed. Together, let's rethink possible.