Rio Sports Livestreaming Doesn't Have to Push Networks Off Performance High Beams
When the world's elite athletes perform on the planet's biggest stage—like the upcoming events in Rio—nobody wants to miss out. Bosses may not like to hear it, but employees are aware of record-breaking swims and dazzling acrobatics happening, even as they work. And livestreams are just a click away. Every four years, network administrators are faced with a question: how will networks handle this surge in traffic?
I recently had an interesting conversation with my colleague, Steve Brar, where we discussed this issue. His blog presented the following results from a Riverbed survey: this year, 70% of companies will restrict access to the event's coverage, 85% will monitor applications and networks more closely, but a whopping 67% still won't feel comfortable in safeguarding critical applications.
It's like high-traffic events are the Achilles heel of IT!
Solving this problem should be a priority, as network congestion has become its own high-stakes marathon. When applications are slow or networks face downtime, employees aren't productive and customers get frustrated. This issue doesn't just strike every four years. Aside from the upcoming games, similar high-traffic events happen on a more frequent basis, like March Madness. Network administrators shouldn't be tripping over concerns every time. Clearly, a solution to this problem is necessary.
It takes the right coaching to win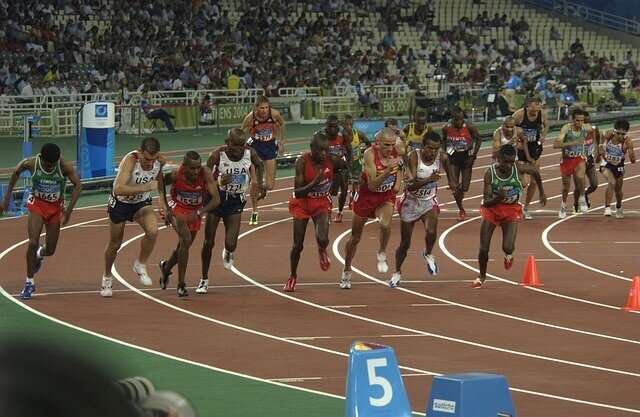 Many organizations aren't tackling the issue at its core. Sure, setting up dedicated watch areas or blocking specific sites and applications is a good first step. But workarounds exist. Employees have many sites and services at their disposal to view events. With so many devices connected to the network, both personal and work related, site access and network traffic can be difficult to control.
Is it really so bad for employees to stream some of Rio's games at work? Sure, it's important to strike a balance between business demands and recreational viewing. But on the other hand, national pride is on the line. Watching the performances is also sure to give everyone a motivating boost of energy that we can all use. Instead of wrestling with the traffic consequences of livestreaming, wouldn't it be better if the network could more reliably handle the traffic in the first place?
Luckily, decision-makers don't need a gymnast's grace to balance network resources and business performance on one side and employee morale and goodwill on the other. There are technologies that give organizations the best of both worlds. Here are three of our favorites:
1. SD-WAN
Events like Rio's can be accessed in ways we wouldn't have even imagined just four years ago. Fans can watch on streaming websites via desktops, the NBC mobile app, social media, and too many other mediums to list. It's simply a matter of whichever option is most convenient for the employee. This availability is also a microcosm for today's fundamental shift toward a hybrid IT model. Networks today blend traditional MPLS with other connectivity options such as Internet and LTE to deliver a combination of on-premises and cloud-based apps and services. However, businesses must choose which network path best balances cost and performance requirements.
With so many choices, networks have room for optimization. But configuring which app should take which network path—across all locations—is cumbersome, to say the least. Identifying all the apps, reconfiguring settings based on changing business needs, or quickly redirecting traffic over a different path based on network health—you name it, and it's increasingly difficult using legacy tools and processes like CLI. They only increase the possibility of human error and downtime.
There's a solution for this. SD-WAN can dynamically identify, prioritize, and steer apps over the best network path, based on global business-intent policies. From a centralized location, network administrators implement and manage these rules. For a simple example, reserve MPLS bandwidth for all business apps categorized as mission-critical, protecting employee and customer experiences alike. Then send recreational sites and apps, including those that stream the sports coverage, over lower-cost public Internet links.
2. Unified performance management
One reason we love sports is, because of the adrenalin they elicit, they're unpredictable. Moments of underdogs pulling ahead will keep everyone's eyes glued to the screen. Over the course of the upcoming games, unpredictable events are sure to cause influxes of traffic. And digital buzz will only drive more viewers to hyped-up events. In those situations, it takes adjustments and troubleshooting to keep applications running over the network as they should.
To do that, network administrators need visibility into those potential changes. Enter unified performance management tools. By proactively monitoring the health of links and apps, they can detect which apps and users will be affected due to bandwidth capacity or network anomalies. In turn, performance problems can be managed before users even notice or complain. Make sure fans don't miss the game-winning goal and protect mission-critical applications, at the same time.
3. WAN optimization
Like the upcoming competitions in Rio, today's large enterprises are global in nature. Many have prime locations where peak business hours will overlap with the live event coverage. In addition, users at these locations will often be accessing centralized applications served over long distances. So even with other solutions in place, bandwidth availability and application performance could still pose issues.
WAN optimization tools are a lifesaver for these companies—they can accelerate critical applications, making users feel as if the apps are running locally, while also reducing overall bandwidth consumption. As the upcoming sports bring network stress, infrastructure complications and finite resources are barriers to adjusting for them, unless they're properly optimized. So in the spirit of sport and bringing people closer together, why doesn't IT take the opportunity to make its network feel closer-knit, too?
Every four years, viewers have a chance to see the world's greatest perform at their best. Employees will be watching athletes excel and revel in the excitement that their entire country shares. Sure, this will put more stress on the network and risk business performance, but it's also an opportunity for IT teams to earn their own gold medals. With the right tools, it's possible to transform enterprise networks into performance engines! I say, bring it on.
Want help getting there? Check out Riverbed's solutions for SD-WAN, unified performance management, and WAN optimization.