Joint Solution Guide from Riverbed and Palo Alto Networks
Riverbed has recently joined Palo Alto Networks Technology Partner Program and released a new solution brief available for download. The two technology leaders have combined their platforms to offer a centrally managed, distributed services architecture that protects, optimizes, and accelerates applications and services at branch offices and remote sites (ROBOs).
SteelFusion is the only solution that delivers a Software-Defined Edge, and the only hyper-converged infrastructure solution designed specifically to address the unique challenges of distributed IT by simplifying infrastructure, and addressing the costly operational and business challenges.
Now, networking teams can leverage the benefits of a hyper-converged edge platform clearing a path for completely stateless operations for remote locations.
Traditionally, network managers have had to manage routers, switches, firewalls, intrusion detection system (IDS) and prevention (IPS), and other network functions on a device-by-device basis through a highly manual, repetitive process. This means that even the most basic network changes can take weeks or even months to complete. Additionally, because there are so many types of devices and network operating systems, the CLI's required to make configuration changes could be quite different from platform to platform—making the task even more challenging and error-prone.
With Palo Alto Network's Virtual Next-Generation Security Platform hosted on Riverbed's SteelFusion, network or security teams can deploy the firewall virtual network function (VNF) in minutes, even across widely dispersed geographies. There is no need to add hardware just for this function, and you can leverage scripted, template-based centralized provisioning to eliminate costly on-site visits. Additional network services can be chained together extending standardized best practices from the data center.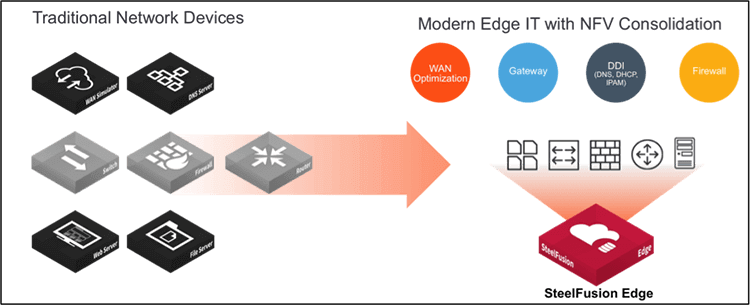 The diagram below depicts the co-validated Reference Architecture solution performed by Riverbed and Palo Alto Networks engineering teams.

Summary of Benefits…
Agility: Respond to the needs of the branch by securely provisioning and deploying new services and sites as quickly and as easily as spinning up virtual machines in your data center
Lower Costs: Reduce capital and operational costs by consolidating and securing 100% of branch data and branch servers into the data center with zero impact to application performance.
Security: Secure applications and data and prevent advanced cyber-attacks with the combination of Palo Alto Networks Next-Generation Security Platform and Riverbed SteelFusion Zero Branch IT platform.
To succeed in today's digital era, you need to work faster, cheaper, and with more agility than your competition. With increasing pressure on edge locations to deliver and secure applications and services that you need to run your business, IT teams have to be nimble enough to keep up. Riverbed + Palo Alto Networks' validated reference architecture delivers a robust solution that is proven to meet the needs and concerns of security conscious remote sites.
To download the entire solution brief click here. For more information on the partnership visit the Palo Alto Networks NextWave Technology Program.