Riverbed Internship Program Furthers STEM Students' Passion
Hi, my name is Aoibheann and I am interning for Riverbed this summer in San Francisco.
Crammed into a conference room with only 16 bright orange desk chairs, I hosted a meeting with 25 fellow interns to talk about their experiences with science, technology, engineering and math (STEM) education. As they each took their time to tell me their stories, they not only echoed my own experience in some ways but also each other's. We all come from different backgrounds from across America, and some internationally, yet we share familiarities that brought us to this summer internship program at a technology company in the heart of downtown San Francisco.
With Riverbed being the STEM education sponsor at the Technology Ball in Dallas later this year, it was the perfect time to share our stories. The Technology Ball encompasses a unique series of networking gatherings that bring the technology community together. Through their STEM partnerships, the Technology Ball supports initiatives to create future technology leaders. Proceeds from this event support MentorNet, ensuring that all students interested in STEM have the opportunity and support to persist in their education.
Science, technology, engineering, and math fields are closely related and build off of each other; STEM aims to understand how the world works and how this knowledge can be used to solve problems. As Barack Obama had said in 2015, this is more than just a subject in school, "it is an approach to the world, a critical way to understand and explore and engage with the world, and then have the capacity to change that world."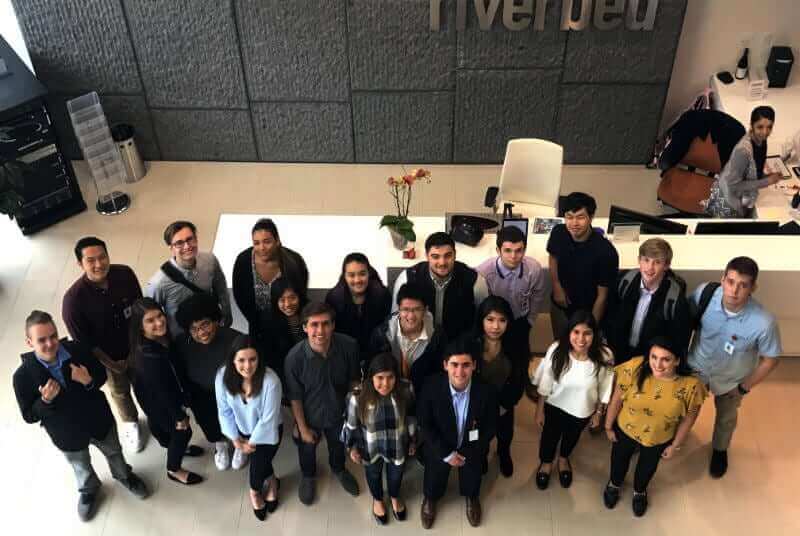 At Riverbed, we have recognized this significance and have been incorporating this teaching style into our annual internship programs. Over the past 10 years, Riverbed has hosted more than 400 interns during our summer internships, placing these students in over 30 various departments in 3 locations worldwide.
From my own experience, the primary focus at the high school level of STEM education was on math and science courses, yet when I reached college, many students were still not placing into college-level classes. For those who had more unique course options available in high school, they were not taken to their full abilities once they entered college.
Benjamin Nguyen, spending his summer as the Global Channels Analytics intern, told us about how his computer science semester might as well have been a 20-minute YouTube video. He believed that his course was outdated, working with old computers and old software.
Despite roadblocks, students are continuing to get involved in STEM courses as they venture into their college careers. As Kelsey Hill, the Global Partner Enablement intern, brought up in our meeting and many agreed with, her introduction to STEM courses happened in high school, but her genuine interest wasn't sparked until reaching university levels. Before college, STEM had found its way into our hobbies and interests, but on campus, we found a new importance for these topics in our coursework and new perspectives on life.
As STEM education becomes more accessible, the importance is emphasized even more to learn tools we need to push our society forward. Dawson Eriksen, our Learning and Development intern, talked about how he believes STEM helps people understand, and in our forward-moving society, is a necessary aspect of life. His mid-western background brought light to an issue I had not thought of, being raised in the Silicon Valley. Dawson told me about the limited opportunities available simply because of his location. Not having access to experiences, such as our internship with Riverbed, limits too many who have the potential to be STEM leaders.
With frequent improvements and continuously evolving courses, students are becoming much more engaged. While STEM material is challenging, there is a higher reward factor when students overcome these obstacles. David Leighs is assisting as the Global Support Ops intern and has stuck with STEM through his college time because of this rewarding sense of achievement. The countless hours spent overcoming challenges in STEM courses get evened out when projects are completed and students have a final product to show for their work.
Luke Matusiak is another one of the Riverbed interns working in the engineering department. Like many, STEM courses were not available to him in high school, and he had to start his learning independently. He compared his summer project to the times he had to learn self-reliance, explaining how a lot of his work he learns as he goes along only reaching out for support when he needs it.
As with any college course students take, the professor teaching has a lasting impact on how students view these subjects.  Having supporting teachers was a major turning point for Evin Killian and John Cunningham, two of the engineering interns. Both had limited formal teaching before going into their Computer Engineering majors. Their professors became mentors and were very supportive in accommodating Evin and John and instilling confidence.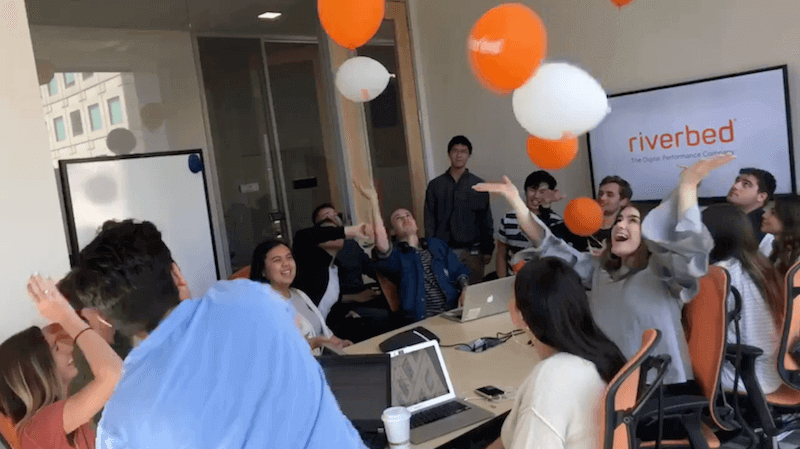 Throughout my time at Riverbed this summer, I have met many professionals who are acting as mentors for me. Being able to have this STEM exposure had been such a privilege. My biggest take away from talking with my other interns was the overwhelming appreciation for what STEM education can do for the future of our society. Being able to take part in the promotion to make opportunities, like my internship, available to others has been such an honor. Thank you to all the sponsors for the 2018 Technology Ball and to Riverbed, and good luck to all those pursuing STEM.