Riverbed's SD-WAN Integration Now Officially Validated on AWS
It's official, Riverbed's SD-WAN integration with Amazon Web Services (AWS) has been tested and validated.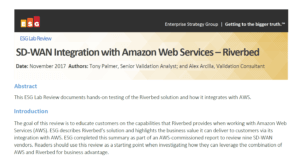 It's no surprise that Riverbed, an AWS Advanced Technology Partner, has been announced as a recommended software-defined WAN (SD-WAN) vendor to all AWS customers when considering cloud networking solutions. AWS has just released their SD-WAN buyers guide, and you can read it here.
Cloud computing has become a transformative force in the IT world, and we all know it. In today's hybrid enterprise, most organizations using cloud services still have on-premises resources. It is becoming clear that organizations are looking to ensure easy and secure connectivity with a seamless experience for customers and employees. And that is where SD-WAN comes in as a solution to help consolidate networking, visibility and management of Cloud and on-premises usage. According to a study by ESG, the most compelling reasons to adopt or consider SD-WAN included:
Simplified management
Automation, and increasing public cloud utilization
Centralized control/configuration, and management monitoring
Riverbed's SD-WAN solution allows you to do this and whole lot more. Together, Riverbed and AWS simplify cloud networking and address the issues of the constantly changing IT landscape around us.
Why Riverbed and AWS together?
Let's get into some of the good stuff here. To ensure a successful move to AWS through every step of the cloud journey, Riverbed can map application dependencies, automate secure full-mesh connectivity, accelerate enterprises to move more applications and workloads to AWS through optimization and latency mitigation, and monitor user experience metrics-all managed via quick and simple workflows. The Riverbed-AWS partnership supports and enhances cloud migration initiatives helping unlock business agility, performance, and efficiency end-to-end.
Read the SD-WAN Buyers guide hot off the AWS presses. The guide has just been released this week and will be used as a way to educate AWS customers on recommended SD-WAN vendors who have been tested and validated.
Learn more about Riverbed's SD-WAN solution or about how Riverbed and AWS partner together. You can also, check out Riverbed on the AWS Marketplace.
Learn more about Riverbed's Advanced Technology Partnership with AWS.