Riverbed SteelConnect is Ready for Microsoft Azure!
Riverbed SteelConnect is Ready for Microsoft Azure!
We're excited to bring Riverbed's app-defined SD-WAN solution to Azure! As a Gold Cloud Platform competency partner, we want all of solutions to be ready for our customers moving to Azure. You can now find SteelConnect in the Azure Marketplace.
As applications continue to move to the cloud, performance and security remain critical concerns for the enterprise. SteelConnect delivers automated, secure connectivity to Azure cloud networks with a single click. As a result, enterprises can be more agile, while maintaining the same level of performance delivered from the cloud across the entire hybrid network.
SteelConnect provides an intelligent approach to designing, deploying, and managing distributed networks, with single-click provisioning into cloud environments such as Azure.
The diagram below depicts a sample enterprise deployment using SteelConnect to unify network connectivity and orchestrate application delivery across a hybrid WAN.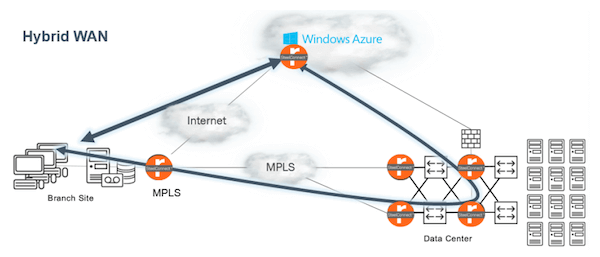 Learn more about SteelConnect readiness for Azure in our press release.
Riverbed Solutions in the Azure Marketplace
In addition to SteelConnect, you can also find our visibility and optimization solutions available in the Azure Marketplace: