Riverbed Survey: 85% of Companies Plan to More Closely Monitor Network and App Performance During Summer Games
While most of us are getting ready to watch the big summer sporting event and cheer on our home countries, many companies globally are bracing for a potential strain to their networks, especially here in the U.S. where Brazil is nearly in the same time zone.
This will be the 2nd time NBC (the U.S. Olympic broadcast rights holder) live-streams all events and ceremonies from its site and mobile app. This will also be the first games where athletes born in the year 2000 will compete so we can bet that all those millennials in the workforce will be catching all the action on their smartphones and pushing office Wi-Fi networks to their limits.
Here at Riverbed we proudly claim the title of being The Application Performance Company, and in keeping true to that name, we thought it would be interesting to survey companies to see how they plan to deal with the onslaught of network traffic driven by the this big event and associated content. I'd like to share some of those results.
About 70% of the companies surveyed said they would limit employees from accessing the games' content through company networks, including Wi-Fi, in some way, with 24% saying they will definitely limit content and 46% saying they would probably limit content. Only 5% stated they would definitely not limit their employees from watching games content at the office while 24% said they would probably not place any limits.
I can imagine companies wanting to limit employees from watching the games for productivity reasons, however many IT departments are likely more concerned with being unable to quickly pinpoint and resolve performance issues of critical business applications: Less than half of the companies surveyed, 43%, were very confident that their organizations could safeguard critical applications during high network traffic events such as the games in Rio, while 12% were not confident that their companies could handle the added strain and traffic.
In addition, the majority of companies, 85%, reported that they were likely to more closely monitor the performance of their applications and networks, including Wi-Fi, specifically because of potential strain due to employees accessing Rio content. Only 2% stated that they were very unlikely to monitor any differently during this time.
Not surprisingly most companies expected employees to access the games content using the company's networks, including Wi-Fi, via their desktops and laptops (48%); followed by smartphones (34%); and then tablets or other non-smartphone devices (18%). At 44%, Brazil was the only country surveyed that expects more employees to access Rio coverage at work via smartphones versus desktop or laptop computers, tablets or other non-smartphone devices.
The number for smartphones accessing Rio content will likely increase by the next games as Gartner research states that 70% of mobile professionals will conduct their work on personal smart devices by 2018.
In the most revealing statistic, companies were asked if they had had an issue, even once, with their networks, including Wi-Fi, specifically because employees were accessing content during a popular event. The majority of companies responded yes (69%), with 30% of these same companies saying that they have experienced more than one episode of issues.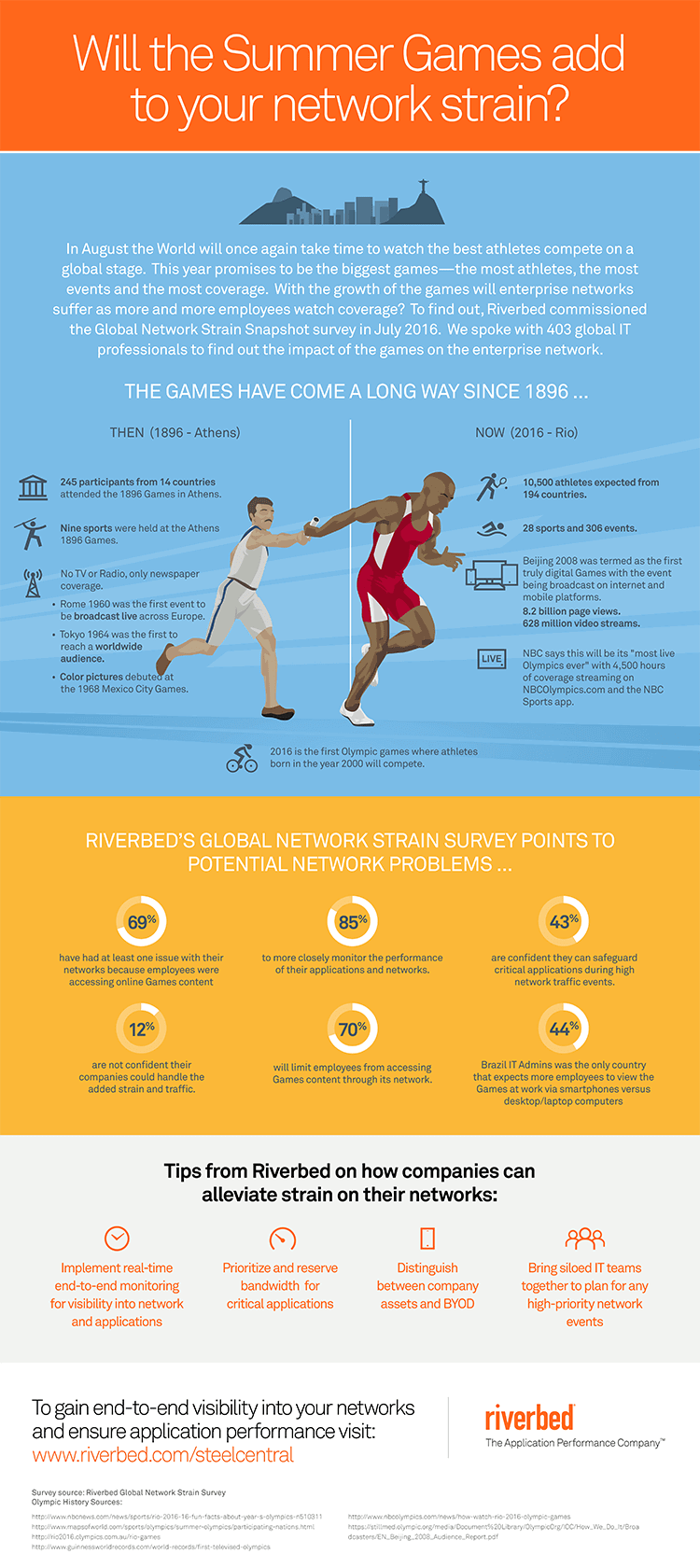 So what can companies that have experienced issues from employees accessing content during a popular event do? They can shore up their networks by doing the following:
Implement real-time end-to-end monitoring for visibility into network and applications.
Prioritize and optimize company network traffic while reserving bandwidth for business critical applications.
Distinguish between company assets and BYOD. Allowing BYOD doesn't mean that employees can bring any device of their choice and be given unmitigated access to the corporate network.
Team spirit is not just for the athletes competing: Bring siloed IT teams together to plan for any high-priority network events during this time.
Provide employees TVs for viewing in common areas to ease load on network.