#RiverbedFORCE giveaway: Get a Gift Card for Your Riverbed FORCE Photos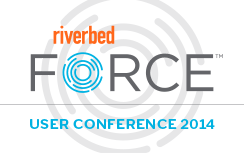 We hope you are as ready for RiverbedFORCE as we are!
Not only are we excited to see you, but we can't wait to see your pictures from Riverbed FORCE.
Each day we will randomly select four pictures on Twitter that use the #RiverbedFORCE hash tag. Those selected will receive a $25 gift card to Amazon!
Below are the details on how to be considered for the giveaway:
Step 1: Be at Riverbed FORCE on Tuesday, Wednesday or Thursday (Nov. 4-6)
Step 2: Take a picture showing something from Riverbed FORCE
Step 3: Post to Twitter before 11:59 p.m. each day
Step 4: Make sure to use the #RiverbedForce hash tag when posting
Step 5: Watch for notification of those selected via Twitter
Step 6: Respond if @Riverbed asks for your contact information so we can send you the gift card
Again, those selected will be chosen at random using http://www.random.org. Those selected will be contacted by the official @Riverbed account to get contact and mailing details, so that we can get you the gift card.
While we have your attention here, we wanted to remind you that we have a Riverbed FORCE application on both the Google Play and iTunes stores, which will help enhance your conference experience. Take a look at the details below: