Schilling Graphics: When It Comes to Silk Screening, It's All In the Details… and Wi-Fi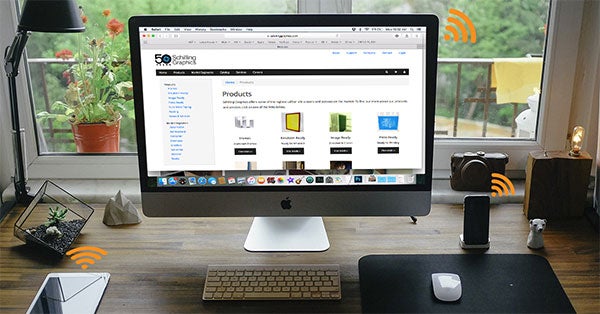 Every day we come across designs printed on glass and plastic. Logo art on beverage bottles gets our attention. But what about the measurement marks on syringes? Ever wonder how they got there? How about those defrost lines on the back windshield of your car? They're all a result of silk screening.
Schilling Graphics, silk screening experts since 1962, does this kind of work everyday. And they do it well. From circuit boards and industrial gaskets to beer bottles and t-shirts, Schilling Graphics operates in three locations across the United States. The one thing they promise all of their customers is quick turnarounds. In fact, products typically arrive on a customer's dock just three days after the order is placed. All of that depends on their Xirrus Wi-Fi.
Fast, reliable Wi-Fi enables fast order turnaround by helping employees quickly detect and resolve production issues from anywhere in the facility. Before Schilling Graphics installed a Xirrus Wi-Fi network, employees continuously got dropped from the network as they moved throughout the building. During conferences only a few people could connect at a time. This prompted Matt Boehm, Network and Systems Administrator, to shop for a new system. After looking at several prospects, he chose Xirrus. Here's why:
Schilling Graphics can manage all of their access points in all three states from a single location using the Xirrus Management System (XMS). Central management simplifies the work of IT. Boehm's network was up and running in minutes and new offices can easily be added to the network as the company grows.
Xirrus delivers reliable Wi-Fi. In a pilot deployment, all mobile devices stayed connected as employees move throughout the buildings.
Everyone in corporate administration can connect at the same time and experience fast, high-quality performance.
Xirrus access points can be upgraded to support new 5GHz wireless standards simply by changing radios. By avoiding the expense of rip and replace, Schilling Graphics will continue to get a better return on its Wi-Fi investment for years to come.
"The experience is excellent. Management is simple. And if we have a question or problem, we know we can count on Xirrus to solve it," say Boehm.
Soon, Schilling Graphics plans to start using network-connected building management systems for heating, ventilation and air conditioning… which, kind of like those defrost lines on the windshield, aren't given much thought. But temperature control is actually very important to silk screening. Coating areas must maintain high humidity, while drying areas require low humidity and high temperatures. Once implemented, they can manage and monitor them over their Xirrus network from any location, creating a more efficient operation.
It's customer stories like Schilling Graphics that make me appreciate just how much Wi-Fi benefits so many different businesses in so many different ways.