The Difference Between SD-WAN vs. MPLS: Which Solution is Right for You?
Keeping up with traditional management approaches for wide-area networks (WANs) has become a slightly more complex endeavor these days. Scaling application and business requirements are placing undue demand on networks, leaving many IT and Line of Business leaders scrambling to keep up. Personally, we're big advocates of networking that functions according to traffic demand and flow, which is why we do a lot of talking about software-defined wide-area networks (SD-WANs) and the value they can bring to the bottom line.
The ROI from SD-WAN cannot be understated: It gives your network the ability to leapfrog from Multiprotocol Label Switching (MPLS) to the cloud to Internet connections to virtual private networks (VPNs), without missing a beat. IT admins are able to split traffic between high- and low-cost WAN links based on business-criticality of the traffic. A more hybrid-like strategy allows access for more overall bandwidth in the branch and reduces network costs. This cost savings is especially significant when trying to wean networks off of MPLS, which gets expensive quickly.
If the ROI isn't enough, consider the advantages and disadvantages inherent to SD-WAN vs. MPLS, and what each approach to WAN could add to your business.
The basics of MPLS
MPLS (skip this if you're an industry expert) has traditionally been used in most telecommunications environments, but industry use cases have expanded over the years. Fundamentally, MPLS enables transportation of data of any protocol. It allows most packets to be forwarded at Layer 2 rather than having to be passed up to Layer 3. Packets are labeled by the ingress router on entry into the service provider's network, meaning routing switches perform packet forwarding based only on those labels. The last step happens when the egress router removes the label and passes the original IP packet on to its final destination.
Secure and private, MPLS offers reliable bandwidth provisioned for packet forwarding. It moves data from one node to the next based on labels, instead of lengthy network addresses. And it can improve Quality of Service (QoS), as well as support applications like VPNs.
The downside of MPLS
Unfortunately, studies have shown that an MPLS megabyte can cost up to 200x more than a broadband megabyte monthly. Additionally, users are reporting increasing levels of provisioning delays across providers. Rising internet bandwidth and speeds have forced IT teams to question the relevance of MPLS in today's agile and cost-conscious world.
The basics of SD-WAN
SD-WAN is software-defined networking technology which was built to optimize the usage of cloud-based applications like Office 365 and Salesforce. This technology can be applied to WAN hardware or software nodes, as well as the cloud. These nodes form virtual overlays across underlying transport services; traffic routing and path selection happens according to user-defined policies. All SD-WANs today operate across internet connections, branch offices, and private data services.
Cloud connectivity and SD-WAN
SD-WAN was built to optimize the usage of cloud-based applications like Office 365, and Salesforce, that organizations are rapidly transitioning to. This approach can lower costs thanks to unified management and diminished network complexities, enabling you to employ a variety of hybrid networking models. SD-WAN also guarantees higher performance as a result of leveraging multiple network paths and switching between them based on real-time analysis of link performance metrics such as jitter, packet loss and throughput. Increased programmability and automation boosts network agility by decreasing manual configuration steps. Ultimately, built-in visibility, security, and control simplifies IT management.
At a glance SD-WAN vs MPLS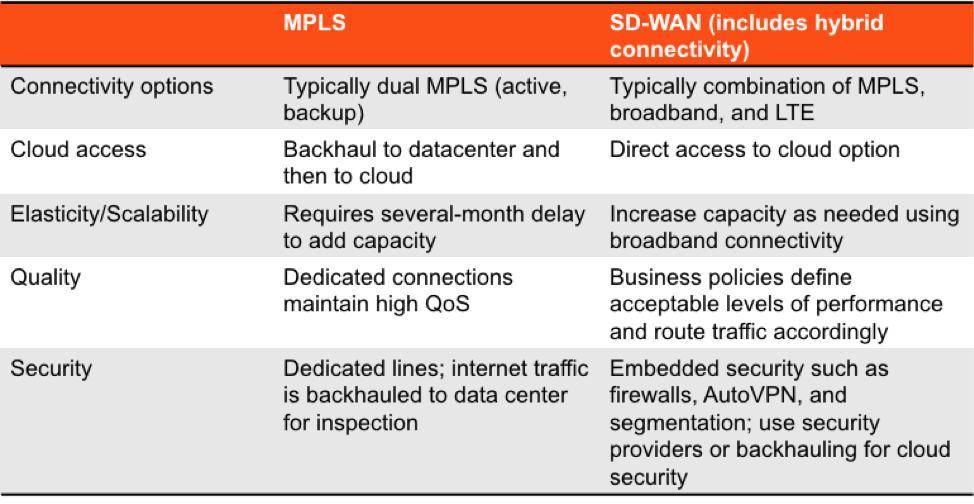 We've created a brief chart that highlights the differences between MPLS and SD-WAN. At a glance, you can see that SD-WAN typically includes MPLS in addition to broadband and LTE to create a hybrid network. When considering SD-WAN for your network, assess your business needs first. Do you require direct cloud access? Are you expanding the number of remote users or branch offices?  Are you able to scale on demand to meet business requirements?
Double-clicking on security
It's often (wrongly) assumed that MPLS is much more secure than SD-WAN architectures. However, the Riverbed SD-WAN actually strengthens your security posture through use of embedded firewalls, AutoVPN, network segmentation, and user-based identity access.
For direct-to-net access, you have two options for secure access: 1) opt for a security broker (i.e. Zscaler) to inspect branch traffic without a performance impact or 2) backhaul recreational traffic to the data center for inspection. Either way, your SD-WAN is efficient, cost-effective, and secure.