Secure Your Digital Transformation Efforts with Riverbed at InfoSec 2019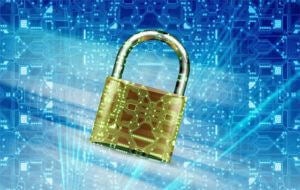 Cybersecurity continues to be the leading concern for business executives as they embrace digital transformation. Their anxieties are well-founded—the average enterprise experiences 196 security events every year[1], and data breaches will cost businesses an estimated $2.1 trillion globally by the end 2019[2].
The good news is that CISOs and other IT leaders don't have to work alone to thwart would-be attackers and keep their businesses (and customers) safe. And at this year's InfoSec World Conference & Expo, Riverbed will be on hand to showcase how we're playing our part. If you're attending, be sure to visit us at booth #413, and read on for a full preview of the topics we'll be discussing and solutions we'll be demonstrating.
Dissolving security perimeters
The shift to cloud, mobile, and other digital technologies is forcing IT leaders to rethink their network security postures. Traditional castle-and-moat, perimeter-based security models are obsolete today. Users and the apps they seek don't necessarily reside within the enterprise, as applications continue to move out of data centers, and users have become increasingly mobile.
Thus, the public Internet has become the de-facto network that connects users to their apps and to one another. In fact, 80% of enterprise traffic goes over the public Internet[3]. But how do organizations secure a network they no longer control?
Visibility blind spots
In hybrid cloud environments, visibility and control is a significant challenge. Enterprises have no access to the underlying infrastructure but are still responsible for the security of the applications and data running in those environments. This introduces blind spots and vulnerabilities. IT needs stringent "East-West" as well as "North-South" security and control.
Sophisticated security threat landscape
Increasingly sophisticated malware and other attacks like advanced persistent threats (APTs) are designed to evade network defenses by targeting vulnerabilities in the computing stack. These threats also evolve constantly, and to catch zero-day exploits before they hit the network, it is impossible rely on signatures alone.
In other words, preventative measures alone aren't enough today. Hackers are one-upping traditional defenses and, to make matters worse, when an attack does infiltrate an enterprise network, it's taking security practitioners an average of 101 days to discover it[4]. That's nearly 3.5 months!

Competing objectives between IT and the business
Of course, security can't be done at the expense of performance or agility. After all, having the most stringent measures means little to customers and employees if they don't have fast and reliable access to their apps and data. IT needs to evolve legacy operations to keep pace with business demands—without compromising security. This is especially true of networking, where it is difficult to keep up with business demands using outdated, router-based approaches.
It's challenges such as these that Riverbed can help you overcome. And at InfoSec, we'll be demonstrating innovative solutions that help you keep your enterprise more secure while improving organizational agility and performance.
Quickly detect and remediate threats with network security analytics
Today, it's not if you'll experience a cyberattack, but when. IT must be able to quickly detect threats that slip through typical prevention measures, and then arm response teams with the forensics that help investigate an attack. That's why Gartner is recommending that 60% of information security budgets should be allocated to rapid detection and response approaches[5].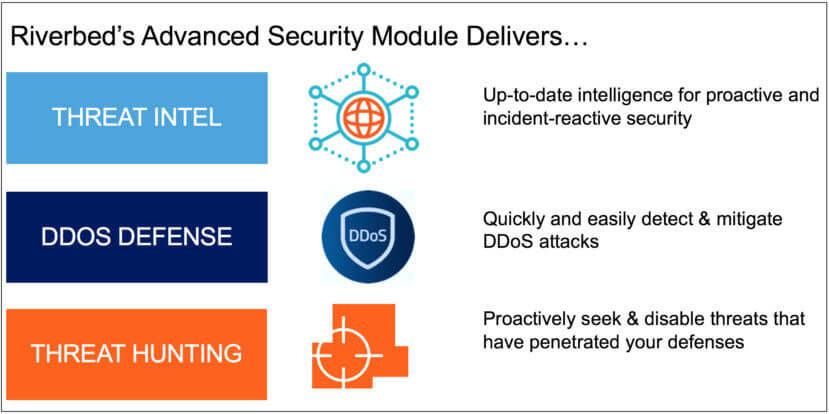 At InfoSec, we will be demonstrating such an approach—our real-time network security analytics which, unlike traditional perimeter solutions, detects threats that are already inside your company by providing:
Threat intelligence to alert on known blacklisted threats such as malware, viruses, and spyware sites, so security teams can investigate and respond before the threat or malicious traffic does real harm.
DDoS detection, which uses network flow metrics to quickly identify a wide range of attacks on HTTP/HTTPS applications and servers, and immediately and surgically trigger mitigation efforts.
Cyber threat hunting workflows to proactively identify hidden threats that have gained and retained access to your environment.
Security analytics to examine traffic and detect irregularities or changes in behavior that could represent a threat, such as unexpected traffic movements or data exfiltration, suspicious connections, or new services.
Incident forensics that assist with remediation and containment efforts by providing full historical details about the scope of an attack.
Fast-track cloud adoption with integrated Riverbed SD-WAN & Zscaler Cloud Security
Security concerns impeding cloud adoption have waned over time, yet Gartner cautions us that 95% of cloud security failures will be the enterprise customer's fault[6]. At the same time, traditional networks continue to be another impediment to cloud migrations.
Riverbed is committed to helping companies overcome these barriers through our revolutionary SD-WAN solution that dramatically simplifies the process of connecting users and physical locations to the cloud. And to help solve for the security side of the equation, we've also partnered with several leading cloud security providers—natively integrating their services within our offering.
One such partnership is with Zscaler. Nearly 1.5 years ago, we launched a seamlessly integrated SD-WAN and cloud security solution. And since then, we've only made our joint offering even stronger for customers who want to quickly and securely embrace cloud services.
At our booth, we'll be showing you how the Riverbed-Zscaler solution can:
Dramatically simplify branch operations and improve business agility with centralized, cloud-based management of network and security functions.
Deliver fast connectivity to apps and data, regardless of network or user location, by enabling and optimizing local Internet breakouts.
Provide identical protection for users wherever they connect by seamlessly routing Internet-bound traffic to the Zscaler cloud. This routes web and cloud traffic to the optimal Zscaler data center based on application and user-defined policies to ensure nothing bad comes in and nothing good leaks out.
Enable Zero Trust Security with Riverbed at InfoSec
InfoSec is right around the corner. We hope to see you at the Riverbed booth, #413, for thought-provoking conversations on security, digital transformation, and more. Safe travels!