Separating Illusion from Reality at Gartner Data Center Conference 2017
I'm getting ready for the Gartner IT Infrastructure, Operations Management & Data Center Conference 2017 on December 4-7. Topics to be covered at this Gartner conference include cloud strategies, edge computing, and transforming networks to support cloud and digital business initiatives.
Hosting the conference in Las Vegas seems oddly appropriate to me. Why? Here's some background that shapes my thinking.
Illusions and reality
I went on a memorable vacation a few Novembers ago that included visits to Las Vegas and Death Valley National Park, which are just 125 miles apart. Both destinations are a bit surreal but in very different ways. Death Valley has a parched, almost lunar landscape in some areas.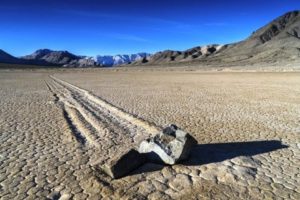 The Racetrack Playa features mysterious moving rocks, which strikes me as nature testing our sense of reality.
Las Vegas, in contrast, is a place where illusion and reality are deliberately blended together. Of course, none of us get confused as to whether we're in Paris when we see a replica of the Eifel Tower or in Venice because we can ride a gondola. Many visit Las Vegas because it offers an escape from our daily routines; we relax and embrace the dimension of fantasy it offers. Being in an environment where illusion and reality fold into one can be a lot of fun. But only so long as you can tell the difference between the two.
Altered realities
So, why do I think Las Vegas is a great place for Gartner to host its Data Center Conference? Well, it's because Gartner implicitly promises to help clients separate illusion from reality. That's not how Gartner puts it but I think it's not far off the mark.
We work in an industry, after all, that uses the metaphors Cloud and Edge to describe computing paradigms. And the top-billed presentations by guest speakers at this Gartner event are titled Altered Realities and Trust and Predictably Irrational. Those are two keynotes I don't want to miss!
Information technology is going through period of tremendous change. If it seems the ground is moving underneath you then you're certainly not alone. A lot of industry veterans are trying to get their bearings. Gartner promises knowledge and advice at this event to help us navigate the change; to lean forward and lead.
Riverbed is ready to help you chart the course for your organization as well. That's why we'll be on hand at the Gartner Data Center Conference this year. Stop by and talk with us at booth 303 in the exhibitor venue. Here are some areas where Riverbed can help:
Redefining your network for the cloud era
Well-functioning networks are critical to cloud computing. Riverbed simplifies the way cloud-connected networks are designed, deployed, and managed so you can work with greater speed and agility. Our SD-WAN solution lets you establish secure, full-mesh connectivity to AWS or Microsoft Azure with a single click. Only Riverbed delivers unified connectivity and orchestration across the entire network from LAN to WAN, and from the edge or datacenter to the cloud.
Modernizing edge IT to simplify operations and secure data
Riverbed SteelFusion provides the infrastructure needed to centrally deploy and manage applications running at the edge as well as to consolidate and protect remote data. Instantly provision network services and line-of-business apps at entirely new sites. Eliminate remote backup, achieve near real-time RPO, and significantly reduce RTO. Minimize operational costs by extending hybrid cloud investments in storage, virtualization, backup and IT staff to every edge location.
Delivering a superior digital experience to all users, across all applications and devices
Riverbed offers the most complete end-to-end visibility on the market so you can identify and troubleshoot performance issues faster. We also improve application performance by steering priority traffic down the best paths with SD-WAN and applying SteelHead WAN optimization to make network links work better.
As always, we'll be giving away some cool stuff at booth 303. So, be sure to stop by.
I hope everyone attending the Gartner Data Center Conference will have a stronger command of IT realities when we leave. And let's enjoy the pleasurable illusions that Las Vegas offers while we're there. Some of us might even take the opportunity to be yourself or anyone else!