SteelCentral Aternity: 5 New and Exciting Moves for Riverbed Customers
Things are moving fast. Riverbed's acquisition of Aternity, announced July 28th, is now complete. Integration plans are underway, in people, processes, systems, and product. The acquisition extends Riverbed's SteelCentral performance monitoring capabilities with leading End User Experience Monitoring. As part of the product portfolio, SteelCentral Aternity extends Riverbed's application and network performance management capabilities with end user experience monitoring by monitoring IT at the point of consumption, the user's device.
Watch this video for an easy explanation of how this works:
Five ways end-user experience monitoring extends SteelCentral's capabilities
Our product teams are working hard on integration plans, but Riverbed customers don't need to wait to take advantage of five new moves that SteelCentral Aternity provides. Here's a brief overview.
1. Desktop services: troubleshoot down to the end user's device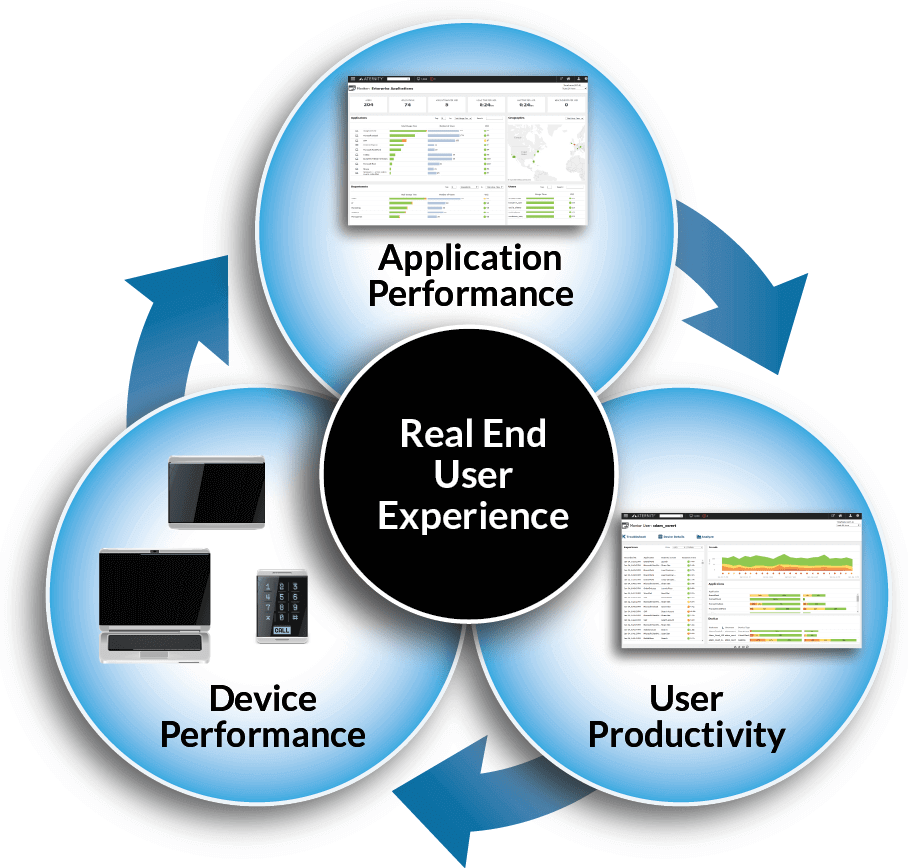 With Aternity on board, SteelCentral's application and network performance management capabilities now provide Desktop Services teams deep dive analysis of the devices used by the enterprise workforce. According to analysts like Forrester, the average enterprise end user relies on at least three devices throughout their day. No other APM or NPMD vendor has the ability to monitor the performance and health of physical, virtual, or mobile devices used by the workforce.
2. Mobile app developers & IT ops: mobile APM
SteelCentral Aternity brings new Mobile APM capabilities to developers and IT Operations teams charged with ensuring the quality of business critical apps, whether they run on desktops, laptops, or mobile devices.
3. Service desk: validate users' complaints
In too many enterprises, IT first learns of a problem affecting end users from the end users themselves. And that's only if IT is lucky! Many users choose to 'suffer in silence,' rather than submit to the process that some Service Desk teams use to validate complaints. The same set of basic questions. 'Are you sure it's slow? How long has the problem persisted? What device are you experiencing the problem on?' And then, to top things off, sometimes the Service Desk's investigation requires remote control of the employee's machine, further interfering with their productivity. With SteelCentral Aternity, Service Desk teams can validate user complaints automatically and non-invasively—no need for excessive user interrogation or stopwatch timing.
4. Level 3 app and network experts: validate the impact of change
In IT, change is constant, no matter whether you're in charge of devices, applications, or the network. Whether it's migrating to Windows 10, moving to Office365, or implementing Riverbed SteelHead or SteelFusion, there's a constant quest to optimize performance. Level 3 experts can use SteelCentral Aternity to validate the impact of change by measuring end user experience before and after the change.
5. Business and IT execs: service level management
When it comes to making sure applications support the business, you can't rely only on metrics based on infrastructure availability or network latency. What counts is the end user's experience of ALL of the applications on which they depend to do their jobs. With SteelCentral Aternity, you can establish SLAs based on business processes as relevant measures of app delivery and service quality.
More information on end-user experience monitoring to follow
In the coming weeks, we'll explore each of these five new moves in more detail. We'll illustrate SteelCentral Aternity's capabilities with use cases, dashboards, and customer success stories. In addition, you can see and hear more about these by attending Riverbed Disrupt in New York City.