SteelHead SaaS and OneDrive for Business
OneDrive for Business (ODB) has been the talk of the cloud lately as it provides 1TB of online storage for Microsoft's Office 365 SharePoint Online users. Riverbed has been optimizing Office 365 for since 2012 with the SteelHead SaaS service (formerly SteelHead Cloud Accelerator). So naturally, we tested optimization of OneDrive for Business with SteelHead SaaS.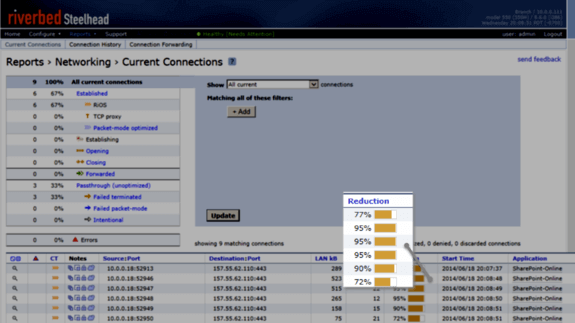 Testing results can be found in this document: SteelHead SaaS and OneDrive for Business Performance Brief. But here's the highlights (Spolier alert):
Single file download: 97% reduction in bandwidth, 30x faster
Average Synchronized download: 96% reduction in bandwidth 2x faster
When you login to SharePoint Online, each user has an ODB landing page/working space for their documents. By default, this is a PRIVATE workspace. In every way I can find, this is essentially a SharePoint Online document library rebranded as a 'OneDrive for Business' and not shared by default. Consequently, SteelHead for SaaS optimizes file transfer to and from this workspace out of the box.
OneDrive for Business also comes with a synchronization client. The client installs on your computer and allows you keep your ODB document library synched with a local folder.
Since this is a private workspace by default, when you first get ODB, you need to add files. So, the first workload tested was copying hundreds of files from my own document library. Over 700 office documents were copied with and without optimization using the sync client.
Comparing the results, I saw about 20% optimization (bandwidth reduction) on the initial upload. Your mileage may vary depending on the kind of documents and type of work, but the documents in my folders are pretty typical for an information worker.
But SHARING is the name of the game with SharePoint and SharePoint lives up to its name in this regard. Although private by default, you can easily share ODB content (just like any document library). In addition, the sync client will syncrhonize ANY document library. Team Sharing! That's where the real value is. After all, any page describing SharePoint Online will have the word 'collaboration' used a minimum of a 100 times.
This is a common scenario: a team is storing documents on a SharePoint Online document library. The library is replicated to 20 team members using the OneDrive for Business sync client. The manager posts 10 new documents to the library. The sync client then automatically downloads those files to the remaining 19 team members.
Q: What happens in this scenario when SteelHead SaaS is used?
A: Massive optimization. The SteelHead SaaS service will eliminate about 20% of the bandwidth on the initial post and >90% for the remaining 19 synchronizations. The synchronization happens twice as fast. If a member downloads the file directly from the document library, the download happens 30x faster.
Rinse and repeat for the entire company.
Bazinga!
PS. The same benefits are seen when sending a document as an email attachment!
PSS. These results are typical based on our networking and workload assumptions as detailed in the brief. Results will vary based on your specific networking environment and workload.
Related reading:
SteelHead SaaS and OneDrive for Business Performance Brief
How to avoid saturated links and performance problems during Office 365 migrations
VIDEO: SteelHead SaaS service (formerly SteelHead Cloud Accelerator)