Straight from the Frontline | How a Global Law Firm Gained the IT Visibility Needed to Make End Users Happy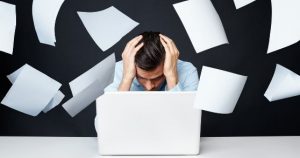 Application crashes and slow performance can cause a negative impact on any end user, and as described in a recent blog by Mike Marks, Chief Product Evangelist at Aternity, when those users are billable attorneys, it can be devastating to the bottom line. As I will illustrate here, Aternity helped a major law firm inundated with end user complaints address application performance and a generally poor end user experience. The law firm's support and IT teams did not have any insight to what the end users were experiencing such as application crashes, desktop related events, application hangs, and slow performance.
Turn Your End Users into Your Biggest Fans
The customer's attorneys use Microsoft Office Suite heavily in their daily work and because it is customized with various 3rd party plugins, it is inherently difficult to determine the cause of their complaints. Their IT imperative was to provide optimal services levels for the attorneys and ensure that they are able to: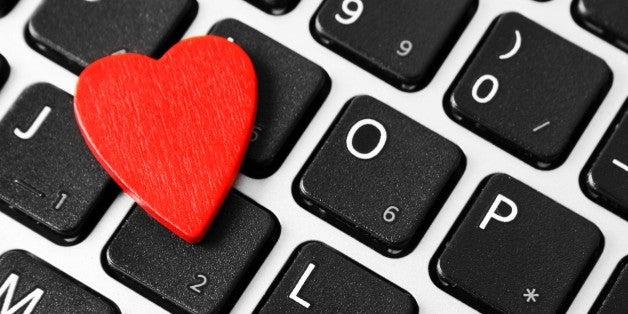 Reduce the support call volume as well as ensure that all of the upgrade/patches introduced have a positive impact on the end user experience
Provide a consistent user experience across all geographical locations and that Service Level Agreements (SLAs) are being met
Improve the application performance for Microsoft Outlook and their web applications across all locations
Don't Play Whack-a-Mole | Triage and Prioritize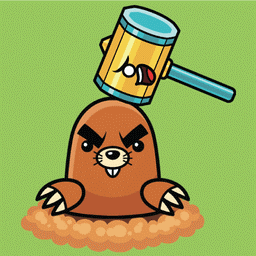 With a complex environment and a global presence, it was really tough for the law firm's IT and Desktop teams to keep up with all the changes that happen on a user's device. Using the Aternity Desktop Health dashboard, the IT team was able to validate user complaints and see that Microsoft Word and Outlook were crashing frequently. They were able to drill down to the Dynamic Link Library (DLL) and see the impact of the crash and see if it was affecting all users or not.
L2/Desktop teams were able to update patches based on Aternity data and push out the patches to users who were most affected by the issue. As a result, they saw a drop in Microsoft Word Crashes and a gain in user productivity. They also saw drastic improvement in application performance because of this drop in application crashes.

The Desktop team at a global law firm validated the drop in a number of crashes after mitigating the issues and saw fewer user complaints.
Empower all IT teams for an Excellent End User Experience 
The global law firm's early successes with Aternity's End User Experience Monitoring platform empowered them to optimize these capabilities across the IT departments. Let's take a look at how the other teams have benefited by leveraging Aternity:
How EUEM is Leveraged Across the Global Law Firm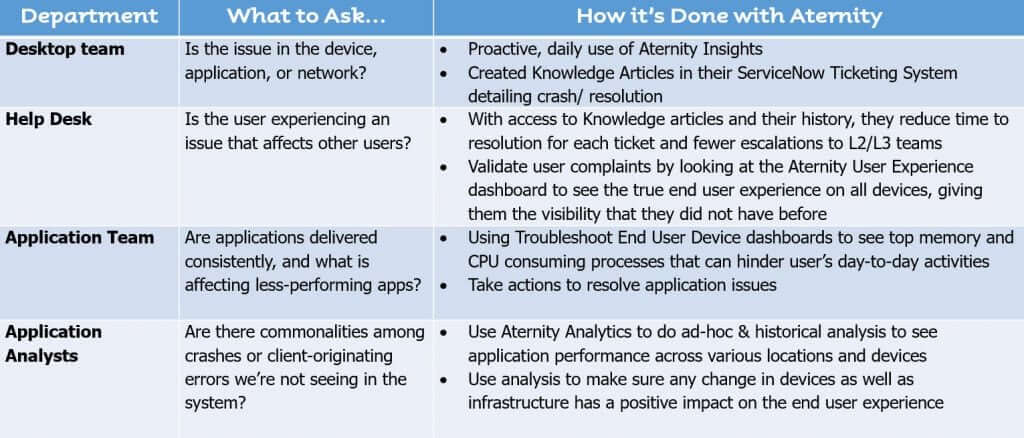 Conclusion
Operationalizing Aternity, as this law firm did, provides the IT team a sustainable path to proactively address end users' complaints and ensure they are resolved quickly. And, by remediating problems before they become widespread enables the organization to feel confident that disruptions to the business and loss of productivity can be avoided.
GET STARTED WITH ATERNITY!

View these short product demos to see Aternity EUEM in action. If you like what you see and are interested in monitoring Aternity in your unique IT environment its takes less than 15 seconds to register for a free product evaluation.