Riverbed Global REACH OUT Week Supports Employee Volunteers
Last week, approximately 600 Riverbed employees volunteered at 33 charities around the world, giving back and making a difference in our local communities. It was Riverbed REACH OUT Week, a time for us to join our colleagues for a morning or afternoon of volunteering. We made this video to give you a quick glimpse.
In 15 different cities—in Romania, England, Singapore, the Netherlands, India, France, Australia, and the United States—
Riverbed-ers packed tens of thousands of pounds of food; we cleaned, repaired, and built furniture and homes; we helped feed children, the elderly, and disabled; and we gave our time to provide for thousands of homeless families and individuals.
From my point of view, it's wonderful to be encouraged by your employer to take an afternoon off to give back to the community (thank you Riverbed), but it was a great lift for me personally too. My team helped out at the Salvation Army Harbor Light Center in San Francisco, packing cookies, cranberry sauce, and hot cider and hot chocolate mix for disabled and elderly shut-ins. It's easy to feel too busy to volunteer, but participating in REACH OUT Week rekindled the passion in me. I had such a good time with my team that I volunteered my family to deliver these packs with hot holiday meals on Thanksgiving morning.
At Riverbed we work hard to support our customers and partners and push the cutting edge of technology. We do that because we want to be a great company. But we know it's important to be a good company too, and that's why events like Riverbed REACH OUT Week are a treasured part of the Riverbed employee experience.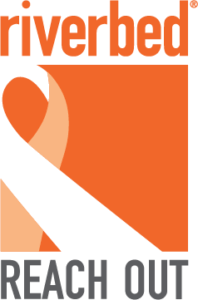 Community-minded is a Riverbed company value—inside and out. Inside our walls, we encourage one another and celebrate our successes together. We go out of our way to help others succeed: co-workers, partners, and customers alike. It's part of life at Riverbed. When it comes to REACH OUT Week, we Riverbed-ers are supporting the communities in which we live and work, generating a real impact on organizations that drive anti-poverty programs, natural disaster relief, and disadvantaged youth.